Nikon D5100 16.2 Megapixel CMOS Digital SLR Camera
*New for 2011 The mid range Nikon D5100 SLR is one of Nikon's best selling SLRs in 2011. The D5100 replaces the popular D5000 and is lighter and smaller than last year's model, but loaded with new features. The D5100 was upgraded from 14.2 to 16.2 megapixels using the same image sensor as the higher priced D7000. New for 2011 is the addition of Full 1080p HD Cinematic Video with full-time autofocus and sound. The ISO for low light photography has improved from 3200 to 6400 (expandable to 25,600). Its side articulated 3 inch display now is super high res with almost 4x the resolution of last year (at 921,000 pixels). Addition of 14-bit NEF Raw Mode. Also new for 2011 are In-camera effects filters for both picture and video modes. Other features include LiveView so you can frame your movies and pictures, EXSPEED 2 processor, 4.0 fps continuous shooting, Ultrasonic Dust Removal System removes dust from the sensor automatically, Active D-Lighting function which can vastly improve shadows and highlights of high-contrast scenes. Includes the 18-55mm optical image stabilized (VR) Lens. 11 AF points (with 3D tracking).
Compatible with all NIKKOR AF-S and AF-I lenses that have an autofocus motor.
Shutter speeds: 30 – 1/4000 second, ISO: from 100-6400 (expandable to 25,600), Burst Mode: 4.0 fps, Built-in Flash.
Memory Cards: SD, SDHC, and SDXC cards. Lithium-ion battery EN-EL14 (included). USB 2.0.
Included Kit Lens: 18-55mm f/3.5-5.6 AF-S DX VR Nikkor Zoom Lens
HD Movie Modes: 1920 x 1080 (24p, 25p, 30p): 24 fps, 25fps, or 30fps; 1280 x 720 (30p, 24p): 30 fps or 24fps. H.264/AVHC codec.
Dimensions: 5.0″ x 3.8″ x 3.1″ ( 18 ounces).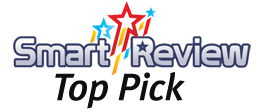 Smart-Review Commentary: Nikon's 2011 mid range D5100 is one of Nikon's best selling SLRs. It is placed in-between the D3100 entry level SLR and the higher end D7000 model. It has received excellent consumer and professional reviews for its price range. It has huge improvements from its predecessor, the D5000. Improvements include higher total megapixels (same imager as the D7000), higher ISO to 6400, higher resolution LCD screen with side articulation (it swings out), new Raw format, added a Full 1080p HD (1080p @ 24,25, or 30 fps) movie mode, External Microphone Jack, in-camera special effects. Other features include Live View (to use the LCD to compose pictures and videos), EXSPEED 2 processor, We believe this to be an excellent mid range SLR which will give the Canon T3i some competition in this price range. Professional and consumer reviews report excellent image quality. For its price and performance and substantial upgrades from the previous model, the Nikon D5100 is a Smart Review Top Pick.
Nikon D5100 SLR
D5100 with 18-55mm lens
D5100 Body Only
Nikon EN-EL14 battery for D5100

SLR Features

16.2 megapixels
Large 3-inch LCD
ISO 100-6200
Burst Mode: 4.0 fps
Live View
1080p Movie Mode
Ultrasonic sensor cleaning
Nikon EXPEED 2 processor
DX Sized Imager
External Mic Jack
Articulating LCD


Is this the best price?

Is this the best price?

Is this the best price?
Related Article: Digital SLRs From $600 to $999 Comparison and Reviews
Related Article: Digital SLRs Under $600 Comparision and Reviews
Related Camera: Canon Rebel T3i 18 Megapixel Digital SLR
Lenses for the Nikon D5100: Nikon Zoom Lenses Roundup and Comparison
Lenses for the Nikon D5100: Nikon Prime (fixed) Lenses Roundup and Comparison
Shop All Digital SLRs
(Clicking on shop buttons will open a new window)