Nikon D3100 14.2 Megapixel Digital SLR Camera | Review
The entry level Nikon D3100 SLR is one of Nikon's best selling SLRs in 2010-11. The D3100 is designed for anyone who wants to take pictures without worrying about settings. It replaces the popular Nikon 3000. Upgraded from 10.2 to 14.2 megapixels. New for 2010 is the addition of Full 1080p HD Cinematic Video with full-time autofocus and sound. This is the first Nikon DSLR that records video in Full 1080p HD. Also new for is the addition of LiveView so you can frame your movies and pictures with the large 3-inch LCD screen (230,000 pixels). Good solid performance from one of Nikon's least expensive and compact DSLRs. 3.0 fps continuous shooting, Ultrasonic Dust Removal System removes dust from the sensor automatically. Active D-Lighting function which can vastly improve shadows and highlights of high-contrast scenes. Includes the 18-55mm optical image stabilized (VR) Lens.
---
Compatible with all NIKKOR AF-S and AF-I lenses that have an autofocus motor.
In-camera photo editing: After shooting, the D3100's photo editing functions allow for in-camera retouching. The upgraded Nikon EXPEED 2 Image Processor which provides fast, accurate image processing and startup time, and 11 point autofocus system. Improved ISO to 3200, 6 automatic exposure modes. Built in Flash.
Shutter speeds: 30 – 1/4000 second, ISO: from 100-3200 (expandable to 12,800), Burst Mode: 3.0 fps, Built-in Flash.
Memory Cards: SD, SDHC, and SDXC cards. Lithium-ion battery EN-EL14 (included). USB 2.0.
Included Kit Lens: 18-55mm f/3.5-5.6 AF-S DX VR Nikkor Zoom Lens
HD Movie Modes: 1920 x 1080 (24p): 24 fps, 1280 x 720 (30p): 30 fps, 1280 x 720 (24p): 24 fps Movies limited to 10 minutes per clip.
Dimensions: 4.9″ x 3.8″ x 2.9″ ( 16 ounces).
---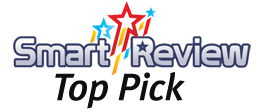 Smart-Review Commentary: Nikon's entry level D3100 is one of Nikon's best selling SLRs. It is designed for simplicity of use. It has received excellent consumer and professional reviews for its price range. It has huge improvements from its predecessor, the D3000. Aside from improvements in total megapixels, higher ISO, and the addition of Live View (to use the LCD to compose pictures and videos), this camera has also added a Full HD (1080p @ 24 fps) movie mode. This is the first Nikon SLR to have 1080p movies and the least expensive. Speed has been increased by the new EXSPEED 2 processor. We believe this to be an excellent entry level SLR which will give Canon some competition in this price range. The only downside we see is no external microphone jack on this model. If you want more robust video options, look at the Canon's T3i , also reviewed on this site. For its price and performance and substantial upgrades from the previous model, the Nikon D3100 is a Smart Review Top Pick.
---
Nikon D3100 SLR
D3100 with 18-55mm lens
Nikon D3300 Latest Model

SLR Features

14.2 megapixels
Large 3-inch LCD
ISO 100-3200
Burst Mode: 3.0 fps
Live View
1080p Movie Mode
Ultrasonic sensor cleaning
Nikon EXPEED 2 processor
DX Sized Imager
Shutter durability 100,000


Is this the best price?

Is this the best price?
---
Related Article: Digital SLRs From $600 to $999 Comparison and Reviews
Related Article: Digital SLRs Under $600 Comparision and Reviews
Related Camera: Canon Rebel T6i 24.2 Megapixel Digital SLR
Lenses for the Nikon D3100: Nikon Zoom Lenses Roundup and Comparison
Lenses for the Nikon D3100: Nikon Prime (fixed) Lenses Roundup and Comparison