Sony Alpha A7R Mark III 42.4 Megapixel 4K Mirrorless Full Frame Camera | Review 2018
Sony introduces the A7R Mark III Mirrorless Camera. This model has some substantial improvements over the previous popular A7R Mark II model that it replaces. Like the previous model, this one sports a 42.4 megapixel sensor with 5 Axis image stabilization. Sony listened to its users and has included many of their requests, including adding a joypad controller, added touchscreen, and added a second SD memory card slot. Sony doubled the burst frame rate to 10, and also has a silent mode. A higher resolution 3-inch tilting screen to compose your shots or use the 3.69 million dot OLED EVF. No AA filter on this camera, so you will have sharper images and videos. The camera is powered by a BIONZ X™ Image Processor. Full connectivity with WiFi, Bluetooth & NFC. S-Log2, S-Log3 and HLG (Hybrid Log-Gamma).
---
Sony Alpha A7R III Upgrade Features over the A7R II: Upgraded to 425 contrast AF focus points up from 25. Phase detection points remain at 399. Doubles the burst rate to 10 frames per second. Improved 3686k dots EVF verus 2359k dots on the older model. Even the LCD screen gets an upgrade in resolution from 1440k dots from 1229k dots. The A7R III has a higher dynamic range, and ISO has bumped up to 32000. The Mark III adds the newer S-Log3 and HLG (Hybrid Log-Gamma) profiles. Bluetooth and NFC connectivity has been added. Battery life is dramatically improved on the A7R III. Adds touch sensitivity to the LCD, and touch focusing. Adds a 120 frame rate to Full HD (1080p) video recording.
---
Shutter speeds: 60 – 1/8000 second, ISO: from 100-32000 (expandable to 50-102400). Burst Mode: 10.0 fps.
Memory Cards: SD/SDHC/SDXC (Dual Card Slots). Lithium-ion battery NP-FZ100 (2280mAh) included. USB 3.0.
4K Video: UHD 24p, 30p (100 Mbps)
1080p Full HD Video: 24p, 30p, 60p (50Mbps) or 120p (100Mbps).
Dimensions: 5.0″ x 3.8″ x 2.9″ ( 23.17 ounces w/ battery).
---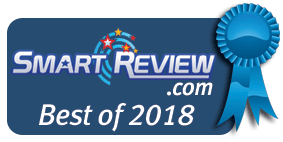 Smart-Review Commentary: The new for 2018 Sony A7R Mark III 42.4 MP camera is at the top of the Sony camera lineup, along with the A9. This has many valuable upgrades to the very popular A7R II. Many of the new features were wanted by Sony customers, including the new joypad controller, touchscreen with touchscreen focus, and dual card slots. This is a photo centric camera, but also has a great 4K UHD Video mode, up to 30p. The video is oversampled at a 5k resolution to give even more detail to the final 4K video. The 5 Axis stabilization will help the run and gun photographer and videographer to keep a stable image. Microphone & Headphone jacks to record and monitor audio while recording video. The 4D FOCUS system has both 399 phase detection points, and 425 contrast detection points, and , and 399 phase-detection points for quick autofocusing and tracking subjects. The camera has a magnesium alloy chassis for increased durability, and weather-sealing to resist dust and moisture. This is a great upgrade from the A7R II model. We presented the A7R III with SmartReview's BEST of CES 2018 award at the consumer electronics show (see video below). This model has also won Smart-Review's BEST OF 2018 award for best full frame 4K Mirrorless cameras.
---
Sony Alpha A7R III 4K Mirrorless Camera
Sony a7R Mark III Full-Frame Mirrorless 4K Camera
Sony a7R Mark II
4K Mirrorless Camera
Panasonic
GH5
4K Mirrorless Camera

SLR Features

42.4 megapixels
High Res 3.0-inch Tilting LCD with Touchscreen
OLED EVF (3,686k-dot)
5 Axis Stabilization
UHD 4K Video
Full HD up to 120fps
ISO 100-32000
Burst Mode: 10.0 fps
HDMI output
425 AF Contrast Points
Weather Sealing
Dual Card Slots
USB 3.1
BIONZ X™ Image Processor
Full Frame Imager
Built-in WiFi & NFC
Built-in Bluetooth
Mic & Headphone Jack


Is this the best price?

(Click for Reviews)
5 Axis Stabilization
42.4 Megapixels
Dual Card Slots
– – –

Is this the best price?
(Click for Reviews)
5 Axis Stabilization
42.4 Megapixels
– – –
– – –

Is this the best price?

(Click for Reviews)
5 Axis Stabilization
20.3 Megapixels
Dual Card Slots
4K 60p Video
---
Video: SmartReview.com at CES 2018 and the Sony A7R Mark III Mirrorless Camera
---
Related Article: Sony 4K Mirrorless Cameras – Comparison and Reviews
Related Article: Panasonic 4K Mirrorless Cameras – Comparison and Reviews
Related Article: Best Rated Cameras that Shoot 4K Video – Comparison and Reviews
Related Article: Best Rated Mirrorless Cameras – Comparison and Reviews
---
Shop All DSLR Cameras
(Clicking on shop buttons will open a new window)