Canon EOS 7D 18.0 Megapixels CMOS Digital SLR Camera
The new Canon EOS 7D is Canon's top APS-C SLR. Upgraded to a full 18.0 megapixels. The new HD movie mode can shoot Full 1080p HD Video at faster frame rates 1080p @30fps, 24fps and 720p @60fps and with manual exposure control. HDMI port to hookup to an HDTV. External Microphone Jack. Includes many features formerly reserved for Canon's top SLRs. Large high resolution 3-inch LCD screen (920,000 pixels). Blazing Fast 8.0 fps continuous shooting, Use the large LCD with the Live View Function for composition of both pictures and video. EOS Dust Removal System removes dust from the sensor automatically. Includes the 28-135mm optical image stabilized (IS) Lens. The 7D's magnesium alloy body is dust and weather resistant and its shutter durability of up to 150,000 cycles. Gapless micro-lenses in the sensor helps to capture more light and reduce noise.
The EOS 7D's Intelligent Viewfinder has 100% field of view and a wide viewing angle. Greatly improved low light performance, including ISO 6400. Improved 63-zone evaluative metering system. A display off sensor, turns off the LCD when you are looking through the viewfinder. Zone AF divides the 19 AF points into five selectable focusing zones. Compatibility with over 60 Canon EF Lenses. Upgraded to Dual DIGIC 4 Image Processors which provides fast, accurate image processing and faster startup time.
Shutter speeds: 30 – 1/8000 second, ISO: from 100-6400, Burst Mode: 8.0 fps, Built-in Flash.
Memory Cards: CF Card Type I and II, UDMA-compliant. Lithium-ion battery LP-E6 (included). USB 2.0.
Included Kit Lens: 28-135mm f/3.5-5.6 IS USM Standard Zoom Lens
Dimensions: 5.8″ x 4.4″ x 2.9″ ( 28.9 ounces w/ battery).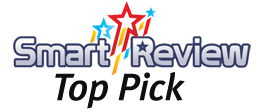 Smart-Review Commentary: For 2010, Canon's 7D is at the top of its game for its price range. It has received outstanding consumer and professional reviews. This camera has many features that previously were only included on high end SLRs, including Dual DIGIC 4 Image Processors. The HD movie capture has improved dramatically and now supports 1080p at 30 frames/second (blu-ray quality), and the 720p mode is at a fast 60fps frame rate. Also new is an external microphone jack (for best sound). In the SLR mode this camera has a blazing fast 8.0 frames/second burst mode. It also sports a durable magnesium body and 150,000 shutter cycles. Not only does this camera have more megapixels (18.0), but the light sensitivity has improved with an ISO up to 6400. The 7D has all the popular features such as, Ultrasonic Sensor cleaning and LiveView which allows you to use your LCD screen to compose your shot instead of the viewfinder. If you are looking for one of the best digital SLRs in this price range, the Canon 7D is a Smart-Review Top Pick.
Canon 7d SLR
7D Body Only
7D with
28-135mm Lens
7D with
18-135mm Lens

SLR Features

*New 2010 Model
18.0 megapixels
High resolution 3-inch LCD
Live View function
Full HD 1080p Video
ISO 100-6400
Burst Mode: 8.0 fps
Ultrasonic sensor cleaning
63-zone evaluative metering
HDMI out to HDTV
Dual Digic 4 image processors
APS-C Sized Imager
External Mic Jack


Is this the best price?

Is this the best price?

Is this the best price?
Related Article: Best Digital SLRs From $1000 to $1999 Comparison and Reviews
Related Article: Best Digital SLRs with HD Video – Comparison and Reviews
Related Camera: Nikon D7000 16.2 Megapixel Digital SLR Camera
Canon EOS 7D Lens Compatibility: The 7D is compatible with over 60 EF and EF-S lenses. The EF-S lenses are specifically designed for APS-C imager SLRs such as the 7D. APS-C SLRs have a focal length conversion factor of 1.6 compared to full frame SLRs. Wide Angle, Zoom, Macro, and Prime Lenses are available.
Canon EOS 7D DSLR Lenses: Canon EOS Zoom Lenses Comparison and Reviews
Canon EOS 7D DSLR Lenses: Canon EOS Prime (fixed) Lenses Comparison and Reviews
Canon EOS 7D DSLR Lenses: Canon Compatible Sigma SLR Lenses Comparison and Reviews
Shop All Digital SLRs
(Clicking on shop buttons will open a new window)
Popular Accessories Canon EOS 7D Digital SLR
Canon LP-E6
7D Battery
Rode VideoMic
External Microphone
Azden SMX-10
External Microphone
Canon BG-E7
Battery Grip

Sandisk 16GB
Compact Flash
UDMA Card
Sandisk 32GB
Compact Flash
60mbps Card
Canon EF-S 15-85mm
Zoom Lens
Canon EF 24-105mm
Zoom Lens