Nikon D810 36.3 Megapixel FX-Format Digital SLR Camera
The Full Frame FX Nikon D810 36.3 megapixel SLR has the most megapixels of any SLR Nikon has produced to date (other than the D800 it replaces). The D810 shares many of the features of the best Nikon SLRs and some new ones as well. It is capable of 36.1 megapixel medium format images with low noise. This model has increased the ISO range (64-12800). Full HD 1080p Video mode with a headphone jack, microphone jack, uncompressed HDMI out, Audio monitoring, and a dedicated movie record button. You can shoot in either FX or DX movie formats. Video can be shot with full manual control and you can view live video with an external monitor through the HDMI. Another new feature is the built-in HDR (high dynamic range) function which can create a single image that combines two exposures for a better image. A time lapse photography mode is included. Dual Slots for SD and CF cards.
---
Advanced Features:
Other features include a live view selector (see image on right) which switches from modes optimized for both video or still images. Live View allows you to compose your pictures and movies by using the new 3.2-inch LCD high resolution screen (1,229,000 dots). 5.0 fps continuous shooting, Active D-Lighting function which can vastly improve shadows and highlights of high-contrast scenes. HDR mode. The D810 has a fast 51-point AF with 3D Focus Tracking: Exacting autofocus precision. The 3D tracking can
focus and lock-on a moving subject
and do so on moving subjects which are smaller in size than previous cameras. Scene Recognition sensor with 91,000 pixels. Ultrasonic sensor cleaning for dust reduction. Built in Flash. The camera body is weather sealed and constructed with a high strength magnesium alloy. O-ring seals keep out dust and moisture. Shutter durability 200,000 cycles.
---
Professional Audio & Video: Headphone & External Microphone Jacks, Full HD video mode (60p/50p/30p/25p/24p). Video can be stored on the onboard internal CF or SD cards or uncompressed to an external device (uncompressed HDMI out). Up to 40Mbps recording bitrate to internal cards. Flat picture control. Upgraded stereo microphones. Manual audio level monitoring and adjustment. Reduction in rolling shutter in video mode. Great dynamic range. Live video thru external monitor. Reviewers have report the video as good or better than the Canon 5D Mark III.
---
D810 upgrade features from the Nikon D800:
No optical low-pass OLPF filter (for better details), Burst mode to 5fps, New EXPEED 4 processor is 30% faster (lower noise & faster AF), Expanded ISO Range (ISO 64-12,800), New RAW S Format (12 bit uncompressed), Group Area AF Added, Flat picture control (ideal for video), added Electronic Front-Curtain shutter (eliminates vibration), added a 60p Full HD movie mode, added stereo microphones, one button zoom image preview, zebra display in live view, 30% more shots (1200) per battery charge, new simultaneous record to memory card + external recorder, Dual Slots for SD and CF cards. OLED viewfinder display. Shutter is much quieter than the D800. Higher resolution LCD (1,229,000 dots).
---
Shutter speeds/ISO/Burst: 30 – 1/8000 second, ISO: 64-12800 (exp to 25,600), Burst Mode: 5.0 fps
Movie Mode: Full HD 1080p at 60p, 50p, 30p, 24p, 720p at 50p, 60p
Memory Cards/Battery: Dual CF and SD Memory Card Slots: UDMA CF Flash Cards and SDHC, SDXC, and UHS-1 memory cards Lithium-ion battery EN-EL15 (included). USB 3.0 (also downward compatible with USB 2.0).
Dimensions: 5.8 x 4.9 x 3.3″ (31.1 ounces) Body.
---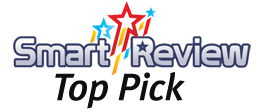 Smart-Review Commentary: The D810 is destined to be one of Nikon's best full frame (FX) SLRs to date. It is the leader in the megapixel competition (36.3 megapixels), and a substantial upgrade from the D800 it replaces. Aside from megapixels, new RAW mode, and the elimination of the OLPF filter, the biggest upgrade to the D810 is the Full HD 1080p movie mode, now with 60fps. This is not just an afterthought, but a full professional movie mode with all the bells and whistles. You will be getting manual controls, headphone and microphone jacks, manual audio monitoring, dedicated buttons, and very important to movie makers, an uncompressed video HDMI out (allowing you to record video on a seperate device). Nikon has also added a time lapse movie mode. This camera will give Canon some competition in the movie mode area where Canon has reigned for years with the 5D Mark III which has used to make TV shows and movies. Recent movies/TV shows shot with DSLRs include Act of Valor, Red Wings, House, 24, and Walking Dead. The in-camera compression is H.264/MPEG-4 up to (40mb/s). You can also use the uncompressed HDMI out. For comparison, the new Canon 5D Mark III has a higher in camera recording bitrate of 91mb/s if you need better in camera video recording, and a higher native ISO (25,600) if you need more low light capability.
Advanced Features:
For those taking still shots, Nikon has an
HDR mode
which shoots two frames in a single shutter release, one overexposed and one underexposed and then combines them into one image with higher dynamic range. The burst rate of the D810 (5 fps) has been improved, thanks to the 30% faster EXPEED 4 Processor. The camera has
two slots for memory cards
, both CF and SD cards. You can simultaneously record both Raw and JPG to both cards. These are sizable improvements over the D800 The Nikon D810 is a
SmartReview Top Pick
.
---
---
Related Article: Full Frame Digital SLRs Comparison and Reviews
Related Camera: Canon EOS 5D Mark III 22.3 Megapixel Digital SLR
Lenses for the Nikon D810: Nikon Zoom Lenses Roundup and Comparison
---
Shop All Digital SLRs
(Clicking on shop buttons will open a new window)