Canon EOS 90D Digital SLR 4K Camera | Review 2019-2020
The Canon EOS 90D is Canon's Best mid-range APS-C SLR. Upgraded from the 80D to a higher 32.5 megapixels, and 4k video capability. This model has the latest version of Dual Pixel CMOS AF technology that greatly enhances autofocus capabilities, especially when filming video. The 90D movie mode shoots at 1080p full HD @30fps, 60fps, and 120fps, and 4K @ 30fps with manual exposure control. The 90D includes an HDMI port to hookup to an HDTV and an External Microphone Jack for better sound options with manual audio control. A headphone jack is also included to monitor audio.
The 90D gets a high resolution articulating 3-inch LCD touchscreen (1,040,000 pixels). The latest Digic 8 Image Processor is onboard for faster operations. Fast 10.0 fps continuous shooting, Use the large LCD touchscreen with the Live View Function for composition of both pictures and video. EOS Dust Removal System removes dust from the sensor automatically.
---
Canon 90D Features:
The EOS 90D's Intelligent Viewfinder has 100% field of view and a wide viewing angle with
all glass prism
. Greatly improved low light performance, including
ISO 25600
. 63-zone evaluative metering system. A display off sensor, turns off the LCD when you are looking through the viewfinder. Dual Pixel CMOS with 45 AF Focus points. Compatibility with over 103 Canon EF Lenses. The new
DIGIC 8 Image Processor
, provides fast, accurate image processing, AF, and faster startup time. Built-in WiFi & Bluetooth.
---
Canon 80D Vs. 90D Upgrade Features: The 90D is greatly upgraded from the 80D. Upgrades include, a new 32.5 (from 24.2) megapixel imager with the latest version of dual pixel AF technology. Higher dynamic Range. Full HD video now upgraded to shoot up 120fps 1080p, and added 4K shooting at 30fps. Digic 8 Processor upgraded from the Digic 6 processor. Native ISO has increased from 16000 to 25600. Burst mode goes from 7 to 10 fps. The 90D adds Bluetooth connectivity.
---
Shutter speeds: 30 – 1/8000 second, ISO: from 100-25600, Burst Mode: 10.0 fps, Built-in Flash.
Memory Cards: SD/SDHC/SDXC. Lithium-ion battery LP-E6N (included). USB 2.0.
Kit Lens Options: 18-135mm or 18-55mm f/3.5-5.6 STM Lens.
HD Video: Shoot 2 hr. 20 min. of 1080p 30fps HD video a 32gb SDHC memory card using IPB compression (30Mbps).
4K Video: Shoot 2 hours, 21 minutes of 4K video to a 128gb memory card using IPB compression (120Mbps).
Dimensions: 5.5″ x 4.1″ x 3″ (21.83 ounces body only).
---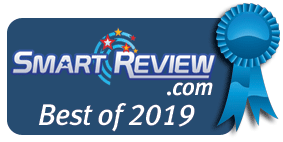 Smart-Review Commentary: Canon's 90D is a midrange entry with most of the power of higher cost Canon DSLRs with a lower cost and weight. For still photography, you get a big bump up in megapixels (32.5MP), the addition of 4K video (30p only), and a 120fps mode in Full HD. The 120fps mode has some limitations, as it has no sound, and AF is disabled. Canon though in this camera has dropped the 24p mode in both HD and 4K, for marketing reasons. We believe though that Magic Lantern will restore these 24p framerates in the future with their Canon 90D firmware. The 90D has Canon's best Dual Pixel CMOS Autofocus technology. Microphone & Headphone jacks provided for video sound recording.
The Canon Rebel 90D has a high resolution articulating touchscreen that allows you to point at subjects to focus on, allowing focus pull (in video mode) when you point to another subject to focus on. This is great for fast action and interviews where you can't manually focus fast enough to follow the action. The newest Digic 8 processor speeds up the burst rate (10 fps), allows 4K video shooting, reduces shutter lag, increases ISO to 25600, and speeds up startup. The Built-in WiFi allows you to share photos, and even control your camera with a smartphone. Bluetooth replaces NFC to pair with smartphone. The 90D is an awesome camera for both pictures and HD video. This model is not only a SmartReview top pick, but has won our BEST of 2019 award for APS-C DSLRs.
---
Canon EOS 90D SLR
Canon EOS 90D Body Only
Canon EOS 80D Body Only
Canon 90D with
18-135mm STM Lens

DSLR Features

Current Model
32.5 megapixels
Dual Pixel CMOS AF
4K Video Shooting
Full HD 1080p Video
High Res 3-inch LCD Touchscreen
Live View function
ISO 100-25600
Burst Mode: 10.0 fps
Ultrasonic sensor cleaning
63-zone evaluative metering
HDMI out to HDTV
Digic 8 Processor
APS-C Sized Imager
Built-in WiFi
External Mic Jack
Headphone Jack


Is this the best price?
(Click for Reviews)
32.5 Megapixels
ISO 100-25600
4K Video
Digic 8 Processor

Is this the best price?
(Click for Reviews)
24.2 Megapixels
ISO 100-16000
– – –
Digic 6 Processor

Is this the best price?
(Click for Reviews)
32.5 Megapixels
ISO 100-25600
4K Video
Digic 8 Processor
---
Related Article: Best Digital SLRs From $1000 to $1999 Comparison and Reviews
Related Article: Best Digital SLRs with HD Video – Comparison and Reviews
Related SLR: Nikon D7200 24.2 Megapixel Digital SLR
Canon EOS 90D Lens Compatibility: The 90D is compatible with over 100 EF and EF-S lenses. The EF-S lenses are specifically designed for APS-C imager SLRs such as the 90D. APS-C SLRs have a focal length conversion factor of 1.6 compared to full frame SLRs. Wide Angle, Zoom, Macro, and Prime Lenses are available.
Canon EOS 90D DSLR Lenses: Canon EOS Zoom Lenses Comparison and Reviews
Canon EOS 90D DSLR Lenses: Canon EOS Prime (fixed) Lenses Comparison and Reviews
Canon EOS 90D DSLR Lenses: Canon Compatible Sigma SLR Lenses Comparison and Reviews
---