About
SmartReview.com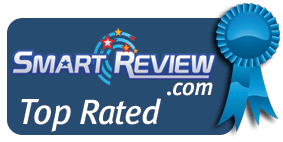 Smart Review was inspired by our experience trying to buy quality products. Wading through a myriad of reviews on the web can be daunting and time consuming. We list only high quality top-rated products that have received at least 4 stars or greater by owner reviews. We visit the Consumer Electronics Show (CES) to preview and review new products. We also scan professional sites, and give our own "top pick" label to those products we feel are exceptional and/or have received exceptional reviews from both owner and professional reviews, and have useful features. For certain products we have done a hands-on review and evaluation.
We believe that listing fewer but uniformly high-quality products serves you better. Like us, you want to buy a product with confidence, but don't want to spend days doing the research. We offer good comparisons of features as well, so you can quickly scan the models available for the features you want. In addition, we provide targeted articles and buying guides to help you to understand the technical jargon and terms of the items you are interested in purchasing. Many of the technical terms have hotlinks which when clicked on, will bring up a pop-up help screen for that topic. For comparison pages, glossary of terms are provided at the bottom of the page. We stay up to date on current models, unlike some sites and magazines that have outdated models. Smart Review has provided service to the consumer since 2004.
We believe that consumer user ratings are an unusually good indication of quality, especially if there are a large number of reviews for a particular product. The owner reviews differ from professional reviews in that the owners of these products have a longer time to evaluate the products than the professional reviewers, and can attest to durability, new features, and problems that may occur. Smart-Review has its own Smart-Rating system based on features, and overall review profile from many sources. We only feature the best products, with none under a 4/5 rating.
Top Rated Vendors – We choose only top-rated, competitive and reliable vendors to sell the products we feature. These top rated vendors include Amazon.com, BestBuy, Target, Canon USA, Panasonic and other companies. All of these have passed our criteria which includes reviewing the Reseller Ratings of these vendors. These sellers must also have competitive prices, excellent service and excellent return policies. We believe that buying from a reliable vendor is extremely important, to avoid the hassles that you will go through when dealing with poorly rated vendors.
Earnings Disclosure – SmartReview is an affiliate of Amazon.com, Target.com, Canon USA, Panasonic and others. These relationships help to maintain the SmartReview.com web pages and future research of quality products. SmartReview may earn a commission should you click on a link on our site that goes to one of these vendors and buy a product (but the price is the same whether you buy directly or from our link to that site). We do not accept compensation from manufacturers or any other compensation that would sacrifice our independent evaluation of products. SmartReview.com is a participant in the Amazon Services LLC Associates Program, an affiliate advertising program designed to provide a means for sites to earn advertising fees by advertising and linking to Amazon.com.
Thank you for visiting our site, and best of luck in finding the best product for you.
SmartReview.com Privacy Policy
Disclaimer: SmartReview makes a good faith effort to provide accurate and helpful information and recommendations on the products we cover. Should you decide to purchase a product based on our recommendations, we can not warrant or guarantee that you will be satisfied with your purchase. As we largely base our reviews on assessing other editorial and consumer reviews, our recommendations are subject to any errors or omissions inherent in them. We encourage you to research the products before you buy. Thank you for using Smart Review.
---
SmartReview.com is a participant in the Amazon Services LLC Associates Program, an affiliate advertising program designed to provide a means for sites to earn advertising fees by advertising and linking to Amazon.com
"Amazon, the Amazon logo, MYHABIT, and the MYHABIT logo are trademarks of Amazon.com, Inc. or its affiliates."
Copyright© 2022 SmartReview.com Any content on SmartReview.com may not be published, broadcast, rewritten or redistributed in whole or part without the express written permission of SmartReview.com