Panasonic DC-GH5 Lumix 4K Mirrorless ILC Camera | Review
Panasonic's flagship DC-GH5 Mirrorless 4K Micro Four Thirds Camera has just been released. This model has extreme improvements over the previous popular GH4 model that it replaces. Panasonic listened to its users and has included many of their requests, especially to the video taking community. The best new features include a brand new micro 4/3rds sensor with 20.3 megapixels and without an anti-aliasing filter for sharper images. Dual card slots allow you more flexibility, such as backing up, or relay recording.
Panasonic has added the much praised IBIS and 5 Axis Dual IS 2 Image stabilization that was seen in the GX85 and G85 models. Works even when recording 4K video. The 4K Ultra HD recording now jumps to 60p (60 frames/second) for silky smooth 4K for sports and other action scenes. For 4K you can record in UHD (3840 x2160) the same dimensions as 4K TVs, or DCI Cinematic 4K (4096×2160) the same dimensions used for Movie Theater 4K projectors. The GH5 has a new OLED EVF (3,680k-dot), and higher resolution 3.2-inch LCD (1,620k-dot).
---
Panasonic DC-GH5 4K Camera Features:
The GH5 has a magnesium alloy body for lighter weight and strength, and is sealed against both dust and moisture. New is the ability for the GH5 to operate in low
freezing temperatures
as low as 14°F (-10°C). High Shutter Durability (200,000 releases). Venus Engine 10 Processor. 8 megapixel images can be extracted from 4K video shot. Post Focus & Focus Stacking Features, allow you to determine focus points after you shoot a 4K mode picture. A new
6K Photo mode
gives you much higher 18-megapixel images. Bluetooth 4.2 (low energy) & WiFi 802.11ac 5GHz allows you to connect your tablet or smartphone to your camera.
---
Panasonic GH5 Upgrade Features over the GH4: New 20.3 Megapixel Sensor without an anti-aliasing filter, Live Output & Full Size HDMI Port, first camera to be able to record 4K 10-bit 4:2:2 25/30p videos to SD Card. Higher 4K UHD framerate recording at 50,60 frames/second. 5 Axis Dual IS stabilization added. With IBIS (In Body Image Stabilization), you can use non-stabilized lenses and primes and still get stabilization. New 6K Photo mode.
The GH5 has upgraded to 225 point AF focus points, up from 49 on the GH4. Improved Advanced Depth From Defocus AF. 150-400 Mbps recording Bitrate (up from 100), via firmware updates this year. No record duration limit when recording video. Wider FOV when recording 4K Video. Rack Focus Transition. 6K/4K Photo Burst. Joystick Control. OLED EVF (3,680k-dot). Higher resolution and larger 3.2-inch screen (1,620k-dot). Fast USB 3.0 upgrade.
---
Shutter speeds: 60 – 1/8000 second, ISO: from 200-25600(expandable to 100). Burst Mode: 12.0 fps.
Memory Cards: SD/SDHC/SDXC. Lithium-ion battery DMW-BLF19 (1860mAh) included. USB 3.0.
4K Video: UHD 24,30, 50, 60 fps, DCI Cinematic 4K: 24,30 fps
1080p Video: 24,30, 50, 60, 120, 180 fps,
Dimensions: 5.5″ x 3.9″ x 3.4″ ( 25.6 ounces w/ battery).
---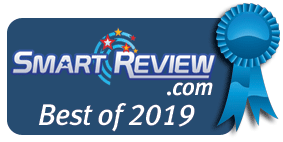 Smart-Review Commentary: The Panasonic Lumix GH5 is at the top of the Panasonic Mirrorless ILC camera lineup. This has many valuable upgrades to the very popular GH4 model. The new imaging sensor has higher resolution (20.3 megapixels) with higher dynamic range, and is sharper thanks to the removal of the AA filter. The biggest added feature is in body image stabilization (IBIS), which along with lens stabilization can offer 5 Axis Dual IS, allowing you to take photographs with longer handheld exposures, or blur and jitter free video. This is the first Panasonic mirrorless camera to offer 60 frames/second in 4K, great for sports and high action events. The camera is weather sealed, and can be used in freezing weather outdoors.
Filmmakers: Panasonic has packed most of what the modern filmmaker would want in a 4K camera including, Cinematic & UHD 4K filming modes, flip out LCD screen, Mic and headphone jacks, Fast USB 3.0, V-Log option, XLR option, high bitrates, full size HDMI out, IBIS, wireless capability, and high framerates. You can control most GH5 camera functions, and focus remotely on your smartphone or tablet using Wifi and Panasonic's APP. There is no additional focal length crop in 4K or FHD Video. This is a great upgrade from the GH4 model. For these reasons, the Panasonic Lumix DC-GH5 has won Smart-Review's BEST OF 2019 award for best Mirrorless cameras under $1,500.
---
Panasonic GH5 4K Mirrorless Camera
Panasonic
GH5
4K Mirrorless Camera
Sony a7R III Full-Frame Mirrorless 4K Camera
Panasonic
GH4
4K Mirrorless Camera

SLR Features

20.3 megapixels
High Res 3.2-inch LCD Flip Out Touchscreen
OLED EVF (3,680k-dot)
5 Axis Dual IS 2
UHD & Cinematic 4K Video
4K UHD@ 60fps
ISO 100-25600
Burst Mode: 12.0 fps
Full Size HDMI out
225 AF Focus Points
Weather Sealed Body
USB 3.0
Venus 10 image processor
Micro 4/3rds Imager
Built-in WiFi & NFC
Mic & Headphone Jack


Is this the best price?

(Click for Reviews)
5 Axis Stabilization

Is this the best price?

(Click for Reviews)
5 Axis Stabilization

Is this the best price?
(Click for Reviews)
– – –
** New Firmware Updates will add: ALL-I (Intra) codec 10bit 422 1080p at 200 Mbps and ALL-I (Intra) codec 10bit 422 4K at 400 Mbps. Anamorphic 6K (24fps) (4:3) recording in H.265 compression. Also coming is Hybrid Log Gamma for 4K HDR Video, giving you more dynamic range.
---
Video: SmartReview.com at CES 2017 and the Panasonic Lumix GH5 4K Camera
---
Related Article: Panasonic 4K Mirrorless Cameras – Comparison and Reviews
Related Article: Best Rated Cameras that Shoot 4K Video – Comparison and Reviews
Related Article: Best Rated Mirrorless Cameras – Comparison and Reviews
---
Shop All DSLR Cameras
(Clicking on shop buttons will open a new window)