Canon EOS Rebel T3i 18.0 Megapixel Digital SLR Camera
The 18.0 megapixel Canon Rebel T3i (600d) is Canon's low cost SLR from Canon which shares many of the features of the more expensive EOS 7D. The T3i is the follow on to the popular Rebel T2i. Its HD movie mode can shoot Full HD Video at faster frame rates 1080p @30fps or 24fps and 720p @60fps with manual exposure. HDMI port to hookup to an HDTV. An External Microphone Jack gives you additional audio options. Includes many features formerly reserved for Canon's top SLRs. Large high resolution 3-inch LCD screen (1,040,000 pixels). 3.7 fps continuous shooting, See the image in the large LCD with the Live View Function for composition of both pictures and video. Dedicated Live View/Movie shooting button. You can capture a still image while shooting a movie. EOS Dust Removal System removes dust from the sensor automatically. Includes the 18-55mm optical image stabilized (IS) Lens.
New Features:
Articulating (swivel) LCD Screen (will help in shooting at odd angles), newer 18-55mm lens, ability to remotely control flashguns, full HD video sensor crop feature (allows more telephoto from your lens without loss of detail). Audio level control (now you can manually adjust the audio).
See our Hands-on Review of the Rebel T3i
The EOS Rebel T3i has a high magnification viewfinder that provides a larger overall view, and increased brightness and clarity. Greatly improved low light performance, including ISO 6400. Improved 63-zone evaluative metering system. A display off sensor, turns off the LCD when you are looking through the viewfinder. Compatibility with over 50 Canon EF Lenses. Gapless micro-lenses in the sensor helps to capture more light and reduce noise. The DIGIC 4 Image Processor provides fast, accurate image processing and faster startup time.
Shutter speeds: 30 – 1/4000 second, ISO: from 100-6400, Burst Mode: 3.7 fps, Built-in Flash.
Memory Cards: Uses SD, SDHC, and SDXC cards. Lithium-ion battery LP-E8 (included). USB 2.0.
Included Kit Lens: EF-S 18-55mm f/3.5-5.6 IS II Lens
Dimensions: 5.2″ x 3.9″ x 3.1″ (18.2 ounces body only).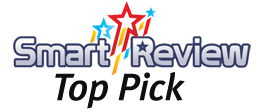 Smart-Review Commentary: Canon has another winner with the Canon EOS Rebel T3i. It has many of the features of the EOS 7D. Outstanding consumer and professional reviews. This camera has many features that previously were only included on high end SLRs. The Canon T3i has an improved Full HD movie capture which supports 1080p at 30 frames/second (blu-ray quality). It can also capture at 24p (film speed). The external microphone jack allows you to use an external microphone for best sound. The CMOS sensor gives you 18.0 megapixels and low light sensitivity with an ISO of 100-6400. The new articulating screen allows you to take shots at angles not possible before. The T3i includes Ultrasonic Sensor cleaning, LiveView for composing shots with the LCD, and a new feature called video sensor crop, giving you more telephoto in HD Video mode with no image loss. Also new is the ability to remotely control multiple off-camera flashes. An external microphone jack allows for a wide range of microphones. The camera has a dedicated live view/video button. The new Video Snapshot mode allows you to take 2, 4, or 8 second videos throughout the day and then the T3i will splice these into a single movie. We believe that this camera is the best value for the money in the Canon line of DSLRs. It is a Smart-Review top pick.
Memory Cards: If you are going to record 1080p video on your T3i, for best results we recommend Class 10 SDHC memory cards that record at 30mb/s and higher. See the two Sandisk extreme cards listed below.
Canon T3i SLR
Rebel T3i
Bundle Deal
Rebel T6i
Latest Model

SLR Features

18.0 megapixels
Articulating 3-inch LCD
Live View function
Full HD 1080p Video
ISO 100-6400
Burst Mode: 3.7 fps
Ultrasonic sensor cleaning
63-zone evaluative metering
HDMI out to HDTV
Digic 4 image processor
APS-C Sized Imager
External Mic Jack


Is this the best price?

Is this the best price?
Related Article: SmartReview.com Hands-on Review of the Canon Rebel T3i
Related Article: Digital SLRs From $600 to $999 Comparison and Reviews
Related Article: Digital SLRs with HD Video – Comparison and Reviews
Canon Rebel T3i Lens Compatibility: The Rebel T3i is compatible with over 60 EF and EF-S lenses. The EF-S lenses are specifically designed for APS-C imager SLRs such as the T3i. APS-C SLRs have a focal length conversion factor of 1.6 compared to full frame SLRs.
Rebel T3i DSLR Lenses: Canon EOS Zoom Lenses Comparison and Reviews
Rebel T3i DSLR Lenses: Canon EOS Prime (fixed) Lenses Comparison and Reviews
Shop All DSLR Cameras
(Clicking on shop buttons will open a new window)