Nikon D5500 DX DSLR Touchscreen WiFi Camera | Review
The mid range Nikon D5500 replaces the popular D5300 and has some improved features. The D5500 has an imaging sensor with 24.2 megapixels. The Nikon D5500 camera has Full 1080p HD Cinematic Video with full-time autofocus and sound. Subject-tracking AF. Body mounted stereo microphones. The native ISO for low light photography is 100-12,800 (expandable to 25,600). Its side articulating 3.2 inch high resolution display (1,037,000 dots) allows you to get hard to get low angle and high angle shots. The big upgrade for 2015 is the new touchscreen display, for better control over focus and other features. This is the first Nikon DSLR with a touchscreen. Built-in camera effects filters for both picture and video modes. Other features include LiveView so you can frame your movies and pictures, the Powerful EXSPEED 4 processor allows a higher 60fps movie mode and faster operation, 5.0 fps continuous shooting, Ultrasonic Dust Removal System removes dust from the sensor automatically, Active D-Lighting function which can vastly improve shadows and highlights of high-contrast scenes. 39 AF points (with 3D tracking). High Dynamic Range mode. Subject-tracking AF tracks and maintains focusing on a moving subject.
---
Upgrades to the D5500 Model:
The D5500 upgrades from the D5300, and weighs 11% less, and is slightly smaller. The 3.2-inch LCD screen is now a
touchscreen
(the D5300 had no touchscreen). You can now select your focus point by touching the subject on the screen. You can now Pinch, Zoom, and Swipe. The GPS feature on the D5300 was removed on the D5500.
Battery life has improved
from 600 shots to 820 shots. The Nikon D5500 has a larger buffer 7 raw shots vs. 4 raw shots.

---
* Compatible with all NIKKOR AF-S and AF-I lenses that have an autofocus motor. DX has 1.5x crop factor.
Shutter speeds: 30 – 1/4000 second, ISO: from 100-12800 (expandable to 25,600), Burst Mode: 5.0 fps, Built-in Flash.
Memory Cards: SD, SDHC, and SDXC cards. Lithium-ion battery EN-EL14a (included). USB 2.0.
HD Movie Modes: 1920 x 1080 (60p, 50p, 24p): at full 1080p; 1280 x 720 (60p, 50p): at 720p. MPEG-4 AVC/H.264, MOV codec. 38mbps bit rate.
Dimensions: 4.9″ x 3.8″ x 2.8″ ( .92 lbs).
---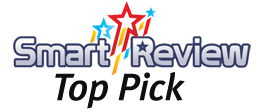 Smart-Review Commentary: Nikon's 2015-2016 mid range D5500 DSLR is an incremental improvement from the D5300 it replaces. The biggest improvement is that the camera now has a touchscreen, which will add many options including touching the subject to focus. This is the first Nikon DSLR with a touchscreen. The camera is lighter and smaller than the previous version, and battery life has improved. Other notable features, are the 24.2 megapixels Imaging Sensor, the Native ISO has is 12,800, and the powerful EXPEED 4 processor (same processor that is in the high end Nikon SLRs). The camera is also capable of taking video at a fast framerate of 60p and 50p along with a high recording bitrate. Shutter durability remains at 100,000 cycles. The Full Time AutoFocus feature will allow your DSLR to act more like a camcorder, so you don't have to manually focus your video if you don't want to. Also included are built in stereo microphones. The new built-in WiFi allows you to wirelessly connect to a tablet or smartphone. A microphone jack allows you to add external microphones like Nikon's stereo ME-1. The Live View function uses the LCD to compose pictures and videos. We believe this to be an excellent mid range SLR in this price range. We previewed this DSLR at CES. It comes in black or red color option. For its price and performance and new upgrades from the previous model, the new Nikon D5500 is a Smart Review Top Pick.
---
Related Article: Digital SLRs From $600 to $999 Comparison and Reviews
Related Camera: Canon EOS 70D Dual Pixel DSLR
Lenses for the Nikon D5500: Nikon Zoom Lenses Roundup and Comparison
Lenses for the Nikon D5500: Nikon Prime (fixed) Lenses Roundup and Comparison
Nikon D5500 Digital SLR at CES (Video)
Shop All Digital SLRs
(Clicking on shop buttons will open a new window)