Canon EOS Rebel T4i 18.0 Megapixel Digital SLR Camera
*New for 2012. The 18.0 megapixel Canon Rebel T4i (650d) is the latest low cost SLR from Canon which shares many of the features of more expensive DSLRs. The T4i is the follow on to the popular Rebel T3i. Its HD movie mode can shoot Full HD Video with manual exposure. This is the first Canon DSLR to have continuous autofocus in video mode. This allows you to catch fast moving action, without having to manually focus. The new feature uses Canon's new STM lenses with silent autofocus. HDMI port to hookup to an HDTV. An External Microphone Jack gives you additional audio options. Large high resolution 3-inch LCD screen (1,040,000 pixels) with touchscreen (first touchscreen in a Canon DSLR). 5.0 fps continuous shooting. Use the large LCD with the Live View Function for composition of both pictures and video. Dedicated Live View/Movie shooting button. You can capture a still image while shooting a movie. EOS Dust Removal System removes dust from the sensor automatically. Includes the 18-135mm STM (IS) Lens.
New T4i 2012 Upgrade Features:
LCD TouchScreen (first in a Canon DSLR), Full time autofocus in video mode (with new STM lenses), Built-in stereo microphones (upgraded from mono), native ISO doubled to 12,800, Burst mode from 3.7 to 5.0 fps, digic 5 chip (5x faster then digic 4), New Hybrid 18 megapixel CMOS AF sensor (faster autofocus and higher ISO). The Movie selection has been moved from from the mode dial, and is now on the power switch for easier access. Added support for high speed UHS-I memory cards. Two new items on the mode dial are handheld nightscene and HDR Backlight Control.
The EOS Rebel T4i has a high magnification viewfinder that provides a larger overall view, and increased brightness and clarity. Greatly improved low light performance, including ISO 12800. Improved 63-zone evaluative metering system. A display off sensor, turns off the LCD when you are looking through the viewfinder. Compatibility with over 50 Canon EF Lenses. Gapless micro-lenses in the sensor helps to capture more light and reduce noise. The DIGIC 5 Image Processor provides fast, accurate image processing and faster startup time.
Shutter speeds: 30 – 1/4000 second, ISO: from 100-12800, Burst Mode: 5.0 fps, Built-in Flash.
Memory Cards: Uses SD, SDHC, UHS-I and SDXC cards. Lithium-ion battery LP-E8 (included). USB 2.0.
Included Kit Lens: the EF-S 18-135mm f/3.5-5.6 IS STM (silent and smooth autofocus)
Video mode resolutions: 1080p @ 24fps, 25fps, and 30fps, 720p @50fps and 60fps
Dimensions: 5.2″ x 3.9″ x 3.1″ (18.2 ounces body only).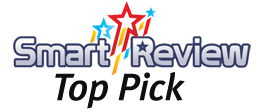 Smart-Review Commentary: For 2012, Canon has another winner with the Canon EOS Rebel T4i. It has many of the features of DSLRs with higher prices, and some features not even found on these higher priced cameras. The Canon T4i has an improved Full HD movie mode, now with continuous autofocus (so you don't have to manually focus if the subject moves). This feature with work with any lens with an autofocus motor, but its best to use the new STN lenses with almost silent autofocus. Sound is also improved with stereo microphones (located just in front of the accessory shoe), upgraded from a single microphone on the T3i. The external microphone jack allows you to use an external microphone for even better sound options. The New CMOS sensor gives you 18.0 megapixels and low light sensitivity with an ISO of 100-12800 (double last year's T3i). The new HDR Backlight control combines three JPEG images into one which enables you to take correctly exposed images when the background is much brighter than what you are photographing.
Advanced Features:
The
new touchscreen LCD
(first in a canon dslr) can articulate and the touchscreen gives new smart phone type features. The new multitouch glass capacitive display (same as used on smart phones) is more accurate than the plastic resistive types seen on compact cameras. You can pinch to zoom, and swipe photos to move to the next one just like a smart phone. When using
LiveView
for composing shots for photos or video, the new 18 megapixel CMOS chip uses on-sensor phase-detection for
smoother AF with less hunting
. This allows continous autofocus for video as well. Video sensor crop will give you more telephoto in HD Video mode with no image loss. Button layout and weight are almost identical to the T3i (the movie mode was moved from dial to power switch). It uses the same LP-E8 battery as the T3i. This camera has a dedicated live view/video button. The new Digic 5 chip is 5x faster, combined with the new
quieter shutter mechanism
gives the T4i a higher burst rate (5fps). We believe that this camera is one of the best mid priced DSLRs for 2012. It is a Smart-Review top pick.
Memory Cards: If you are going to record 1080p video on your T4i, for best results we recommend Class 10 SDHC memory cards that record at 30mb/s and higher. See the two Sandisk extreme cards listed below.
Canon T4i SLR
Rebel T4i
with 18-55mm EF-S lens
Rebel T4i
with 18-135mm STM lens
Rebel T4i
Body Only

SLR Features

*New 2012 Model
18.0 megapixels
Articulating 3-inch LCD
TouchScreen LCD
Live View function
ISO 100-12800
Full HD 1080p Video
Burst Mode: 5.0 fps
Video F/T Autofocus
63-zone evaluative metering
HDMI out to HDTV
Digic 4 image processor
APS-C Sized Imager
External Mic Jack


Is this the best price?

Is this the best price?

Is this the best price?
Related Article: Digital SLRs with HD Video – Comparison and Reviews
Related Camera: Nikon D5200 24.2 Megapixel Digital SLR
Canon Rebel T4i Lens Compatibility: The Rebel T4i is compatible with over 60 EF and EF-S lenses. The EF-S lenses are specifically designed for APS-C imager SLRs such as the T4i. APS-C SLRs have a focal length conversion factor of 1.6 compared to full frame SLRs. The continuous autofocus in video mode works with Canon STM lenses with silent autofocus motors.
Rebel T4i DSLR Lenses: Canon EOS Zoom Lenses Comparison and Reviews
Accessories Canon Rebel T4i Digital SLR
Canon 270EX
Speedlite Flash
Rode VideoMic
External Microphone
Azden SMX-10
External Microphone
Sandisk Extreme Pro
16 GB SDHC
Class 10 Card

Transcend 32 GB
SDHC
Class 10 Card
Sandisk 16GB
Extreme SDHC
Class 10 Card
Canon EF-S 40mm
STM Lens
Canon EF-S 55-250mm
Zoom Lens