| | |
| --- | --- |
| Dyson's best upright vacuum for 2017. The new top-rated Dyson Cinetic "Big Ball" Animal+Allergy vacuum cleaner has the newest Cyclonic technology called Dyson Cinetic Science. The new technology eliminates the need for a filter, so no filters to clean or replace. The motorized brush bar and included tools, makes this model ideal for removing pet hair. For delicate rugs and hard floors, the brush bar can be turned off. Dyson's upright ball vacuum is ideal for those who want a powerful vacuum that doesn't lose suction, but also don't want to have to work with a heavy floor-cleaning machine. Equipped with the latest Dyson Big Ball technology, this upright vacuum cleaner sits on a ball for easy twisting and turning around furniture and obstacles. This version is Dyson's best vacuum for pet hair. Whole-machine HEPA filtration (great for those with allergies or pets). The cleaner head on the Dyson Cinetic Big Ball, self-adjusts which gives you more suction power on both carpets and hard floors. The Cinetic Big Ball Complete comes with an extra tool bag which includes the new Carbon Fiber Soft Dusting Brush, Multi-Angle Brush, Mattress Tool, Reach Under Tool, and Toolbag. This model also comes with the tangle free turbo tool for cleaning pet hair, stairs, upholstery, and car interiors. The Dyson Cinetic has won our Best of 2017 Award for high end upright bagless vacuums. …More… | |
| | |
| --- | --- |
| **New for 2017-2018** The Shark Rotator NV752 TruePet powered vacuum is another advancement in Shark Vacuums. What sets this premium model apart is both the cleaner head, and the pet tool, are electrically powered, instead of air powered for better cleaning. This vacuum is designed for those with Pets and pet hair problems. The NV752 TruPet gives you a combination of a lightweight upright along with a detachable lightweight canister vacuum (with powered brushroll). Never loses suction Technology gives this vacuum consistent suction power. To prevent you from breathing in the dust and dirt you are vacuuming, Shark has an Anti-Allergen Complete Seal Technology(tm) which traps 99.99% of dust inside the vacuum. Lifetime HEPA filter. Swivel steering and smooth-gliding wheels provide easier maneuvering around furniture. This top-rated model compares favorably to Dyson models. Longer seven year warranty. Brushroll on/off capability for powerful carpet and bare floor cleaning. By turning the collar around the handle, you can control the amount of suction. Important when vacuuming delicate rugs, drapes, and other uses where you may not want full suction. Built-in Headlights to see in dark areas. The brushroll controls are built into the handle. …More… | |
** New for 2017-2018** Dyson's best rated and most powerful cordless stick vacuum. The fifth generation Dyson V8 Absolute cordless stick vacuum has more suction power than any other lightweight cordless vacuum cleaner available. The V8 Absolute model has a new V8 motor with higher suction, up to double the battery life which gives you (up to 40 minutes) of cleaning time, and a more powerful motorized floor tool. The Dyson engineers have made the V8 model 50% Quieter than previous models, and has added a new dirt/dust ejection system. This new model weighs less than 6 pounds and has a detachable handheld. It is ideal for quick cleaning on all floor types, upholstery, stairs and inside your car. Since it is an Absolute version it can handle pet hair with extra included tools. Whole Machine HEPA Filtration. Includes two floor tools. Two Tier Radial™ Cyclone Technology uses 15 cyclones to separate out dirt and dust. The high-end Dyson V8 Absolute has won our Best of 2017 Award in the cordless vacuum category. …More…



*The Best Cordless on the Market for 2017-2018*
Vacuum Cleaner Buying Guide (2017-2018) – Buying a vacuum cleaner is more complicated than it used to be. Today, you must choose between many options, such as an upright or canister, bagged or bagless, and a large array of options. Many of today's vacuums filter the air with HEPA filters, best for those with allergies. […]
Best Rated Miele Vacuum Cleaners Comparison & Reviews – This is a roundup of the best rated Miele Canister and Upright vacuums currently available. Miele is a premier, German engineered vacuum made with the best materials for long life. Miele vacuums have always received the highest consumer reviews in both canister and upright vacuums. Miele […]
| | |
| --- | --- |
| *New for 2017-2018. The Miele Complete C3 Cat & Dog is Miele's premium multi floor canister vacuum with 2 floor tools. Designed for Pets and Pet hair with included tools, including the Handheld Pet Turbobrush, great for pets, pet hair, dirt and dust. The Miele Complete C3 Series features a 12-stage sealed air system so no dust escapes. It is lightweight, weighing only 12 lbs. Miele vacuums are extremely quiet compared to other canisters (they are sound insulated) and are German engineered to last. The included Charcoal Activated AirClean Filter outputs air cleaner than the air it takes in, and neutralizes pet odors. This keeps the dust and dirt in the bag and out of the air you breathe. Great for allergy sufferers. A rotary dial adjusts the suction power to your needs, and even has a quiet setting. You can rewind the retractable cord automatically by stepping on a switch on the back of the canister. The carrying handle makes it easy to carry the vacuum up and down the stairs. 6 Speed Settings Controlled using the +/- Footswitch Controls. Crush proof hose adds durability. The telescoping wands are made of stainless steel, made for long-term usage. Tools Include: crevice nozzle, dusting brush and upholstery tool. Also included with the Miele C3 Cat & Dog is Miele's best SEB228 Powered Floor Brush which is an electrically-driven motorized carpet tool suitable for low to high pile carpeting, soft carpets, and smooth flooring (great for pet hair). The SEB228 floor tool is recommended by many soft plush carpet manufacturers, for soft carpets such as SmartStrand Silk, Caress®, Karastan, and Soft Spring. Deluxe handle with electrobrush controls. The included floor tool Parquet Twister has soft, natural bristles to glide over smooth floor surfaces, especially delicate, polished hardwood floors, without damaging them. It can rotate 180-degrees to clean around obstacles like tables or chair legs. Miele's Sealed 12-Stage Air Clean System, is an air-tight sealed system that retains 99.99% of particles at 0.3 micron. The Miele Cat & Dog Canister has won our Best of 2017 Award for bagged high end canister vacuums. Miele is our best rated brand in the Bagged Canister Vac Category. …More… | |
| | |
| --- | --- |
| *New for 2017-2018* Dyson's Multi-Floor 2 upright vacuum. Dyson's lowest priced full size upright vacuum. The Dyson Multi-Floor 2 uses Dyson's latest Radial Root Cyclone™ Technology to increase suction power and trap more dirt and dust. The motorized brush bar makes this model ideal for removing pet hair. For delicate rugs and hard floors, the brush bar can be turned off. Dyson's new lightweight upright ball vacuum is ideal for those who want a powerful vacuum that doesn't lose suction, but also don't want to have to work with a heavy floor-cleaning machine. Equipped with Dyson Ball technology, this upright vacuum cleaner sits on a ball for easy twisting and turning around furniture and obstacles. This version is excellent for pet hair. The cleaner head on the Multi-Floor 2 vacuum self-adjusts from carpet to hard floors, which gives you more suction power, and is truly a multi-floor vacuum. HEPA filtration prevents dust and dirt from polluting the air while you are vacuuming. …More… | |
| | |
| --- | --- |
| *New for 2017-2018* Dyson's Animal 2 upright vacuum. Dyson's latest and most powerful full size animal upright vacuum. The Dyson Animal uses Dyson's latest Radial Root Cyclone™ Technology to increase suction power and trap more dirt and dust. The motorized brush bar makes this model ideal for removing pet hair. The Animal 2 Vacuum also includes an air-driven Tangle-Free Mini Turbine Tool to clean upholstery, cars, and stairs of dust, dirt, and pet hair. Its counter rotating brushes prevent tangling. For delicate rugs and hard floors, the brush bar can be turned off. Dyson's new lightweight upright ball vacuum is ideal for those who want a powerful vacuum that doesn't lose suction, but also don't want to have to work with a heavy floor-cleaning machine. The Dyson Ball Animal 2 upright is equipped with Dyson Ball technology, this upright vacuum cleaner sits on a ball for easy twisting and turning around furniture and obstacles. Dyson ball technology is exclusive to Dyson vacuums. This version is excellent for pet hair with 270 airwatts of suction, making this vacuum the most powerful Dyson Vacuum on the market. The cleaner head on the Animal vacuum self-adjusts from carpet to hard floors, which gives you more suction power, and is truly a multi-floor vacuum. This top-rated model has won our BEST of 2017 Award for upright vacuums. …More… | |
| | |
| --- | --- |
| *New Model* iRobot Roomba 960 Robot Vacuum . The new Roomba 960 is one of iRobot's best rated robot vacuums to date. The latest iRobot technology that sets it apart is the Tangle-Free AeroForce Extractors, which gets rid of brushes, increasing suction and airflow no matter what surface it is vacuuming. It is effective at getting dirt, dust, pet fur, and pet hair from a variety of surfaces using its patented 3 stage cleaning system. Its HEPA filter traps dust and allergens and will keep your air clean and smelling fresh, great for those with allergies, pets and pet hair. This sophisticated robot vacuum has Dirt Detect Series Technology which uses both optical and acoustic sensors to identify dirtier areas and spends more time cleaning them. One Virtual Wall Barrier is included with this model. New to this model is built-in WiFi, so you can use the iRobot HOME App to control and schedule from Roomba 960. Using advanced software and sensors, the Roomba 960's iAdapt technology ensures that it vacuums every section of your floor, including areas you cannot easily reach, such as under furniture. As a multi-floor vacuum, this robotic vacuum will automatically adjust to clean carpets, hardwood, tile, and linoleum floors as it moves through your home. Roomba will vacuum every section of your floor multiple times, and its advanced software allows it to get around obstacles, move along walls and to avoid falling down stairs, drop-offs, and avoid tangles from loose cords. The top-rated Roomba 960 starts working for you at the push of the CLEAN button (on the top of the vacuum). …More… | |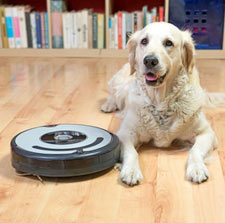 Best Rated Robot Vacuum Cleaners (2017-2018)
This is a roundup and comparison of the best rated robot vacuums currently available. Robot vacuums will automatically clean your rugs or hard floors while you do other activities. Some even have a remote control or WiFi APP so you don't have to get up to start them. Both the iRobot 960 and the iRobot 980 can control your vacuum with a smartphone using the Built-in WiFi. Many of the top robot vacuums can even have advanced features such as HEPA filtration (great for allergies or pets). Sensors and intelligent software onboard the robot vacuum keep it from getting stuck, or going down your stairs.
Best Rated Upright Vacuum Cleaners – This is a roundup of the best rated upright vacuums currently available. Upright vacuums have traditionally been ideal for carpets, but also have the ability to vacuum hard surface floors (tile, wood, stone). These type of vacuums store dirt in two ways, bagged or bagless. Bagless vacuums such as […]
| | |
| --- | --- |
| **New for 2017-2018** Shark introduces the new ION 750 Robotic Vacuum with Dual Brush edge cleaning to get debris from edges and corners. This model is great for pets and pet hair with its Self-cleaning Brushroll which removes short and long hair, dust, dander, and allergens. The ION 750's HEPA filter helps to keep the air clean while it is vacuuming. The Dual spinning side brushes will pull in dirt and debris from corners and edges. The Robot Vacuum has full navigation sensors for cleaning carpets and floors. The Shark ION 750 starts working for you at the push of the CLEAN button (on the top of the vacuum) or use your Smartphone, as the ION 750 has built-in WiFi and the Shark ION ROBOT APP. You can also schedule cleaning for later with your Smartphone or Tablet. This model also has voice control thru Amazon Alexa or Google Home. The Shark ION 750 will give you about 1 hour of cleaning time, and automatically returns to its charging base. …More… | |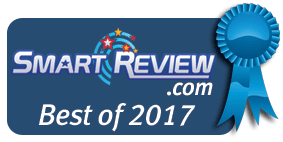 Dyson's Latest 2017-2018 Vacuum Cleaners – SmartReview.com met with Dyson to review its latest vacuums for 2017-2018. The latest models include a new cyclonic technology called Dyson Cinetic Science, which eliminates the need for a filter, so nothing to clog, clean or replace. The cinetic lineup includes the Dyson Cinetic Animal+Allergy "Big Ball" Upright, the Dyson Cinetic Animal "Big Ball" Upright, and the Dyson Cinetic Animal Canister Upright. All of these models are the best in their category, and have received the BEST OF 2016 & 2017 awards from SmartReview.com in the bagless vacuum categories. We got a full explanation of the new cinetic science, (see video below). All of the cinetic vacuums come with the fantastic handheld "Tangle Free Turbine Tool" to vacuum hair and pet hair easily without tangling in the brush bar. There is nothing like this on the market and is exclusive to Dyson.
Best Rated Bissell Vacuum & Carpet Cleaners – This is a roundup of the best rated Bissell vacuums. Smart-Review limits the selection to only those Bissell vacuums and carpet cleaners with the highest consumer reviews. We have found that in the low to mid-range category, select Bissell models compare favorably to other brands in the […]