Best-Rated Commercial Grade Upright Vacuum Cleaners | Comparison & Reviews 2022-2023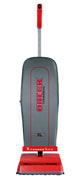 Best Rated Commercial Upright Vacuums | 2022-2023
This is a roundup of the best rated commercial upright and canister vacuums currently available. Commercial vacuums are made for heavy duty day to day use, will hold up better than residential vacuums, and are made to easily access parts. Commercial vacuums are used in commercial settings such as office buildings, apartment buildings, and fitness clubs. These type of vacuums usually do not have a hose or tools.
Commercial upright vacuums have traditionally been ideal for carpets, but also have the ability to vacuum hard surface floors (tile, wood, stone). The highest quality residential home bagged vacuums are Miele Vacuums which have adjustable suction, are built to last, and are quieter than other vacuums. Below are the top commerical grade vacuums listed with top features, and reviews.

Best Rated Commercial Upright Vacuum Cleaners 2022-2023
(Best rated with the highest consumer reviews)
Best Rated Premium Commercial Upright Vacuums 2022-2023
(Best rated high end commercial upright vacuums)
Best Rated Commercial Upright Vacuums 2022-2023
(Best rated Sanitaire commercial upright vacuums)
---
Top 5 Best Rated Commercial Grade Vacuum Cleaners:
---
Commercial Vacuum Glossary of Terms
Wide Cleaning Path = A standard vacuum has a 12-inch cleaning powerhead. Some commercial vacuums come with 15 and 18-inch heads. An 18-inch powerhead will clean 50% more carpet on one pass than a standard vacuum, saving your cleaning crew a lot of time.

Related Article: Top Commercial Vacuums with the Widest Cleaning Paths
---
Bagged Vacuum = A bagged vacuum stores all the dirt and dust in a disposable bag. Many are self sealing, so that dust does not go everywhere when you remove the bag. Bagged vacuums usually have a larger capacity to store dirt and dust than Bagless Vacuums. Part of the filtration system is built-in to the bag.



Bagless Vacuum = A bagless vacuum stores dirt and dust in its onboard dust bin which is detachable so you can take the dust bin to your trash can, to empty it. You do not need to purchase bags. Most you will have to clean the filter from time to time.



Shake Out Bag = Many Sanitaire commercial vacuums come with a large capacity 18 quart "Shake Out" bag. These are reusable fabric bags, that can be shaken out and re-used.



Self Sealing Bag = Some bagged vacuums have dust bags that seal shut when you remove them from the vacuum. This prevents dust from getting in the air when you are changing bags. All Miele vacuums have self sealing bags.



HEPA Filter = A HEPA filter is the best type of dirt filtration on a vacuum. This will remove the smallest particles of dirt, dust, and pet hair so that you don't breathe in what you are vacuuming. This is especially important for those with allergies.



Optional Hose = This means there is a hose attachment port for an optional hose and accessories.



Commercial Vacuum with Attachments = This type of upright commercial vacuum will come with a hose, wand, and usually a crevice and dusting brush.
Related Article: Commercial Upright Vacuums with Attachments



Motor By-Pass = All debris goes directly into the bag, bypassing the motor and fan. If you pick up a screw or metal object, it will not damage the motor.



Cyclonic = Cyclonic vacuums lift dust in the dust bin, and prevent the filter from clogging. This applies only to Bagless vacuums.



Extension Hose = A vacuum with an extension hose, allows you to vacuum not only the carpet or floor, but to vacuum upholstery, drapes, stairs, and walls.



Certified Gold CRI = The Oreck Commercial U2000R-1 upright vacuums has been certified as GOLD by The Carpet and Rug Institute.
Related Article: Top Rated Miele Vacuums Comparison & Reviews
Related Article: Top Rated Dyson Vacuums Comparison & Reviews
Related Article: Best Canister Vacuums Comparison & Reviews
Related Article: Smart-Review | Vacuum Cleaner Buying Guide
Related Article: Commercial Vacuums with the Widest Cleaning Path | Comparison