Electrolux EL4335B (Ultra Flex) Canister Vacuum | Reviews
Electrolux Ultra Flex Canister Vacuum. The Electrolux Ultra Flex EL4335B is Electrolux's Multi-Floor bagless canister vacuum designed for low pile to high pile carpet, plush carpets, or hard floors. The built-in HEPA filtration will remove 99.97% of dust and allergens from your home, so you don't breath in what you are vacuuming. Important if you have pets or allergies. Lightweight canister design makes it easier to carry, (as it weighs only 11.6 lbs).
The Brushroll Clean Technology removes tangles from the brushroll with the press of a button. The telescopic wand allows you to reach hard to get areas. You can rewind the retractable cord automatically by pressing a button on the canister. Easy to empty 1.4 quart clear dust bin. The low profile nozzle will allow you to reach further under the furniture or bed in your home. The Adjustable Suction Power will allow you to reduce suction to clean delicate rugs, curtains, and fabric. Automatic Cord Rewind. Brush Roll on/off switch allows you to switch between carpets and hard floors.
---
Included Tools & Accessories: Crevice Tool, Dusting Brush, Bare Floor Nozzle, Combination Carpet/Floor Nozzle, Upholstery Brush
Electrical Cord Length: 21 feet (33 feet total reach)
Hose Length: 8 feet
Vacuum Warranty: 5-year limited warranty.
Vacuum Weight: 11.6 lbs.
---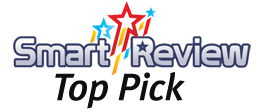 Smart-Review Commentary: The Electrolux Ultra Flex EL4335B is Electrolux's powerful bagless canister vacuum. It is ideal for hard floors, hardwood, and especially low to high pile carpets, and plush carpets. The cleaner head has an electrically powered motorized brushbar to clean your carpets. You can turn the brushroll off with the ON/OFF brushroll switch. Suction can be reduced for delicate areas. The EL4335B Canister vacuum has a HEPA filter, so you will be protected from the dirt and dust that is going into the vacuum. This canister vacuum comes with several tools for cleaning your home. The low profile nozzle fits under your bed or furniture. Its telescoping wand and hose gives you a long reach to clean stairs, walls, drapes, and ceilings. This model has received excellent consumer reviews and is a Smart-Review top pick for Canister vacuums, especially if you have carpets.
---
Electrolux Ultra Flex EL4335B Canister Vacuum Cleaner
Electrolux UltraFlex EL4335B Canister
Miele Compact C2 Electro+ Canister Vacuum

Vacuum Features

Weighs only 11.6 lbs.
Bagless Vacuum
Adjustable Suction
Brushroll Clean Technology
HEPA Filter
Canister Vacuum
Brushroll ON/OFF Switch
Automatic Cord Rewind
21 foot cord
Dusting Brush
Bare Floor Brush
Crevice Tool
Plush Carpeting
5 year warranty

Is this the best price?

(Click for Reviews)
Bagless
Adjustable Suction
Plush Carpet Cleaning

Is this the best price?
(Click for Reviews)
Bagged
Adjustable Suction
Plush Carpet Cleaning
Parquet Floor Brush
Related Article: Best Miele Vacuums Comparison & Reviews
Related Article: Best Canister Vacuums Comparison & Reviews
Related Article: Canister Vacuum Buying Guide