Top Rated Robot & Robotic Vacuum Cleaners | Comparison & Reviews 2017-2018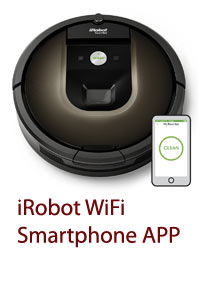 Top Rated Robot & Robotic Vacuum Cleaners * Comparison & Reviews 2017-2018
Smart-Review features only the best-rated robotic vacuums. We limit reviews to only those vacuums that meet our rating requirements. iRobot and Neato robotic vacuums are among the highest rated robot vacuums from both professional and consumer reviews. Most can be scheduled to clean when you are away, and some even have WiFi to control the robotic vacuum with your smartphone or tablet. HEPA filtration is available on many models, and are better suited for those that have allergies. The Top-Rated 2017-2018 Robot Vacuums listed below have all received owner reviews of 4 stars or better. Deep Discount Prices – This site offers the best brands of Vacuums through highly rated vendors at deep discount prices with free shipping on most models.
---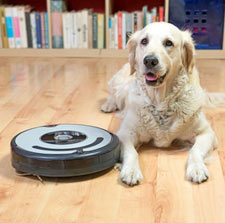 Best Rated Robot Vacuum Cleaners (2017-2018)
This is a roundup and comparison of the best rated robot vacuums currently available. Robot vacuums will automatically clean your rugs or hard floors while you do other activities. Some even have a remote control or WiFi APP so you don't have to get up to start them. Both the iRobot 960 and the iRobot 980 can control your vacuum with a smartphone using the Built-in WiFi. Many of the top robot vacuums can even have advanced features such as HEPA filtration (great for allergies or pets). Sensors and intelligent software onboard the robot vacuum keep it from getting stuck, or going down your stairs.
[ Read More → ]
---
| | |
| --- | --- |
| *New Model* iRobot Roomba 960 Robot Vacuum . The new Roomba 960 is one of iRobot's best rated robot vacuums to date. The latest iRobot technology that sets it apart is the Tangle-Free AeroForce Extractors, which gets rid of brushes, increasing suction and airflow no matter what surface it is vacuuming. It is effective at getting dirt, dust, pet fur, and pet hair from a variety of surfaces using its patented 3 stage cleaning system. Its HEPA filter traps dust and allergens and will keep your air clean and smelling fresh, great for those with allergies, pets and pet hair. This sophisticated robot vacuum has Dirt Detect Series Technology which uses both optical and acoustic sensors to identify dirtier areas and spends more time cleaning them. One Virtual Wall Barrier is included with this model. New to this model is built-in WiFi, so you can use the iRobot HOME App to control and schedule from Roomba 960. Using advanced software and sensors, the Roomba 960's iAdapt technology ensures that it vacuums every section of your floor, including areas you cannot easily reach, such as under furniture. As a multi-floor vacuum, this robotic vacuum will automatically adjust to clean carpets, hardwood, tile, and linoleum floors as it moves through your home. Roomba will vacuum every section of your floor multiple times, and its advanced software allows it to get around obstacles, move along walls and to avoid falling down stairs, drop-offs, and avoid tangles from loose cords. The top-rated Roomba 960 starts working for you at the push of the CLEAN button (on the top of the vacuum). …More… | |
[ Read More → ]
---
| | |
| --- | --- |
| *NEW 2017-2018 Model* iRobot Roomba 980 Robot Vacuum . The new Roomba 980 is iRobot's best robot vacuum to date. The latest iRobot technology that sets it apart is the Tangle-Free AeroForce Extractors, which gets rid of brushes, increasing suction and airflow no matter what surface it is vacuuming. It is effective at getting dirt, dust, pet fur, and pet hair from a variety of surfaces using its patented 3 stage cleaning system. Its HEPA filter traps dust and allergens and will keep your air clean and smelling fresh, great for those with allergies, pets and pet hair. This sophisticated robot vacuum has Dirt Detect™ Series 2 Technology uses both optical and acoustic sensors to identify dirtier areas and spends more time cleaning them. Two Virtual Wall Barriers are included with this model. New to this model is built-in WiFi, so you can use the iRobot HOME App to control and schedule the Roomba 980 for cleaning. Using advanced software and sensors, the Roomba 980's iAdapt technology ensures that it vacuums every section of your floor, including areas you cannot easily reach, such as under furniture. As a multi-floor vacuum, this robotic vacuum will automatically adjust to clean carpets, hardwood, tile, and linoleum floors as it moves through your home. Roomba will vacuum every section of your floor multiple times, and its advanced software allows it to get around obstacles, move along walls and to avoid falling down stairs, drop-offs, and avoid tangles from loose cords. The 980 has the longest runtime of any robot vacuum we cover (2 hours). The Roomba 980 starts working for you at the push of the CLEAN button (on the top of the vacuum). This top-rated model has won our BEST of 2017 award. …More… | |
[ Read More → ]
---
| | |
| --- | --- |
| iRobot Roomba 860 Robot Vacuum . The new Roomba 860 is one of iRobot's best rated robot vacuums to date. This time iRobot has introduced its new Tangle-Free AeroForce Extractors, which gets rid of brushes, increasing suction and airflow no matter what surface it is vacuuming. It is effective at getting dirt, dust, pet fur, and pet hair from a variety of surfaces using its patented 3 stage cleaning system. The built-in HEPA filter traps dust and allergens and will keep your air clean and smelling fresh, great for those with allergies, pets and pet hair. This sophisticated robot vacuum has Dirt Detect Series 2 Technology uses both optical and acoustic sensors to identify dirtier areas and spends more time cleaning them. Using advanced software and sensors, the Roomba 860's iAdapt technology ensures that it vacuums every section of your floor, including areas you cannot easily reach, such as under furniture. As a multi-floor vacuum, this robotic vacuum will automatically adjust to clean carpets, hardwood, tile, and linoleum floors as it moves through your home. Roomba will vacuum every section of your floor multiple times, and its advanced software allows it to get around obstacles, move along walls and to avoid falling down stairs, drop-offs, and avoid tangles from loose cords. The top-rated Roomba 860 starts working for you at the push of the CLEAN button (on the top of the vacuum). Advanced Lithium ion battery for long life. This model is top-rated, and has won our BEST of 2017 Award for robotic vacuums under $500. …More… | |
[ Read More → ]
---
| | |
| --- | --- |
| **New for 2017** Shark introduces the new ION 750 Robotic Vacuum with Dual Brush edge cleaning to get debris from edges and corners. This model is great for pets and pet hair with its Self-cleaning Brushroll which removes short and long hair, dust, dander, and allergens. The ION 750's HEPA filter helps to keep the air clean while it is vacuuming. The Dual spinning side brushes will pull in dirt and debris from corners and edges. The Robot Vacuum has full navigation sensors for cleaning carpets and floors. The Shark ION 750 starts working for you at the push of the CLEAN button (on the top of the vacuum) or use your Smartphone, as the ION 750 has built-in WiFi and the Shark ION ROBOT APP. You can also schedule cleaning for later with your Smartphone or Tablet. This model also has voice control thru Amazon Alexa or Google Home. The Shark ION 750 will give you about 1 hour of cleaning time, and automatically returns to its charging base. …More… | |
[ Read More → ]
---
| | |
| --- | --- |
| **New for 2017** Shark introduces the new ION 720 Robotic Vacuum with Dual Brush edge cleaning to get debris from edges and corners. This model is great for pets and pet hair with its Self-cleaning Brushroll which removes short and long hair, dust, dander, and allergens. The ION 720's HEPA filter helps to keep the air clean while it is vacuuming. The Dual spinning side brushes will pull in dirt and debris from corners and edges. The Robot Vacuum has full navigation sensors for cleaning carpets and floors. The Shark ION 720 starts working for you at the push of the CLEAN button (on the top of the vacuum) or use the included Remote Control. You can also schedule cleaning for later with the Scheduling remote control. The helix-pattern bristles provide for pickup on both carpets hard floors. Cleaning time is approximately 1 hour according to Shark, and the charging time is 3 hours. Vacuum automatically returns to the charging base. …More… | |
[ Read More → ]
---
| | |
| --- | --- |
| iRobot Roomba 650 Robot Vacuum for Pets. The Roomba 650 is iRobot's lowest priced robot with onboard scheduling. It is effective at getting dirt, dust, pet fur, and pet hair from a variety of surfaces using its patented 3 stage cleaning system. This sophisticated robot vacuum has introduced Dirt Detect technology uses an acoustic sensor to identify dirtier areas and spends more time cleaning them. Using advanced software and sensors, the Roomba 650's iAdapt technology ensures that it vacuums every section of your floor, including areas you cannot easily reach, such as under furniture. As a multi-floor vacuum, this robotic vacuum will automatically adjust to clean carpets, hardwood, tile, and linoleum floors as it moves through your home. Roomba will vacuum every section of your floor multiple times, and its advanced software allows it to get around obstacles, move along walls and to avoid falling down stairs, drop-offs, and avoid tangles from loose cords. The improved brush requires less cleaning, as the brush mechanism cleans itself most of the time. AeroVac Technology: Optimized airflow pulls hair off Roomba's brushes and guides it to the back of the AeroVac bin. The Roomba 650 starts working for you at the push of the CLEAN button (on the top of the vacuum). Included Virtual Wall keeps vacuum restricted to rooms of your choice. Clean while you are at work, with 7 day scheduling. …More… | |
[ Read More → ]
---
| | |
| --- | --- |
| iRobot Roomba 614 Robot Vacuum . The Roomba 614 is iRobot's lowest priced robot vacuum available. It is effective at getting dirt, dust, pet fur, and pet hair from a variety of surfaces using its patented 3 stage cleaning system. This sophisticated robot vacuum has Dirt Detect technology uses an acoustic sensor to identify dirtier areas and spends more time cleaning them. Using advanced software and sensors, the Roomba 614's iAdapt technology ensures that it vacuums every section of your floor, including areas you cannot easily reach, such as under furniture. As a multi-floor vacuum, this robotic vacuum will automatically adjust to clean carpets, hardwood, tile, and linoleum floors as it moves through your home. Roomba will vacuum every section of your floor multiple times, and its advanced software allows it to get around obstacles, move along walls and to avoid falling down stairs, drop-offs, and avoid tangles from loose cords. The improved brush requires less cleaning, as the brush mechanism cleans itself most of the time. AeroVac Technology: Optimized airflow pulls hair off Roomba's brushes and guides it to the back of the AeroVac bin. The Roomba 614 starts working for you at the push of the CLEAN button (on the top of the vacuum). …More… | |
[ Read More → ]
---
| | |
| --- | --- |
| *NEW 2016-2017 Model* Neato Botvac D3 Connected Robot Vacuum for Pets. The Neato Botvac D3 Connected is Neato's lowest priced connected robot vacuum with 7 day scheduling and WiFi. This model has built-in WiFi with a free APP for your smartphone to control your robotic vacuum. It is effective at getting dirt, dust, pet fur, and pet hair from a variety of surfaces using its SpinFlow Power Clean system which combines suction and precision brushes to leave floors immaculately clean. The D3 Connected includes a combo brush which will provide superior pick-up of pet hair on all floor types, with reduced noise during operation, and is ideal for homes with multiple types of flooring. The brush is easy to remove. This sophisticated robot vacuum uses LaserSmart Mapping and a navigation system to scan and map the room. As a multi-floor vacuum, this robotic vacuum will automatically adjust to clean carpets, hardwood, tile, and linoleum floors as it moves through your home. Roomba will vacuum every section of your floor multiple times, and its advanced software allows it to get around obstacles, move along walls and to avoid falling down stairs, drop-offs, and avoid tangles from loose cords. The Auto-Charge & Resume feature will automatically return the Botvac to base to charge, then resume cleaning. This top-rated robot vacuum is upgraded to a lithium-ion battery (the best type). The Neato D3 Connected starts working for you at the push of a button (on the top of the vacuum) or your Smartphone. …More… | |
[ Read More → ]
---
| | |
| --- | --- |
| Neato Botvac D80 Robot Vacuum for Pets. The top rated Neato Botvac D80 is Neato's lowest priced robot vacuum with 7 day scheduling. It is effective at getting dirt, dust, pet fur, and pet hair from a variety of surfaces using its SpinFlow Power Clean system which combines suction and precision brushes to leave floors immaculately clean. The D80 includes both combo brush, spiral blade brush, and side brush. This sophisticated robot vacuum uses LaserSmart Mapping and a navigation system to scan and map the room. As a multi-floor vacuum, this robotic vacuum will automatically adjust to clean carpets, hardwood, tile, and linoleum floors as it moves through your home. Roomba will vacuum every section of your floor multiple times, and its advanced software allows it to get around obstacles, move along walls and to avoid falling down stairs, drop-offs, and avoid tangles from loose cords. The Auto-Charge & Resume feature will automatically return the Botvac to base to charge, then resume cleaning. The extra large .7 liter dirt bin will hold more than most other robot vacuums. The Neato D80 starts working for you at the push of a button (on the top of the vacuum). …More… | |
[ Read More → ]
---