Dyson V10 Motorhead Cordless Stick Vacuum | Review 2019
Dyson's most powerful cordless stick vacuum. The sixth generation Dyson Cylone V10 Motorhead, V10 Animal & V10 Absolute cordless stick vacuums have more suction power than any other lightweight cordless vacuum cleaner available. The V10 Motorhead model is the least expensive V10 model, with higher suction, and longer battery life. The new modified In-line configuration along with the new V10 motor creates 20% more suction than the previous Dyson V8 model.
This new model has the power of a corded upright yet weighs less than 6 pounds. It is ideal for quick cleaning on all floor types. Since it is an Motorhead version it can handle pet hair. To keep the air clean as you vacuum, the V10 has Whole Machine HEPA Filtration ( captures 99.97% of particles as small as 0.3 microns). The V10 series comes in 3 versions. The Motorhead version is the most compact with the same dust bin capacity as the V8 model.
---
Dyson Direct Drive Motorhead:
The main tool for cleaning is the direct drive motorhead. This tool is the same as on the V8, with multi-floor (carpets & hard floors) cleaning. The new V10 now has
3 suction modes.
These modes are
Low
(16 airwatts with 60 minutes suction or 30 minutes with motorized tool),
Medium
(32 airwatts with 30 minutes of suction or 20 minutes with a motorized tool), and
High
(150 airwatts with 6 minutes of runtime).
The battery itself now has three LED lights to indicate current charge condition, a new clog indicator was added, and a new filter cleaning indicator was added. As with the V8 model this vacuum is quieter in the medium and low power settings.
---
More Features:
The Dyson V10 Motorhead has a lightweight detachable long reach wand which can be used for
cleaning high places
, as well as hard to reach areas. The wand is easily removable, converting your V10 Motorhead into a handheld vacuum. The
Motorized Floor Tool
can be attached to the handheld unit for vacuuming stairs, carpets or hard floors (including hardwood floors).
The V10 Motorhead has a MAX power mode for those tough areas which require maximum suction. Low power mode runtime is 60 minutes, medium is 40 minutes per charge (7 minutes on MAX). The lithium ion batteries charge faster than most other cordless vacuums (charge time: 3.5 hours). The vacuum does not rely on the filter to trap dirt, and has a lifetime washable filter. 14 concentric array cyclones separates out dust and dirt and assures no loss of suction. As with all Dyson vacuums, this unit is bagless, so no bags to buy.
---
What's in the Box? The Dyson V10 Motorhead, Docking Station, Charger, Crevice Tool, Direct Drive Motorized Floor Tool, Combination Accessory Tool.
Battery Cleaning Runtime: 60 minutes on low suction, 35 Minutes with motorized Floor Tool.
Vacuum Warranty: 2 years (Parts and Labor).
Vacuum Weight: 5.5 lbs.
---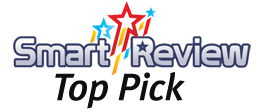 Smart-Review Commentary: The Dyson V10 Motorhead is a sixth generation cordless stick vacuum with many improvements. The biggest change is that this model has an In-line configuration that allows for 20% greater suction over the V8 model. Other improvements are a longer battery life, new V10 motor, and an improved new Dirt & Dust Ejection System that empties the bin, and scrapes the dust off the bin and screen, all in one action. You get up to 60 minutes (35 with motorized tool) of cleaning time, or 6 minutes on Max. It is actually two vacuums in one.
The Dyson V10 Motorhead is both a cordless stick vacuum and a cordless handheld, which allows you to vacuum your car, stairs, and smaller areas. The Cyclone V10 Cordless comes with a wall mounted docking station, for charging, and convenience. Like a full size Dyson, this smaller version has an advanced Radial™ Cyclone Technology technology to prevent clogging, and the dust bin empties from the bottom. It has a low reach, so you can easily vacuum under furniture with the Motorized Floor Tool. This is great for quick cleanups as well. This cordless model has received excellent consumer reviews.
The Motorhead model has enough power to pick up dirt, dust, and especially pet hair and has
Whole machine HEPA filtration
for cleaner air output (great for those with pets or allergies). The
build quality is excellent
and far exceeds competitor vacuums. The V10 Motorhead is the least expensive and most compact in the V10 series. The Dyson Cyclone V10 Motorhead is a Smart-Review Top Pick for cordless vacuums in 2019.
**For hard floors, the Absolute version (below) has an additional dedicated hard floor tool, the Absolute & Animal versions have an additional Mini Motorized Tool for car cleaning & pet hair**
---
Dyson V10 Motorhead Cordless Vacuum
Dyson V10
Motorhead
Cordless Vacuum
Dyson V10
Absolute
Cordless Vacuum
Dyson V10
Animal
Cordless Vacuum

Vacuum Features

Lightweight Cordless
60 Minute Max Cleaning Time
New In-line configuration
New V10 Motor
Quieter than most cordless Vacs
Dirt & Dust Ejection System
Two Tier Root Cyclone™ Technology
Whole machine HEPA filtration
Bagless
Lifetime Filter
Larger Lithium Ion Battery
Detachable Handheld
3 Speeds
Long Wand
Direct Drive Floor Tool
Carbon Fiber Filaments
2 year warranty

Is this the best price?

(Click for Reviews)

————————-
Suction: 150 Airwatts
Direct Drive Head
Runtime: 60 Minutes
Dust Bin: .14 Gallon
Dust Ejecting System
Quieter Operation
In-line configuration
HEPA Filtration
– – –
– – –


Is this the best price?
(Click for Reviews)

————————-
Suction: 150 Airwatts
Torque Drive Head
Runtime: 60 Minutes
Dust Bin: .20 Gallon
Dust Ejecting System
Quieter Operation
In-line configuration
HEPA Filtration
+Mini Motorized Tool
+Hard Floor Tool

Is this the best price?
(Click for Reviews)

————————-
Suction: 150 Airwatts
Torque Drive Head
Runtime: 60 Minutes
Dust Bin: .20 Gallon
Dust Ejecting System
Quieter Operation
In-line configuration
HEPA Filtration
+Mini Motorized Tool
– – –

Video: The new line of Dyson V10 Cordless Vacuums | Dyson's Best Cordless Vacuum
Related Article: Best Dyson Vacuum Cleaners Comparison & Reviews
Related Article: Smart-Review Cordless Vacuums Buying Guide for 2019-2020
Related Article: Dyson V10 Vs. V11 Cordless Stick Vacuums | Differences
Related Vacuum: Dyson V11 Torque Drive Cordless Vacuum Cleaner | Review
---
---