Clarke CarpetMaster 218 Commercial (Dual Motor) Upright Vacuum | Review 2022
The Clarke CarpetMaster Commercial Vacuum is a heavy duty upright bagged vacuum. It is one that is favored in the hospitality industry, including universities, hospitals, and military facilities. The Clarke Carpetmaster 218 runs quieter (at 69 decibels) than other cheaper commercial uprights. This commercial unit is designed for heavy duty daily use and is simple in design. The Clarke CarpetMaster has a two motor design, which is rare for commercial vacuums.
The CarpetMaster 218 is designed for carpets with a larger 18-inch cleaning path. The 18-inch cleaning path will vacuum 50% more carpet than a standard 12-inch vacuum in one pass. The vacuum also comes with a quick draw wand with Hose and accessories for additional cleaning options. Upholstery tool and crevice tool are included. Room to store 2 spare bags onboard. Its rubberized wheels protect all floor types.
The lightweight handle provides extra comfort to the person vacuuming. The multi layer dust bag and HEPA Filter traps 99.6% at 0.3 microns to keep the air clean of dust and allergens. Large capacity top loading 4.2 liter dust bag. Includes a long 50 foot power cord, dual motors, height adjustment knob, 18-inch cleaning path, rubberized wheels and 1 year commercial warranty. Status indicator lights will tell you when there is a jam, check the brush, a clog or full bag. The vacuum will shut-off if it senses a clog or jam. Low profile design will allow the vacuum to fold flat to get under beds and furniture. Clogs are easy to clear, as the brushroll pulls out easily with no tools.
---
Vacuum Cord Length: 50 feet.
Commercial Warranty: Lifetime Belt, 2 year motor/chassis
Dust Bag Capacity: 4.2 Liters
Vacuum Weight: 22 lbs.
---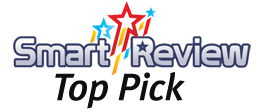 Smart-Review Commentary: The Clarke CarpetMaster 218 Commercial is a heavy duty, top rated vacuum used by the hospitality and janitorial community nationwide. A commercial vacuum is designed to withstand the rigors of daily use on large carpeted areas. The Clarke brand of commercial vacuums is designed to easily access and replace parts. This model has a Dual Motor System for heavy duty cleaning. For convenience this model also has a hose with attachments. The height of the handle is adjustable for user comfort. Grab handle in front for carrying the vacuum.
The wider 18-inch cleaning path will save you time by vacuuming 50% more carpet in one pass than a standard width vacuum. This vacuum can recline to the floor, so you can reach under furniture. The rubberized wheels will prevent damage to any flooring type. Indicator lights will alert you to status such bag full, or a jam. Reviewers have reported this vacuum to be powerful, and effective, quiet, with a very long 50 foot power cord. For cleaner air, this vacuum has a removable HEPA filter. The Carpetmaster 218 is quieter at 69 dBA than many other vacuums, but has a powerful 1200 watt motor. This model has won the Carpet and Rug Institute® Seal of Approval. This vacuum will last longer than cheaper commercial models, and is made to be easier to replace parts. This model is a Smart-Review top pick and a great value for high end commercial vacuums.
---
Clarke CarpetMaster 218 Commercial Upright Vacuum Cleaner
Clarke CarpetMaster 218 Commercial Upright Vacuum
Clarke CarpetMaster 212 Commercial Upright Vacuum
Clarke CarpetMaster 215 Commercial Upright Vacuum

Top 19 Features

Commercial Vacuum
Bagged Vacuum
18-inch cleaning path
HEPA Filtration
Multi Layer Dust Bags
Quieter at 69 dBA
Powerful 1200 watt motor
Carpets & Hard Floors
Dual Motor System
Indicator Lights
Height Adjustable Handle
Allergen & Dust Filtration
50 foot cord
Rubberized Wheels
Non-Marking Bumper
Hose and Accessories
Manual Height Adjustment
Bag Full Indicator
2 year warranty


Is this the best price?

(Click for Reviews)
Commercial Vacuum
18-inch path
50 foot cord
Dual Motor
HEPA Filtration
Quiet Operation

Is this the best price?

(Click for Reviews)
Commercial Vacuum
12-inch path
50 foot cord
Dual Motor
HEPA Filtration
Quiet Operation

Is this the best price?

(Click for Reviews)
Commercial Vacuum
15-inch path
50 foot cord
Dual Motor
HEPA Filtration
Quiet Operation
---
Clarke CarpetMaster 218 Commercial Vacuum | Video
---
Related Article: Best Rated Commercial Vacuum Cleaners
Related Article: Vacuum Cleaners with the Widest Cleaning Path | Comparison
Related Article: Best Rated Oreck Upright Vacuum Cleaner Comparison & Reviews
Related Article: Upright Vacuum Cleaner Comparison & Reviews

Top 8 Upright Vacuums for 2022
---