Windsor Sensor XP12 Commercial Upright Vacuum | Review 2023
The Windsor Sensor XP12 Commercial Vacuum is a heavy duty upright bagged vacuum. It is the preferred commercial vacuum on Norwegian cruise lines and many hotels. One of the reasons is that the XP12 runs quieter than other uprights. This commercial unit is designed for heavy duty daily use and is simple in design. The Sensor XP12 is designed for carpets, and hard floors. The vacuum also comes with a Hose and accessories for additional cleaning options. Its rubberized wheels protect all floor types.
The Windsor Sensor XP has electronic automatic height adjustment for any floor type. On hard floors the brushroll moves upward and flush to the floor, while on carpeted floor the brush moves down. Triple layer dust bag and Super High efficiency filtration traps 99.6% at 0.3 microns to keep the air clean of dust and allergens. Large capacity top loading dust bag. Includes a long 40 foot yellow power cord, 12 amp motor, 12-inch cleaning path, rubberized wheels and 1 year commercial warranty. Status indicator lights will tell you when there is a jam, to check the brush or full bag. The vacuum will shut-off if it senses a clog or jam. Low profile design will allow the vacuum to fold flat to get under beds and furniture.
---
Vacuum Cord Length: 40 feet.
Commercial Warranty: Lifetime Belt, 2 year motor/chassis
Bag Capacity: 5.3 Liters
Vacuum Weight: 18 lbs.
---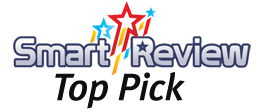 Smart-Review Commentary: The Windsor Sensor Commercial XP12 is a heavy duty, top rated vacuum used by cruise lines and hotels nationwide. A commercial vacuum is designed to withstand the rigors of daily use on large carpeted, and hard floor areas. They also do not have a lot of bells and whistles of other vacuums. This model has electronically controlled height adjustment, and moves the brushroll up/down depending on floor type. For convenience this model also has a hose with attachments.
This vacuum can recline to the floor, so you can reach under furniture. The rubberized wheels will prevent damage to any flooring type. 4 indicator lights will alert you to status such as position of brushroll (up or down), bag full, or a jam. Reviewers have reported this vacuum to be powerful, and effective, with a very long power cord. This model has received excellent reviews by consumers. It is also quieter at 69 dBA than many other vacuums. This vacuum will last longer than cheaper commercial models. This model is a Smart-Review top pick and a great value for high end commercial vacuums.
---
Windsor Sensor XP12 Commercial Upright Vacuum Cleaner
Windsor Sensor XP12 Commercial Upright Vacuum
Windsor Sensor S12 Commercial Upright Vacuum
Oreck Commercial XL2100 Upright Vacuum (8 lbs.)

Windsor XP12
Top 15 Features

Commercial Vacuum
Bagged Vacuum
Auto Height Adjust
Triple Layer Dust Bags
Quieter at 69 dBA
Heavy Duty
Carpets & Hard Floors
Brushroll height auto adjust
Indicator Lights
Allergen & Dust Filtration
40 foot cord
Rubberized Wheels
Hose and Accessories
Bag Full Indicator
2 year commercial warranty


Is this the best price?

(Click for Reviews)
Commercial Vacuum
Auto Height Adjust
Bag Full Light
40 Foot Cord

Is this the best price?

(Click for Reviews)
Commercial Vacuum
– – –
Bag Full Light
40 Foot Cord

Is this the best price?

(Click for Reviews)
Commercial Vacuum
Auto Height Adjust
– – –
35 Foot Cord
Related Article: Best Rated Commercial Vacuum Cleaners
Related Article: Best Rated Oreck Upright Vacuum Cleaner Comparison & Reviews
Related Article: Upright Vacuum Cleaner Comparison & Reviews

Top 8 Upright Vacuums for 2023
---