Vitamix A2500 Ascent-Series Smart Blender | Review 2023
The Vitamix Ascent-Series A2500 Smart Blender is Vitamix's newest wirelessly connected blender The blender has all the power of a traditional Vitamix blender, but updated to the most modern technology. The Ascent series are the first Vitamix Blenders that have Wireless Bluetooth® Connectivity to your smartphone or tablet using the Vitamix App. The Vitamix Ascent-Series A2500 is a powerful blending machine. It has 1,380 Watts with a 2.2 HP Motor and a Longer 10 year warranty.
Vitamix machines are among the most powerful that we have reviewed and have a wonderful reputation for high quality blending machines. These type of countertop blenders are perfect for making smoothies without grit, even green smoothies with Kale and Spinach. Its 4-blade stainless-steel blade can cut through frozen fruit and ice cubes.
The Vitamix Ascent-Series A2500 can spin fast enough to even make hot soup. Included is a generous 64 ounce BPA-free plastic container for blending a variety of ingredients. It is a perfect size for family meals and entertaining. The container has markings to measure how much liquid you have put in. The lid has clips to prevent it from coming loose, and an opening with lid to add ingredients. A tamper is included to push down ingredients. The Vitamix A2500 features a high quality 4-inch Laser-cut, stainless-steel cutting blades to blend or mix a variety of recipes. Vitamix is the blender of choice at Starbucks and restaurant kitchens.
---
Vitamix A2500 Smart Blender Features:
The A2500 series upgrades with
Pre-programmed settings
to automatically handle Smoothies, Hot Soups, and Frozen Desserts. You get 10 power levels through the rotary knob, which allows you to finely tune your power. You also have a Pulse button for quick manual blending, or cleaning.
To keep things running smoothly, the Vitamix A2500 includes a radial cooling fan and thermal protection system. A Vitamix recipe cookbook is included. The Vitamix Perfect Blend™ App wirelessly connects to your blender, and 17 Additional Pre-set Programs and access to over 600 recipes.
Easy Cleaning: Just put soap and warm water into the Container, and use the pulse handle till done.
---
Vitamix Power: 1380 Watts, 2.2 HP Motor
Vitamix Warranty: 10 years.
Vitamix Dimensions: 11″ x 8″ x 17″ | 4 foot power cord.
What's in the Box?: Vitamix A2500 blender, Tamper, 64oz Container, Recipe Cookbook.
---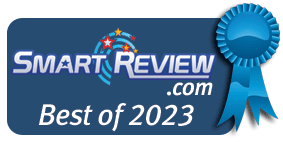 Smart-Review Commentary: Vitamix introduces its Ascent Line of technically advanced consumer blenders with Wireless Bluetooth® Connectivity. The Vitamix brand has an excellent reputation for some of the highest quality blenders on the market. The Vitamix Ascent-Series A2500 Series blender maintains this tradition. The A2500 model is very powerful, with 1,380 watts and a 2.2 HP motor. (Garbage disposal motors are only 1/3 to 1 HP). The speed control knob,allows you to finely tune your power (10 speeds). You also get 3 pre-programmed timed settings for Smoothies, Frozen Desserts, and Hot Soups. The free Vitamix Smartphone/Tablet App connects through wireless Bluetooth® to give you access to 17 more pre-sets, and over 600 recipes.
An added convenience on this model is the illuminated countdown timer to let you know how much time is left in the blend. To prevent premature shutdown, which can occur with powerful blenders, the Vitamix Ascent-Series A2500 has a thermal protection system with a radial cooling fan. SELF-DETECT™ Technology automatically adjusts blending time depending on what jar you are using. What sets Vitamix apart from cheaper blenders is the higher quality components they use, including the 4-inch Laser-cut, stainless-steel cutting blades. The Vitamix A2500 Ascent-Series Blender comes with Longer 10 year warranty than previous blenders. This model has received excellent consumer and professional reviews. This Vitamix model is a Smart-Review top pick for countertop blenders and won our BEST of 2023 Award.
Vitamix A2500 Ascent-Series Touchscreen Blender
Vitamix A2500
Blender
(Ascent-Series)
Vitamix 750
Blender
(Pro-Series)
Vitamix A3500
Blender
(Ascent Series)

Blender Features

Countertop Blender
Vitamix Perfect Blend™ APP for smartphone/tablet
Wireless Connected Smart Blender
1,380 Watts
2.2 HP Motor
Touch Controls
3 Pre-programmed settings
Illuminated Controls
Blend Countdown Timer
10 Speeds
Plastic Container (64oz)
BPA-Free
Makes Hot Soup
Stainless Steel Blade
Great Smoothie Machine
High Ratings & Reviews
Pulse Feature
10 year warranty


Is this the best price?
(Click for Reviews) 3 Presets – – – Built-in Bluetooth® Vitamix APP Connect Latest Model


Is this the best price?
(Click for Reviews) 5 Presets – – – – – – – – –


Is this the best price?
(Click for Reviews) 5 Presets Touch Controls Built-in Bluetooth® Vitamix APP Connect Latest Model


Vitamix Ascent-Series A2500 Smart Wireless Blender (Video)
---
Related Article: Best Rated Vitamix Blenders – Comparison & Reviews
Related Article: Best Rated Blenders – Comparison & Reviews
Related Article: Vitamix A2500 Vs. A3500 | Comparison & Differences
Related Article: Best Counter-top Blenders under $200 dollars – Comparison & Reviews
Related Article: Best Counter-top Blenders under $400 dollars – Comparison & Reviews
---
Vitamix A2500 Ascent Series Smart Blender | Review Summary

Summarized Review: The highly rated Vitamix A2500 is one of the new Ascent series blenders. This is a powerful blender with a 2.2 HP motor. What sets this blender apart, is the wireless capabilities to a Smartphone APP, that unlocks many more preset blending modes (17) as well as many blending recipes (over 600). The A2500 also has 3 pre-programmed buttons for timed settings for Smoothies, Frozen Desserts, and Hot Soups. This blender is a SmartReview.com Top Pick in blenders, has excellent consumer reviews, and has won our BEST of 2023 Award.
Written By: Smart-Review
Product Rating: 4.6 out of 5
---
Resources: Vitamix A2500 manual