Oster VERSA Performance 1400-watt Home Blender | Review
The Oster Versa Performance Blender has a low profile design, making it easier to fit under cabinets on your countertop. The Oster Versa is a powerful blending machine with 1,400 Watts of power. Oster machines are among the most powerful that we have reviewed and have a good reputation for quality machines at lower prices. These type of countertop blenders are perfect for making smoothies without grit, even green smoothies with Kale and Spinach. Its 6-point stainless-steel blade spins at over 28,000 RPM to cut, crush, puree and blend your ingredients thoroughly. Great for Smoothies. This power can also make steaming hot soups, right in the blender. Included is a generous low profile 64 ounce BPA-free plastic container for blending a variety of ingredients. It is a perfect size for family meals and entertaining. The lid has an opening with lid to add ingredients. A tamper is included to push down ingredients. The Versa is very versatile and can replace an ice chopper, food processor, smoothie maker, or handheld mixer. The all-metal drive provides durability and longevity. Oster is a trusted brand that goes back over 100 years.
---
Oster Versa Performance Features:
The Versa 1400 watt series upgrades with
Pre-programmed settings
to automatically handle Smoothie, Soup, and Dips/Spreads, and shut-off automatically. One of our favorite features is the
Variable Speed Control Dial
which allows you to adjust the speed for just the right amount of power. You also have a Pulse button for quick manual blending, or cleaning. A sturdy base will prevent movement or slipping during operation. You will receive
2 Recipe Books:
, Gourmet Cuisine, and Fresh & Fit Recipes book, which will provide calorie and nutritional information. This blender offers great value and a
Long 7 year warranty
as well.
---
Oster Power: 1400 Watts, 2.2 HP Motor
Oster Warranty: 7 year Limited Warranty.
Oster Dimensions: 9.3″ x 10.3″ x 17.6″
What's in the Box?: Oster Versa BLSTVB-RV0 blender, Tamper, 64oz Container, 2 Recipe Cookbooks.
---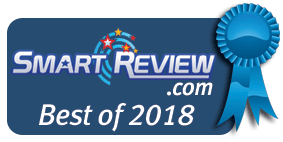 Smart-Review Commentary: The Oster brand has an excellent reputation with over 100 years of history. The Oster Versa Performance Series blender maintains this tradition. The BLSTVB-RV0 model is very powerful, with 1,400 watts, and an all metal drive. A really nice feature is the Variable Speed Control Dial, which allows you to finely tune your power. The Versa Performace also includes 3 Pre-programmed and timed settings for Smoothies, Soup and Dips. This model comes with a generous 64oz BPA-free container. The Versa model has received outstanding consumer and professional reviews for a blender in its price range. This blender offers tremendous value, with much of the power and features are more expensive machines, and a long 7-year warranty. The Oster Versa is not only a Smart-Review top pick but also won our Best of 2018 award for Blenders under $200.
---
---
Related Article: Best Rated Vitamix Blenders – Comparison & Reviews
Related Article: Best Rated Blenders – Comparison & Reviews
Related Article: Best Counter-top Blenders under $100 dollars – Comparison & Reviews
Related Article: Best Counter-top Blenders under $200 dollars – Comparison & Reviews
Related Article: Best Counter-top Blenders under $400 dollars – Comparison & Reviews