Nutri Ninja Pro Personal Home Blender BL455 | Review
The Nutri Ninja Pro Personal Blender (BL455) Blender is a smaller personal sized home blender for making smoothies and other beverages on the go. The Ninja Pro BL455 is a very popular blending machine with good power (900 watts) for its price and size. This model comes with two Nutri Ninja Cups (18 and 24oz) for making Individual Servings and smoothies right in the cups. The Nutri Ninja Lids cups mount right on the blender. Each cup has its own Sip & Seal flip lid for on the go travel.
The Ninja Pro Extractor Blades crush through ice, seeds, skins and stems for a smooth, even consistency. The blender has 900 Watts of power for blending, cutting and crushing. Comes with a 30 recipe and wellness guide. All parts are BPA free and dishwasher safe. The Ninja BL455 comes with a 1 year limited warranty.
---
Ninja Power: 900 Watts
Ninja Warranty: 1 year Limited Warranty.
Ninja Dimensions: 12.9 x 7.9 x 14.8″
What's in the Box?: Nutri Ninja Pro BL455 Blender, two Nutri Ninja Cups (18 & 24oz), Recipe Guide.
---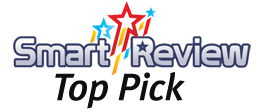 Smart-Review Commentary: The Ninja brand is a top seller in blenders, and for good reason. Ninja blenders offer higher power blenders for a lower price. The Nutri Ninja Pro Personal Blender (BL455) has 900 watts of blending power. It is primarily used for making frozen beverages and smoothies in its two Nutri Ninja single serve cups (18 and 24 ounces). With 900 watts of power, The Nutri Ninja has enough power to make smoothies, crush ice, and make frozen drinks. The cups are BPA-free and Dishwasher safe. This is ideal for someone on the go, as you blend in the cup, and then put on the Sip & Seal Lid. The Ninja BL455 has received very good consumer reviews for a blender in its price range. This blender offers tremendous value, with many good basic features, and a 1-year limited warranty. The Ninja BL455 is a Smart-Review top pick for Personal Blenders under $100.
---
---
Related Article: Best Rated Ninja Blenders – Comparison & Reviews
Related Article: Best Rated Personal Size Blenders – Comparison & Reviews
Related Article: Best Counter-top Blenders under $100 dollars – Comparison & Reviews
Related Article: Best Counter-top Blenders under $200 dollars – Comparison & Reviews
Related Article: Best Rated Vitamix Blenders – Comparison & Reviews
Related Article: Best Rated Blenders – Comparison & Reviews
Shop All Countertop Blenders
(Clicking on shop buttons will open a new window)