Ninja Professional 1100 Watt Home Blender BL660 | Review
The Ninja Professional Blender (BL660) has a low profile design, making it easier to fit under cabinets on your countertop. The Ninja Pro BL660 is a very popular blending machine with great power for its price. This model comes with two 20 ounce Nutri Ninja Cups for making Individual Servings and smoothies right in the cups. The blender has 1100 Watts of power for blending, cutting and crushing.
This type of countertop blender can make smoothies, chop food, and make frozen drinks. The BL660 Blender Total Crushing Technology crushes ice, whole fruits & vegetables. The large 72 ounce container is made of BPA-Free Plastic and is Dishwasher Safe, for blending a variety of ingredients. The cutting blades can be removed for complete cleaning. The lid snaps shut over the container, and has a flip spout for pouring. If the container is not on right, a light blinks on the blender to let you know. The blender also has low, med, high speeds, as well as pulse. This model can also crush ice. Speed 1 (processing & mixing), Speed 2 (Crushing Ice, Milkshakes), Speed 3 (Smoothies, Whole Fruits & Vegetables). There is also an individual serve button, when using the Nutri Ninja Cups. The Ninja BL660 comes with a 1 year limited warranty.
---
Ninja Power: 1100 Watts
Ninja Warranty: 1 year Limited Warranty.
Ninja Dimensions: 9.2 x 12 x 16.4″
What's in the Box?: Ninja Professional BL660 Blender, two 20 ounce Nutri Ninja Cups, 72oz Container,
---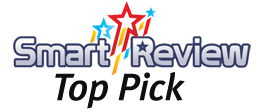 Smart-Review Commentary: The Ninja brand is a top seller in blenders, and for good reason. Ninja blenders offer higher power blenders for a lower price. The Ninja Professional Blender (BL660) has 1,100 watts of blending power. Enough power to make smoothies, crush ice, and make frozen drinks. It is a 3-speed blender, and has a large 72-ounce BPA-free Dishwasher safe container. This model comes with two 20 ounce Single Serve Nutri Ninja Cups, so you can blend just a single serving, and take it with you. The blender has a safety feature that will detect if the container is secure, and a light will flash on the blender. The Ninja BL660 has received very good consumer reviews for a blender in its price range. This blender offers tremendous value, with many good basic features, and a 1-year limited warranty. The Ninja BL660 is a Smart-Review top pick for Blenders under $200.
---
Ninja Professional (BL660)
Ninja Professional (BL660) + Nutra Ninja Cups
Nutra Ninja Blender Duo with Auto-IQ (BL642) Blender
Ninja Chef DUO CT815A Blender

Blender Features

Countertop Blender
Low Profile Design
+ Includes two Single Serve Nutri Ninja Cups
1100 Watts
3 Speeds
Plastic Jar (72oz)
BPA Free Plastic
Dishwasher Safe
Stainless Steel Blade
Removable Blades
Total Crushing Technology
High Ratings & Reviews
Pulse Feature
1 year warranty


Is this the best price?
(Click for Reviews)

+Nutri Ninja Cups

1100 Watts

– – –


Is this the best price?
(Click for Reviews)

+Nutri Ninja Cups

1500 Watts

Auto-IQ Programs


Is this the best price?
(Click for Reviews) +Ninja Cup 1500 Watts

Auto-IQ Programs
---
Related Article: Best Rated Ninja Blenders – Comparison & Reviews
Related Article: Best Counter-top Blenders under $100 dollars – Comparison & Reviews
Related Article: Best Counter-top Blenders under $200 dollars – Comparison & Reviews
Related Article: Best Rated Vitamix Blenders – Comparison & Reviews
Related Article: Best Rated Blenders – Comparison & Reviews