Vitamix 5200 Countertop Home Blender | Review
The Vitamix 5200 Blender is a powerful blending machine, with a traditional design. The blender has 1,380 Watts of power with a 2.0 HP Motor and a Long 7 year warranty. Vitamix machines are among the most powerful that we have reviewed and have a wonderful reputation for high quality blending machines. These type of countertop blenders are perfect for making smoothies without grit, even green smoothies with Kale and Spinach. Its 3-blade stainless-steel blade can cut through frozen fruit and ice cubes.
The Vitamix 5200 can spin fast enough to even make hot soup. Included is a generous 64 ounce BPA-free plastic container for blending a variety of ingredients. It is a perfect size for family meals and entertaining. The container has markings to measure how much liquid you have put in. The included tamper will keep the ingredients near the blades for even blending.
---
Vitamix 5200 Features:
The best feature is the
Variable Speed Control Dial
which allows you to adjust the speed, even during the blending process, allowing you to have complete control. You also have a high speed toggle switch. To keep things running smoothly, the Vitamix 5200 includes a
radial cooling fan
and thermal protection system.
Vitamix Power: 1380 Watts, 2.0 HP Motor
Vitamix Warranty: 7 years.
Vitamix Dimensions: 8.75″ x 7.25″ x 20.5″
---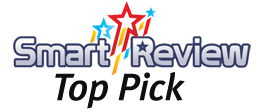 Smart-Review Commentary: The Vitamix brand has an excellent reputation for some of the highest quality blenders on the market. The Vitamix 5200 Series blender maintains this tradition. The 5200 model is very powerful, with 1,380 watts and a 2.0 HP motor. (Garbage disposal motors are only 1/3 to 1 HP). A really nice feature is the Variable Speed Control Dial, which allows you to finely tune your power while blending. To prevent premature shutdown, which can occur with powerful blenders, the Vitamix 5200 has a thermal protection system with a radial cooling fan. What sets Vitamix apart from cheaper blenders is the higher quality components they use, including the 3-inch Laser-cut, stainless-steel cutting blades, and a Long 7 year warranty. This model has received outstanding consumer and professional reviews. Vitamix are leading blenders used in Starbucks, and fine restaurant kitchens. This model includes a tamper (for pushing ingredients down). This Vitamix model is a Smart-Review top pick in Blenders under $400.
---
Vitamix 5200 Countertop Blender
Vitamix 5200 Countertop Blender
Vitamix 7500
Blender
(Black)
Vitamix 750
Blender
(Pro-Series) Stainless

Blender Features

Countertop Blender
1,380 Watts
2.0 HP Motor
Speed Dial
10 Speeds
6 foot power cord
Plastic Container (64oz)
BPA-Free
Makes Hot Soup
Stainless Steel Blade
Great Smoothie Machine
High Ratings & Reviews
High Speed Toggle
7 year warranty


Is this the best price?
(Click for Reviews)

2.0 HP Motor

– – –

3-inch blades

Standard Profile


Is this the best price?
(Click for Reviews)

2.2 HP Motor

– – –

4-inch blades

Low Profile


Is this the best price?
(Click for Reviews)

2.2 HP Motor

5 presets

4-inch blades

Low Profile
---
Related Article: Best Rated Vitamix Blenders – Comparison & Reviews
Related Article: Best Rated Blenders – Comparison & Reviews
Related Article: Vitamix 5200 Vs. 7500 Blenders- Comparison & Differences
Related Article: Best Counter-top Blenders under $200 dollars – Comparison & Reviews
Related Article: Best Counter-top Blenders under $400 dollars – Comparison & Reviews
---