Neato Botvac D3 Connected Navigating Robot Vacuum | Reviews
Neato Botvac D3 Connected Robot Vacuum for Pets. The Neato Botvac D3 Connected is Neato's lowest priced connected robot vacuum with 7 day scheduling and WiFi. This model has built-in WiFi with a free APP for your smartphone to control your robotic vacuum. It is effective at getting dirt, dust, pet fur, and pet hair from a variety of surfaces using its SpinFlow Power Clean system which combines suction and precision brushes to leave floors immaculately clean. The D3 Connected includes a combo brush which will provide superior pick-up of pet hair on all floor types, with reduced noise during operation, and is ideal for homes with multiple types of flooring. The brush is easy to remove. This sophisticated robot vacuum uses LaserSmart Mapping and a navigation system to scan and map the room. As a multi-floor vacuum, this robotic vacuum will automatically adjust to clean carpets, hardwood, tile, and linoleum floors as it moves through your home. Roomba will vacuum every section of your floor multiple times, and its advanced software allows it to get around obstacles, move along walls and to avoid falling down stairs, drop-offs, and avoid tangles from loose cords. The Auto-Charge & Resume feature will automatically return the Botvac to base to charge, then resume cleaning. This model is upgraded to a lithium-ion battery (the best type). The Neato D3 Connected starts working for you at the push of a button (on the top of the vacuum).
---
Neato Design Features: The D-Shape design of all Neato Robot vacuums along with CornerClever technology will get you closer to walls and corners for better cleaning. (Most other robot vacuums are round). This will give the D3 Connected Maximum hair and pet hair pickup. Multi-floor capability, for hard floors, hardwood, tile, linoleum, rugs, and carpets. Boundary markers keep the robot restricted to an area. Schedule cleaning while you are away.
---
What's in the Box:
Neato D3 Connected, Standard filter, Combo Brush, and Charging Base Station w/cord.
On-Board Scheduling: The Neato D3 Connected can be scheduled to perform daily cleaning sessions even when you're not home.
Vacuum Warranty: 1-year warranty
Vacuum Weight: 9.0 lbs.
---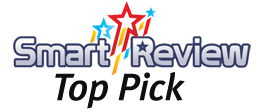 Smart-Review Commentary:
The Neato Botvac D3 Connected is Neato's lowest priced model currently available that has built-in WiFi for smarphone control. As with all Neato robots, they are
D-shaped to better handle walls and corners
. Neato vacuums are extremely sophisticated cleaning machines, using the latest software and sensor technology to vacuum your entire floor, yet avoid obstacles. It will clean areas that vacuums rarely go, such as under furniture, under a bed, in corners. The Neato D3 Connected is equipped to handle fibers like hair, pet hair, pet fur, lint and carpet fuzz.
It is ideal for those with pets
. The larger dust bin requires less emptying than previous models. This vacuum can do a comparable job to many uprights, because this vacuum goes over a dirty area many times, until clean. If this fits your lifestyle, it is an excellent robot vacuum to clean your rooms while you do other activities. Very simple operation, just press the clean button, or use the Smartphone App, which also will work on a tablet. You also have the option to schedule cleaning when you are not home with
daily cleaning scheduling
. The D3 Connected model has received excellent reviews by consumers and is a Smart-Review top pick for robotic vacuums, and a good value.
Neato Botvac D3 Connected
Neato Botvac D3 Connected (WiFi) Grey
Neato Botvac D3 Connected (WiFi) White
Neato Botvac D5 Connected (WiFi) Grey

Vacuum Features

Robotic Vacuum
Built-in WiFi
Smartphone APP control
Larger Dust Bin
Pet Hair Vacuum
Allergen Filtration
LaserSmart Mapping
Spinflow Power Clean
Auto-Charge & Resume
Lithium Ion Battery
Bagless Vacuum
Daily cleaning scheduling
Home Charging Base
1 year warranty

Is this the best price?
(Click for Reviews)
Smartphone Control
Lithium Ion Battery
1 Hour Runtime
Latest Model
Is this the best price?
(Click for Reviews)
Smartphone Control
Lithium Ion Battery
1 Hour Runtime
Latest Model
Is this the best price?
(Click for Reviews)
Smartphone Control
XL Lithium Ion Battery
1.5 Hours Runtime
Latest Model
The new Neato Connected D3 and D5 Robotic Vacuums
Related Article: Best Robotic Vacuums Comparison & Reviews
Related Article: Top Rated Robot & Robotic Vacuum Cleaners
Related Article: Best Upright Vacuums Comparison & Reviews
---