iRobot Roomba i3 (3150) WiFi Connected Robotic Vacuum Cleaner | Review 2022
The new iRobot Roomba i3 (3150) Robot Vacuum . The Roomba i3 (3150) is one of the least expensive robot vacuums, yet has some of the latest iRobot technology including: Tangle-Free AeroForce Extractors, which gets rid of brushes, increasing suction and airflow no matter what surface it is vacuuming. It is effective at getting dirt, dust, pet fur, and pet hair from a variety of surfaces using its patented 3 stage cleaning system. Power-Lifting Suction delivers 10X the air power for better cleaning.
The iRobot i3 (3150) High Efficiency Filter which traps dust and 99% of cat & dog allergens and will keep your air clean and smelling fresh. This model has built-in WiFi, so you can use the iRobot HOME App to control and schedule the Roomba i3 (3150) for cleaning. The i3 robot navigates & maps your home in neat rows using sophisticated floor tracking sensors to vacuum hardwood & carpet. Spinning side brush gets dirt close to walls and corners.
---
iRobot i3 (3150) Vacuum Features:
Using your voice, you can command the i3 robot to clean using the iRobot APP, or a voice assistant from Google or Alexa.
The new iRobot Home APP allows you to customize your cleaning schedule. A reactive sensor helps to prevent the i3 from getting stuck under furniture, or going down the stairs. Dirt Detect™ sensors tell the i3 robot where dirtier areas are and to spend more time in those areas. Imprint® Link Technology links the iRobot Braava jet® m6 robot mop (sold separately) to follow and mop after vacuuming.
---
Recharge and Resume: Will automatically charge when battery low, then resume cleaning.
---
What's in the Box: iRobot Roomba i3 (3150) Vacuum, Robot® Roomba® i3 Robot Vacuum, 1 Home Base® Charging Station, 1 Extra High-Efficiency Filter.
On-Board Scheduling: The Roomba i3 (3150) can be scheduled to perform up to seven cleaning sessions per week, even when you're not home.
Vacuum Warranty: 1-year warranty
Vacuum Weight: 7.44 lbs.
iRobot Model Number: i315020
---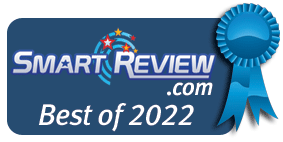 Smart-Review Commentary: The new iRobot Roomba i3 (3150) is one of iRobot's least expensive robot vacuums. The built-in WiFi and iRobot HOME APP allows you to control and schedule cleaning from Roomba i3 (3150) from your Smartphone or Tablet. You can also use voice control. The "Recharge and Resume" feature automatically returns the vacuum for charging, then resumes cleaning once charged. The Tangle-Free AeroForce Extractors provides a 10X improvement in air power than previous Roomba generations. It no longer uses brushes, and has better contact with the floor or rugs. Its High Efficiency filter will filter out dust, dirt, and allergens.
iRobot vacuums are extremely sophisticated cleaning machines, using the latest software and sensor technology to vacuum your entire floor, yet avoid obstacles. Soft bumpers cushions the vacuum when it encounters furniture and walls. The iRobot Home APP allows you to receive notification on cleaning progress, and mapping of the house. The Roomba i3 (3150) is better equipped than previous models to handle fibers like hair, pet hair, pet fur, lint and carpet fuzz. It is ideal for those with pets. The recharge & resume feature is ideal for larger areas.
If this fits your lifestyle, it is an excellent robot vacuum to clean your rooms while you do other activities. Very simple operation, just press the clean button. You also have the option to schedule cleaning when you are not home with 7 day scheduling. A Dual Mode Virtual Wall (optional acccessory), keeps the robot out of rooms you don't want vacuumed. This model received excellent consumer reviews. The iRobot i3 is not only a Top pick, but won our Smart-Review BEST of 2020 award for robotic vacuums in 2022.
---
iRobot Roomba i3 (3150)
iRobot Roomba i3 (3150) Robotic Vacuum
iRobot Roomba i7 (7150) Robotic Vacuum

Vacuum Features

Robotic Vacuum
iRobot Lithium Ion Battery
High Efficiency Filter
Home Base® Charging Station
WiFi Enabled
iRobot Home APP
AeroForce Extractors
iAdapt™ 2.0 Technology
Dirt Detect Technology
Bagless Vacuum
Voice Control
7 day scheduling
Bin Full Indicators
Pet Hair Vacuum
Recharge & Resume
Whole Floor Cleaning
Up to 90 minute runtime
1 year warranty


Is this the best price?

(Click for Reviews)
Tangle Free Extractors
iAdapt 2.0
Mapping
WiFi Enabled
Recharge & Resume
10x Suction
– – –
90 Min Runtime

Is this the best price?

(Click for Reviews)
Tangle Free Extractors
iAdapt 3.0
Smart Mapping
WiFi Enabled
Recharge & Resume
10x Suction
1 Virtual Wall
120 Min Runtime
---
Related Article: iRobot Roomba (i3 Vs. i7) Robotic Vacuums Comparison
Related Article: iRobot Roomba i7 Robotic Vacuum Review
Related Article: Best Robotic Vacuums Comparison & Reviews
Related Article: iRobot Roomba i3 Vs. iRobot 960 Robotic Vacuums | Compare
Related Article: iRobot Roomba e5 Vs. i3 Robotic Vacuums | Compare
Related Article: Best Upright Vacuums Comparison & Reviews