Jamba Appliances Professional Blender #58910 | Review 2019
The Jamba Appliances 58910 Professional Blender is one of the most feature rich blenders for the price. It has a lower profile design, making it easier to fit under 18-inch cabinets on your countertop. The "Jamba" name is known for smoothies from Jamba Juice shops across the country. This blender was designed to Jamba's specifications and is the same type of blender you will see in smoothie shops. The Jamba Professional is a powerful high power blending machine with 1,400 Watts of power with a 2.4 HP motor. This blender was designed for making smoothies , grinding coffee beans, or making frozen drinks.
This Jamba blender can also make creamy shakes, sauces, nut butters, whole juices, and more. Its metal drive and stainless steel blade pulverizes ice cubes and tough fruits & vegetables. Included is a 64 ounce Tritan™ BPA-free plastic containerwith easy-to-read measurement markings. A tamper is included to push down ingredients and help blend thick or frozen ingredients. The Professional Blender includes a full color Jamba Recipe Book with 150 recipes for smoothies, whole juices, dips, and marinades. Longer 8 year limited warranty.
---
Jamba Professional Features:
The Jamba Professional Blender has an easy to use variable speed control, with Pulse. The blender also has 4 pre-programmed buttons for Soup, Smoothie, Ice Crush, and Whole Juice. These buttons are illuminated. Just press the button and it automatically shuts down when done. A sturdy base will prevent movement or slipping during operation. You will receive
Recipe Book
with 150 recipes.
Oster Power: 1400 Watts, 2.4 HP Motor
Oster Warranty: 8 year Limited Warranty.
Oster Dimensions: 7.6″ x 8.7″ x 17.3″
What's in the Box?: Jamba Professional Blender, 64 oz Triton Container, Tamper, Recipe Cookbook.
---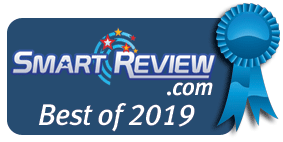 Smart-Review Commentary: The Jamba name is well known for Jamba Juice Smoothie Shops Nationwide. Jamba appliances has designed a powerful blender to their specifications. The Jamba Professional Series is a powerful full featured blender with a 2.4 HP motor (many garbage disposals only have a 1/4 HP motor). This is an ideal smoothie maker. The Variable speed dial allows you to finely tune your power, as is easy to use. This model comes with 4 illuminated pre-programmed buttons for Smoothies, Soup, Crushed Ice and Whole Juice. All metal drive and stainless steel blades power through the ingredients to give you a smoothie without grit. Another plus for this blender is a longer 8 year warranty. Jamba Professional has received outstanding consumer and professional reviews for a blender in its price range. This unique Jamba quiet blender is not only a Smart-Review top pick but also won our Best of 2019 award for Blenders under $300.
---
Jamba Professional Countertop Blender
Jamba Professional Blender
Jamba Quiet Shield Blender
Blendtec Total Blender

Blender Features

Countertop Blender
Professional Model
Designed by Jamba
2.4 HP (1,400 Watts)
Speed Dial
10 Speeds
Plastic Container 64oz
Pre-programmed functions
BPA-Free
Stainless Steel Blade
Great Smoothie Machine
High Ratings & Reviews
Pulse Feature
8 year warranty


Jamba Professional Blender Demonstration at the International Home Show
---
Related Article: Best Rated Blenders – Comparison & Reviews
Related Article: Best Counter-top Blenders under $100 dollars – Comparison & Reviews
Related Article: Best Counter-top Blenders under $200 dollars – Comparison & Reviews
Related Article: Best Counter-top Blenders under $400 dollars – Comparison & Reviews
Shop All Countertop Blenders
(Clicking on shop buttons will open a new window)
---