Hoover Linx Signature Cordless Stick Vacuum Cleaner BH50020PC | Review
The low priced Hoover BH50020PC Linx Cordless upright vacuum has been upgraded. It weighs only 10 pounds and is fully rechargeable, so no cords. Windtunnel technology allows the vacuum to remove embedded dirt and minimizes dirt blowback on carpets. Unlike many cordless stick vacuums, this one can stand upright.
Multi-Cyclonic action ensures no loss of suction. The vacuum runs on an interchangeable 18-volt Lithium Ion battery to provide fade-free power right up till its drained. The Linx has a battery Fuel Gauge (on the back of the vacuum) to let you know how much charge is left. Users indicated about 20-25 minutes cleaning per charge. You can purchase additional batteries for more runtime.
---
Hoover Linx Features:
This cordless vacuum has a
motorized brushroll
which can be turned off from a switch on the handle, when doing bare floors, and you can control the suction power as well. For convenience, the power switch is located in the handle. Edge cleaning bristles get dirt and dust near walls and baseboards.
Soft non-marring rear wheels
.
Extreme Recline Handle – The Hoover Linx can lay flat to reach under furniture for easier access. Automatic Height Adjustment. This model comes with a 2 year limited warranty.
---
The Hoover Linx has Allergen Filtration, with a multi-cyclonic system and a disposable filter to trap dirt, dust, and allergens. The Hoover Linx is a bagless vacuum, so no bags to buy. The dirt cup detaches from the vacuum so you can empty it into your trashcan. The widemouth opening on the front of the vacuum allows the vacuum to suck up cereal, pet food, and a variety of other debris.
Hoover Vacuum Cord Length: None, Cordless.
Stick Vacuum Warranty: 2 years.
Stick Vacuum Weight: 10 lbs.
---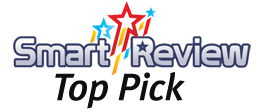 Smart-Review Commentary: The Hoover Linx BH50020PC is Hoover's lightweight upright cordless vacuum. Unlike many cordless vacuums, this one can stand upright. It is great to pull out for regular vacuuming or quick cleanups. Its light weight and cordless capability makes it more versatile than regular vacuums. The Linx has a motorized brushbar, so is suitable for low to medium pile carpets. The brushbar can be turned off from the handle. Consumers have indicated that this model is effective at pet hair removal.
The Linx runs on a Lithium Ion battery, which is the best type of battery, as it outputs power at a steady rate throughout, and charges quicker than other battery types. Most users get about 20 minutes per charge. Its runtime can be extended with an extra battery. The vacuum comes with a charger, so you can charge a battery while using the other. Consumer Reviewers indicate this model runs quieter, and wheels roll smoother than previous model. This model is very inexpensive for the features you get with the Linx. This model has received excellent reviews by consumers and is a Smart-Review top pick for cordless vacuums.
Hoover Linx BH50020PC Cordless Stick Vacuum
Hoover Linx BH50020PC Cordless Stick Vacuum
Hoover ONEPWR Blade Max Cordless Stick Vacuum
Dyson V7 Animal Pro+ Cordless Stick Vacuum

Vacuum Features

Cordless
Lightweight Vacuum
Handle Controls
WindTunnel® Technology
Multi-Cyclonic
Lithium Ion Battery
Bagless
Brushroll ON/OFF
Widemouth Opening
Allergen Filtration
Removable Battery
20 Minutes per charge
2 year Warranty


Is this the best price?
Latest Model

Is this the best price?
Latest Model

Is this the best price?
Radial Root Cyclone
---
Related Article: Top 10 Best Cordless Vacuum Cleaners | 2020
Related Article: Smart-Review | Cordless Vacuum Buying Guide
Related Article: Cordless Stick Vacuum Cleaner Comparison & Reviews
Related Article: Upright Vacuum Cleaner Comparison & Reviews
Related Article: Hoover Vacuum Cleaner Comparison & Reviews
---
Top 6 Cordless Stick Vacuums for 2019-2020
---