Hoover ONEPWR Blade MAX Cordless Stick Vacuum | Reviews 2022 (BH53350)
The Hoover ONEPWR Blade MAX is Hoover's most powerful cordless stick vacuum. This high performance cordless vacuum has Dual Cyclonic Dustvault technology which Captures 99% of dust and fine particles* with No Loss of Suction and a cleaner filter. The filter is rinsable and replaceable.
The ONEPWR uses easily replaceable lithium ion batteries. The battery provides up to 45 minutes of fade free power (less with motorized tools). You can buy replacement batteries and plug them in to extend battery life. This lightweight but powerful cordless vacuum weighs only 7 lbs. The ONEPWR Blade Max has DustTracker™ LED headlights built-in to light the way.
---
Cordless Features:
The Hoover ONEPWR cordless vacuum has a multi-floor motorized brushroll which can clean both carpets and hard floors. An additional soft microfiber brushroll is also included just for hard floors. The Hoover ONEPWR Blade Max can detach to a handheld vacuum for above floor cleaning.
The vacuum comes with a motorized pet tool to clean smaller areas, such as stairs, upholstery, and car interiors. A battery level status indicator lets you keep track of the battery charge. Two suction levels Carpet (high suction) and ECO (lower suction). There is also a dust bin full indicator. The power switch is conveniently located on the handle. Allergen filtration. This is Hoover's highest rated cordless vacuum.
---
Included Accessories: Cordless Stick Vacuum, ONEPWR 4.0 Ah Battery, Charger, Dusting Brush, Crevice Tool, Upholstery tool, Motorized Pet Tool, Microfiber Hard Floor Nozzle.
Upright Vacuum Warranty: 3 Year Limited Product Warranty.
Upright Vacuum Weight: 7.0 lbs.
Product Number: BH53350
---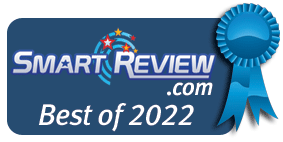 Smart-Review Commentary: The new Hoover ONEPWR Blade MAX (BH53350), is Hoover's most powerful cordless vacuum. The vacuum lays flat to fit under furniture and beds. Weighing only 7 lbs., this vacuum is easy to hold and carry up the stairs. The Dual Cyclonic "DustVault" technology allows high suction and removes dust and dirt with no loss of suction. The included battery is removable and provides up to 45 minutes of cleaning time. You can purchase more batteries for extended cleaning time, or get the model with 2 batteries (see below).
The ONEPOWER Blade Max comes with many tools, including two motorized floor tools for all types of floors. The Twin Helix™ Brush Roll is engineered for optimal cleaning on carpet and hard floors. The soft roller tool for hard floors. The cordless vacuum can detach to a handheld. In handheld mode, Hoover provides a motorized pet tool, a dusting brush, crevice tool, and upholstery tool. Built-in DustTracker™ LED headlights allow you to see the dust and dirt in darker areas.
The Hoover ONEPWR Blade MAX has the highest consumer ratings of all of their cordless vacuums. Reviewers were very impressed by the strong suction, and included tools. The Hoover ONEPWR Blade MAX has received the SmartRevew.com BEST of 2022 Award for cordless stick vacuums under $300.
---
Hoover ONEPWR Blade MAX cordless vacuum
Hoover ONEPWR Blade MAX cordless vacuum (1 battery)
Hoover ONEPWR Evolve Pet cordless vacuum (1 battery)
Dyson V10 Absolute Cordless Vacuum
(Best of 2022)

Vacuum Features

Cordless
Lightweight Vacuum
DustVault Technology
Detachable Wand
Multi-Cyclonic
Twin Helix™ Brush Roll
Soft Roller Hard Floor tool
Lithium Ion Battery
Removable Battery
Bagless
DustTracker™ LED Headlights
Multi-Floor Use
Extra Accessories
Allergen Filtration
3 year Warranty


Is this the best price?
(Click for Reviews)
One Battery
45 Minutes Cleaning

Is this the best price?
(Click for Reviews)
One Battery
35 Minutes Cleaning

Is this the best price?
(Click for Reviews)
One Battery
60 minutes Cleaning
---
Related Vacuum: Dyson V10 Absolute Cordless Stick Vacuum
Related Article: Cordless Upright Vacuum Cleaner Comparison & Reviews
Related Article: Upright Vacuum Cleaner Comparison & Reviews
---