Cuisinart Hurricane Pro CBT-2000 Home Blender | Review
The Cuisinart Hurricane Pro Blender (CBT-2000) is Cuisinart's most powerful home blender to date, with 3.5 HP of blending power. It features an all metal ball bearing drive system along with a 10 year motor warranty. Cuisinart machines are among the most powerful that we have reviewed. This model has performance comparable to Vitamix and Blendtec machines. These type of countertop blenders are perfect for making smoothies with a less gritty consistency, even green smoothies with Kale and Spinach. Its 6 point stainless steel blade spins at high speed to cut, crush, puree and blend your ingredients thoroughly. This power can also make steaming hot soups, right in the blender. Included is a generous low profile 64 ounce BPA-free Tritan container for blending a variety of ingredients. It is a perfect size for family meals and entertaining. The low profile allows the Hurricane Pro to fit under most cabinets in your kitchen. The lid has an opening with lid to add ingredients, and is designed to vent steam and prevent splatter.
---
Cuisinart Hurricane Pro CBT-2000 Blender Features:
The Cuisinart Hurricane Pro 1500 watt blender has
Pre-programmed settings
to automatically handle Smoothie, Green Smoothie, Hot Soup, and Crush Ice/Pulse. A
Customizable Memory Control
allows you to program any preset button to your individual preferences. Countdown timer on the LCD screen when using presets. One of our favorite features is the
Variable Speed Control Dial
which allows you to adjust the speed for just the right amount of power. The variable speed control goes from 1,500 to 25,000 RPM, and 30,000 in Turbo Boost. You also have a Pulse button for quick manual blending, or cleaning.
Dedicated Auto Clean Function:
Will easily clean around blades and jar.
Cuisinart CBT-2000 Power: 1500 Watts, 3.5 HP Motor
Cuisinart Warranty: 10 year Motor Warranty, 3 year limited Warranty.
Cuisinart Dimensions: 11.5″ x 10.5″ x 16.5″
What's in the Box?: Cuisinart Hurricane Pro BBL910XL blender, Frozen Dessert Tamper, 68oz Container, Recipe Cookbook.
---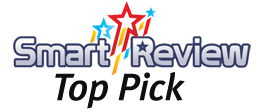 Smart-Review Commentary: The Cuisinart Hurricane Pro CBT-2000 and Hurricane Blenders are among Cuisinart's best rated blenders. The CBT-2000 model is very powerful, with 1,500 watts, and built with quality materials. The drive mechanism is an all metal ball bearing drive. (Many cheaper blenders use plastic parts). A really useful feature is the Variable Speed Control Dial, which allows you to finely tune your power. The Cuisinart Hurricane Pro also includes 5 Pre-programmed and timed settings for Smoothies, Green Smoothies, Soup, Clean, and Ice Crush. This model comes with a generous 64oz BPA-free container. One feature we really like is the timed function, you set it and it will automatically turn off when done. The Dedicated cleaning function makes for easy and fast cleanup. The CBT-2000 model has received outstanding consumer and professional reviews for a countertop blender in its price range, and compares favorably to Vitamix and Blendtec blenders, and has a 3 year limited warranty, 10 years on the motor. This Cuisinart model is a Smart-Review top pick for Blenders under $350.
---
Cuisinart Hurricane Pro Blender
Cuisinart Hurricane Pro Blender CBT-2000
Cuisinart Hurricane Blender CBT-1500
Blendtec Total
Blender

Blender Features

Countertop Blender
Low Profile Design
Backlit LCD display
Timer Function
1,500 Watts
3.5 HP Motor
Pre-programmed Buttons
Variable Speed Dial
10 Speeds
BPA-Free Tritan Jug (64oz)
Makes Hot Soup
Stainless Steel Blade
Great Smoothie Machine
High Ratings & Reviews
Pulse Feature
Dedicated cleaning function
3 year warranty


Is this the best price?
(Click for Reviews)

– – – – –

3.5 HP Motor

1500 Watts 10 Speeds


Is this the best price?
(Click for Reviews)

– – – – –

2.2 HP Motor

1500 Watts 2 Speeds

Is this the best price?

(Click for Reviews)
– – – – –
3.0 HP Motor
1560 Watts
10 Speeds


Cuisinart Hurricane Pro Blender Demonstration at the International Home Show
---
Related Article: Best Rated Vitamix Blenders – Comparison & Reviews
Related Article: Best Rated Blenders – Comparison & Reviews
Related Article: Smart-Review Home Blender Buying Guide 2016
Related Article: Best Counter-top Blenders under $200 dollars – Comparison & Reviews
Related Article: Best Counter-top Blenders under $400 dollars – Comparison & Reviews
Shop All Countertop Blenders
(Clicking on shop buttons will open a new window)