Blendtec (Professional 800) Series Quiet Blender | Review 2022
Blendtec Professional 800 Series Blender. The Blendtec Pro 800 Series is the World's Quietest Blender, with commercial quality components. This model has an easy to use illuminated touch interface. It has 1,800 Watts with a 3.8 HP Motor and a Long 10 year warranty. Blendtec machines are among the most powerful that we have reviewed. These type of blenders are perfect for making smoothies without grit, even green smoothies with Kale and Spinach.
The Pro 800 has a 2-prong stainless-steel blade that can spin at up to 29,000 rpm. Frozen fruit and ice cubes are no problem for the Blendtec Professional 800 Blender. Even make hot soup. This is the top consumer model by Blendtec. Blendtec blenders are used at Smoothie Shops like Jamba Juice, Nationwide.
---
Blendtec Wildside Jar: The Blendtec Professional 800 model comes with a 90 ounce BPA Free Triton Polyester Plastic Jar, called the Wildside Jar. The Wildside Jar has an easy to open lid, that will allow you to add ingredients through the center opening. It also will vent pressure when blending hot liquids. The Jar also has Easy-to-read jar markings up to 32 fluid ounces. The sound enclosure will deaden sound so as not to disturb others and can be removed for easy cleaning. Includes a recipe book with more than 230 recipes to use with your new blender.
---
Blendtec Professional 800 Series Features:
An
Illuminated Capacitive-touch user interface
will display a countdown timer to let you know time remaining when blending. Move your finger to increase speed, or touch a pre-programmed timed program for Smoothies, Batters, Mixed Drinks, Frozen Treats, Whole Juice, and Hot Soup. Then blender will automatically turn off, and give you a
countdown timer on the display
as it is blending. 11 manual speeds. You also have a Pulse button for manual blending and cleaning. The Carbon-steel sealed ball bearings reduces friction,
diminishes noise
and increases the life of the motor. Blendtec gives you a very
long 10 year warranty
on this blender.
---
Blendtec Pro 800 Power: 1800 Watts, 3.8 HP Motor
Blender Warranty: 10 years.
Blender Dimensions: 8.5″ W x 17.25″ H x 9.13″ D
---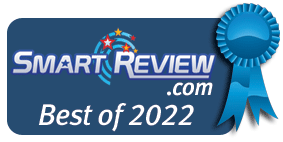 Smart-Review Commentary: The Blendtec Professional 800 Series blender is the World's Quietest Blender. It has an easy to use sound enclosure to deaden the sound, and is easily removed for cleaning. The Pro 800 has everything you will need in a high quality blender. Aside from the pre-programmed buttons, it has 11 manual speeds, and a pulse button. New for this model is a touch interface to easily change speeds, and choose pre-programmed programs. The blender cleans out easily, just add water and run the blender.
Blendtec uses the highest quality parts, and has pre-programmed features with auto shutoff for Smoothies, whole juice, syrups, sauces, dips, and more. This is one of the most powerful blenders on the market with 1,800 watts and a 3.8 HP motor. (Garbage disposal motors are only 1/3 to 1 HP). The power is amazing, and with its high quality stainless steel blades, can cut through frozen fruit, ice cubes, spinach, kale, and other ingredients. It can even make hot soup. The commercial version of this model is used at Smoothie Shops like Jamba Juice, Nationwide. Includes a recipe book.
Blendtec blenders have consistently received excellent consumer and professional reviews. Unlike most blenders this one has a display to tell you how many seconds left for blending (countdown timer), and an illuminated touch interface. We previewed how quiet the Pro 800 is at IHHS 2016 (See video below). You can hold a regular conversation while blending and not disturb others in your home. As affirmation of its quality, the Blendec Professional 800 Blender comes with a Long 10 year warranty. This Blendtec model is not only a Smart-Review top pick but also won our Best of 2022 award for Quietest Blender.
---
Blendtec Professional 800 Series Blender
Blendtec Pro 800 Blender w/WildSide Jar
Blendtec Stealth 885 Pro Blender w/WildSide Jar
Blendtec Classic 575 w/WildSide Jar

Blender Features

Countertop Blender
Capacitive Touch Interface
World's Quietest Blender
1,800 Watts
3.5 HP Motor
11 Speeds
Wildside Jar (90oz)
BPA-Free
Pre-programmed Functions
Makes Hot Soup
Stainless Steel Blade
LCD Display
Great Smoothie Machine
High Ratings & Reviews
Pulse Feature
Included Recipe Book
10 year warranty


Is this the best price?
(Click for Reviews) +Touch Controls + 10 year warranty + Sound Enclosure BEST of 2022


Is this the best price?
(Click for Reviews) +Touch Controls + 8 year warranty + Sound Enclosure


Is this the best price?
(Click for Reviews) +Touch Controls + 7 year warranty


Blendtec Professional 800 Blender | World's Quietest Blender (Video)
---
Related Article: Best Rated Blendtec Blenders – Comparison & Reviews
Related Article: Best Rated Vitamix Blenders – Comparison & Reviews
Related Article: Best Rated Blenders – Comparison & Reviews
Related Article: Best Counter-top Blenders under $200 dollars – Comparison & Reviews
Related Article: Best Counter-top Blenders under $400 dollars – Comparison & Reviews
---
---