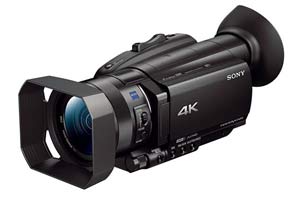 Best Rated 4K Ultra HD Camcorders 2019-2020 – This is a roundup of the latest top-rated 4K camcorders. A 4K camcorder has four times the resolution of Full HD, the same resolution as 4K movie projectors at your local theater. 4K is the latest standard in TVs, and your 4K camcorder will future proof your videos for generations to come.
See our comparison & reviews of 4K Camcorders… Enter Here
---
Smart-Review | Top 5 Best Rated 4K Camcorders for 2019-2020
---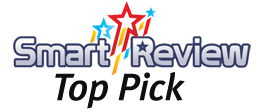 The FDR-AX100 is Sony's first compact 4K consumer camcorder. SmartReview previewed this model at CES in Las Vegas. It received more awards than any other camcorder, and is SmartReview's top consumer 4K camcorder for 2016. This model shoots at 4K Ultra HD (3840×2160) which is at 8 megapixels resolution verus only 2 megapixels for Full HD. In addition to shooting at 4 times the resolution of HD, this model has a huge 1-inch back-illuminated Exmor R® CMOS Sensor (20.9M pixels). This is far larger than most camcorder imagers, and will give exceptional low light performance and increased dynamic range.
Shooting at 4K resolution will future proof your videos, as the industry moves toward 4K resolution in TVs. Footage in 4K can also be used for Full HD video production, as you can crop or zoom in on your footage and still maintain Full HD video quality. For best image quality, Sony has equipped the FDR-AX100 with a Carl Zeiss 12x Optical Zoom Lens. It has an excellent 2.35 million dot OLED EVF Viewfinder as well. EVF Viewfinder. External Microphone and Headphone jacks. Night Vision Infrared. Built-in WiFi and NFC. This is a premium quality camcorder in all regards. …More…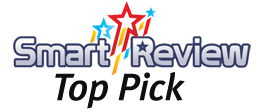 GoPro's HERO4 Black Edition Camera-Camcorder replaces the extremely popular GoPro HERO3 Plus series. This model provides Full 4K Ultra HD video (30fps). 4K has 4 times the resolution of Full HD. The GoPro Hero4 black edition has double the framerates of most video modes with its more powerful processor, and higher recording bitrates. GoPro action cameras are designed to record your active lifestyle, and are shockproof and waterproof to 40 meters with the included case. The camera can be mounted on a variety of ways (such as on your bike, helmet, car, boat, etc.) The camera records to MicroSD memory cards at a higher 60Mbps bitrate than previous GoPro cameras. (This camcorder features High-density, ultra-smooth video at 1080/120p Recording (Full-HD 1920 x 1080, 120 Progressive frames Recording), as well as 4K. It also includes a fast F2.8 6-element aspherical glass lens that was created for the HERO3+ and HERO4: Black Edition to help in low light situations and is sharper than any other lens they have produced. The wide angle 170° lens can fit more people and more of the background into the frame than a conventional lens. The imaging sensor is a large 1/2.3″ CMOS Sensor which can provide up to 4K Ultra HD, and Full HD at excellent frame rates. Takes 12 megapixel still pictures with a burst mode of 30fps, and continuous mode of 3fps. You can also take time lapse photos. The GoPro HERO4 Black Edition can be controlled by a Smartphone, or tablet. Bluetooth has been added to this model. …More…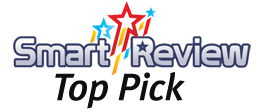 *New for 2015. Panasonic's HC-VX870 is the first 4K Ultra HD consumer camcorder offered by Panasonic. 4K has 4 times the resolution , of Full HD and is about the same resolution as the 4K projector in your local movie theater. With the industry transitioning to 4K TVs, this camcorder will future proof your videos to look spectacular on these TVs. 4K shoots at 8 megapixels per frame vs. 2 megapixels for Full HD. If you shoot video in 4K and then convert it to HD, the video will still appear much sharper than a regular HD camcorder would.
The HC-VX870 can record in either 4K or HD. The camcorder records video to SDXC U3 Memory cards, with 4K recording at a high 72mbps bit rate. For best image quality the camcorder includes a fast Leica F1.8-F3.6 lens that was designed for the HC-VX870 to help in low light situations. For night recording, you can use the Night Vision feature. Included are advanced features such as the new Hybrid optical/digital image stabilization with HYBRID O.I.S. which uses five-axis correction to suppress blurring, 20x optical zoom (Intelligent Zoom function can go up to 25x in 4K and 40x in HD), accessory shoe, and an external microphone jack and headphone jack. At full 4K Ultra HD resolution the camcorder records to MPEG-4 H.264 at a high 72mbps bit rate. For 2015, Panasonic has added a High Dynamic Range (HDR) feature for challenging lighting conditions. Full HD slow motion feature. …More…