Sony Handycam FDR-AX700 4K Ultra HD Camcorder | Review 2023
The FDR-AX700 is Sony's upgrade to the popular FDR-AX100 4K consumer camcorder. SmartReview previewed this model at CES in Las Vegas. The biggest upgrades are the new 273 point phase detection AF system for fast and accurate video auto-focusing, Dual Card Slots, Higher resolution LCD touchscreen, new 120p mode for HD, S-Log2 and S-Log3, and new HDR recording mode. This model shoots at 4K Ultra HD (3840×2160) which is at 8 megapixels resolution versus only 2 megapixels for Full HD.
The Sony FDR-AX700 has a huge 1-inch back-illuminated Exmor RS CMOS Sensor (14.2M pixels). This is far larger than most camcorder imagers, and will give better low light performance and increased dynamic range. Shooting at 4K resolution will future proof your videos, as the industry moves toward 4K resolution in TVs. Footage in 4K can also be used for Full HD video production, as you can crop or zoom in on your footage and still maintain Full HD quality. For best image quality, Sony has equipped the FDR-AX700 with a Carl Zeiss 12x Optical Zoom Lens.
---
Sony FDR-AX700 Features:
The Sony Handycam FDR-AX700 can record Full 4K footage at 24p, and 30p. It can also record Full HD at 24p, 30p, 60p and now 120p. The high quality
Carl Zeiss Wide Angle Lens
has a 35mm equivalent of 29mm – 348mm. Face Detection.
NightShot® Infrared System
to shoot at night or complete darkness. Other features: Large
3.5 inch Xtra Fine LCD
touch-screen (1.55M dots), The powerful
Bionz X image processor
allows you to record in 4K Ultra HD, as well as improving battery life. Standard SMPTE Timecode, WiFi (802.11b/g/n) and NFC to control your camcorder remotely.
---
Compression and Recording:
The FDR-AX700 uses the new highly efficient XAVC-S 4K compression format (100Mbps bit rate) to record 4K @ 30p or 24p, or (50Mbps bit rate) to record 1080p video at 24p, 30p, 60p, and 120p (100Mbps bit rate). The camcorder does have an internal 5.1 surround sound microphone, and a standard accessory shoe for lights, and external microphones. (An XLR accessory is available).
The AX700 also includes an External Microphone Jack and Headphone Jack. New toggle switch allows you to navigate menus in the EVF with the LCD closed. Other Features: Tracking Focus follows selected subjects. The HDMI port provides clean 4K video to external monitors and recorders, and 4K TVs. Dolby Digital 5.1 capable. USB 2.0 interface. Built-In ND Filters (Clear, 1/4, 1/16 and 1/64). Electronic OLED Viewfinder (EVF) with 2.35 million dots is provided. Includes a lens hood.
---
AX700 Upgrade Features Vs. the AX100:
Sony has added Phase Detection AF to its camcorder line. The FDR-AX700 adds a new 273-Point Phase Detection Autofocus system for much faster and accurate focusing, inherited from the Sony mirrorless camera line. Adds S-Log2, S-Log3, and S-Gamut Picture Profiles as well as 4K HDR. New toggle control allows you to navigate menus in the EVF with the LCD closed. The Sony AX700 now has a
timelapse feature
. New HLG format, for HDR (High Dynamic Range) which can playback on HDR equipped TVs. Added a 120p mode for Full HD video at (100 Mbps bit rate) recording. The 3.5-inch LCD Touchscreen resolution has increased to 1.55M dots. Also added was a second SD Card Slot, do now you have Dual SD card slots.
---
Video Recording: 4K Ultra HD @ 24p, 30p (100Mbps), Full HD at 24p, 30p, 60p (50Mbps), and 120p (100Mbps)
Lens Specifications: 29mm – 348mm (12x optical zoom; 18x extended zoom) F2.8-F4.5 (62mm filter)
Manual Features: Assignable dial provides control of the focus, exposure, white balance, iris, and shutter speed. Advanced controls with expanded focus, zebra, and peaking. 31 step Mic level control.
FDR-AX700 Battery Life: Approximately 190 minutes recording using the included NP-FV70a battery.
---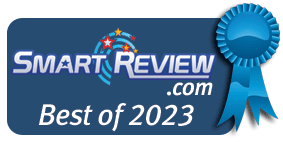 Smart-Review Commentary: Sony's new FDR-AX700 is a compact 4K camcorder with amazing image quality thanks to its huge 1-inch imager (largest of any consumer 4K camcorder). This camcorder has many upgrade features from the AX100 it replaces. In your hand, you essentially hold a camcorder that is capable of producing video with the same resolution as a movie theater. Since most theaters now have Sony 4K Projectors installed. Shooting at 4K Ultra HD resolution will future proof your videos. 4K has 4 times the pixels of Full HD. 4K looks great, even if you convert it to 1080p. If you shoot in 1080p on this camcorder, it will also have higher quality because it is using the 4K capture to down-sample to the 1080p video. And there are many options you have for cropping and zooming in on the 4K video, while still maintaining Full HD quality.
The biggest upgrade from the AX100 Camcorder it replaces is the new
phase-detection autofocus
system. With 273 phase detection autofocus points, you have coverage over 80% of the entire image sensor area. You now have HDR recording, a Dual Card Slot, higher frame-rate for HD, S-Log2 & 3, and a higher resolution LCD touchscreen. The Carl Zeiss lens is top quality, so everything on this camcorder is premium quality. The AX700 has an excellent 2.35 million dot OLED EVF Viewfinder. The camcorder has an
extremely efficient recording codec XAVC-S 4K
which allows you to record to a standard memory card at a bitrate of 100mbps. In fact, you can store about 1 1/2 hours of video to an inexpensive 64GB memory card. The FDR-AX700 has received excellent consumer reviews, and is not only a
Smart-Review top pick
, but has also won our
BEST of 2023
award for 4K Consumer Camcorders under $2,000.
---
Sony FDR-AX700
4K Camcorder
FDR-AX700
4K Camcorder
HXR-NX80 Pro
4K Camcorder
FDR-AX53
4K Camcorder

AX700 Camcorder
Top 18 Features

4K Ultra HD Recording
Optical SteadyShot™
12x Optical Zoom
Huge 1-inch Imager
HLG HDR Recording
BIONZ® X image processor
273 phase detection autofocus points
Dual SD Card Slots
OLED EVF Viewfinder
Manual Controls
TimeLapse Feature
120p HD Mode
24p,30p in 4K Mode
3.5 inch Touch-Screen
WiFi and NFC
NightShot® Infrared System
Clean HDMI 4K Output to Monitors or Recorders
Carl Zeiss Lens
29mm Wide Angle Lens


Is this the best price?

(Click for Reviews)
273 Autofocus Points
Phase Detection AF
HLG HDR Recording
Dual SD Card Slots
– – –
120p Full HD Mode
TimeLapse Feature
S-Log2 and S-Log3
ND Filters

Is this the best price?

(Click for Reviews)
273 Autofocus Points
Phase Detection AF
HLG HDR Recording
Dual SD Card Slots
XLR Audio Inputs
120p Full HD Mode
TimeLapse Feature
S-Log2 and S-Log3
ND Filters

Is this the best price?

(Click for Reviews)
– – –
– – –
– – –
Single Card Slot
– – –
60p Full HD Mode
TimeLapse Feature
– – –
– – –
---
---
Top 5 Best Features of the Sony FDR-AX700
* Larger 1-inch Imaging Sensor
* 273 Point Phase Detection AF
* Shoots Video in 4K Ultra HD
* Dual SD Card Slots
* Wide Angle Carl Zeiss Lens
---
Related Article: Best Rated 4K Ultra HD Camcorders – Comparison & Reviews
Related Article: Sony FDR-AX700 Vs. HXR-NX80 4K Camcorders – Comparison & Differences
Related Article: Sony Handycam Camcorder Model Lineup
Related Article: Sony FDR-AX53 Vs. FDR-AX700 4K Camcorders | Comparison
---
---
Sony FDR-AX700 4k Ultra HD Camcorder | Review Summary

Summarized Review: The highly rated Sony FDR-AX700 is a prosumer 4K Camcorder. This new model has a new advanced phase detection autofocus system, a large 1-inch imager, WiFi, Nightshot, Dual Card Slots, NightShot® Infrared System, and crisp 4K Ultra HD Video. For pro results, this model adds Adds S-Log2 and S-Log3 and S-Gamut profiles. The AX700 is Sony's most advanced prosumer camcorder. This model has won SmartReview.com's BEST of 2023 award for 4K camcorders.
Written By: Smart Review
Product Rating: 4.7 out of 5
---
Resources: Sony FDR-AX700 user manuals