Panasonic HD & 4K Camcorder Model Lineup (2017-2018) * Comparison and Reviews



Panasonic 2017-2018 HD & 4K Camcorder Models Lineup & Comparison – This is a roundup of Panasonic camcorder models for 2017-2018. Panasonic has trimmed the number of models available this year from last year. Panasonic has introduced several 4K Ultra HD camcorders, including the Panasonic HC-WXF991K model. 4K camcorders have 4x higher resolution than full HD (same as your movie theater 4K projector). All Panasonic models listed here have built-in WiFi. The Panasonic HC-V770, HC-WXF991K all have a Windproof Microphone which is great for outdoor shooting. The 2016-17 Panasonic HC-V770 HD Camcorder has better low light capability with its larger MOS imager and fast f1.8 lens. Panasonic camcorders feature 60p full HD recording for smoother video. See all the top Panasonic models below and compare by price, reviews, imager size, and features.
Best Rated Panasonic HD & 4K Camcorders Comparison 2017-2018
(Comparison & Reviews of the latest models from Panasonic)
Best Rated Panasonic HD & 4K Camcorders for 2017-2018
(Bundle Deals of the latest Panasonic camcorders)
Smart Review's coverage of Panasonic's 2016 4k Camcorder Model Lineup

Camcorder Glossary of Terms
4K Ultra HD Camcorder = Starting in 2015, Panasonic has introduced its first 4K Ultra HD camcorder. 4K or Ultra HD is the new standard for TVs and for camcorders. 4K has 4x the resolution of Full HD. This is about the same resolution and sharpness as the 4K projectors at your local movie theater. Each frame of video is 8 megapixels versus 2 megapixels for full HD. Shooting in 4K today, will future proof your videos, as most TVs in the near future will be 4K TVs. Even if you shoot in 4K and convert it to Full HD, the picture will be far sharper than if it had been shot in HD. We expect new models to be introduced at CES 2018.
Optical Zoom = This is the maximum zoom using the lens of the camcorder. A 10x zoom brings the action in about 10 times closer at its maximum.
Flash Memory = This refers to the way the camcorder records video. Flash memory camcorders normally record to memory cards (SDHC). There are some that have no card, and just have a fixed amount of internal memory such as the Flip Camcorders.
Dual Flash = This type of camcorder has both internal memory and can also record to memory cards.
Windproof Mic = The newest Panasonic HC-WXF991K and the Panasonic HC-V770 both have a Windproof Microphone, made to reduce wind noise substantially when using your camcorder outdoors.
Twin Camera = The Panasonic HC-WXF991K has a separate camera built into the end of the lcd, that can take a picture-in-a-picture. You can use this to take a wide angle shot of a soccer game, and with the main camera take a closeup of a player kicking the ball. Or a separate shot of yourself, or the crowd, as the action takes place on the field. The newest model now records the video from the second camera separately.
Multi Manual Dial = On the Panasonic HC-WXF991K and the Panasonic HC-V770 models, a Small Manual Dial on the front of the camcorder can adjust Focus, White Balance Mode, Shutter Speed, Iris, Sharpness, Color Saturation, White Balance Fine, or Brightness.
Imager Size = This refers to the Imager of the camcorder, where the light hits from the lens. This is like the retina of the eye. The larger the imager, the better the quality of the video and better low light performance. High end camcorders generally have a larger imager. Larger is better. A 1/3-inch imager is larger than a 1/4.5-inch imager.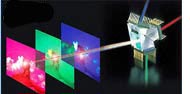 3MOS Imager = A 3MOS imaging sensor is a special sensor that is composed of 3 separate sensors. One for each color (red, blue and green). These type of sensors have generally been better than a single sensor. The advantage of a 3MOS sensor is that with the data from each of the three sensors, you can find out the exact hue, brightness, and saturation of each pixel, you're no longer interpolating (which is estimating). 3MOS has better low-light shooting, lower power consumption, and truer colors than other imaging systems. Panasonic has pioneered this technology, which was an upgrade from the older 3CCD technology. The Panasonic HC-X920 is the 2013 model with 3MOS imaging sensors. The 3MOS imagers for 2014-2016 are much larger, and are now backside illuminated for better low light performance.

Low Light Lenses = Larger and faster lenses allow more light in for greater low light sensitivity. Lenses with low f stop specifications are considered fast lenses. The camcorders on this page all have fast low light lenses with an f stop of f1.8 or lower (lower is better). The Panasonic HC-X920 has a new f1.5 lens, which is the most light sensitive of any consumer camcorder lens.
Megapixels = This refers to the camera function in the camcorder. This is the amount of megapixels available to take a snapshot picture while using the camcorder. Canon for 2012 has reduced the megapixels (to 2 megapixels) on its CMOS Pro imagers for better low light performance and dynamic range.
1080p 720p 60i 24p 60p video = camcorders can record video at various resolutions. Many can record at several different rates. 1080p is the current highest (blu-ray quality). 720p has about half the resolution of 1080p. Also keep in mind the frame rate of the video. Normal video is shot at 30fps (frames per second). 1080@60i is 60 interlaced frames, which is roughly equivalent to 1080p@30fps. Movie film is shot at 24fps (24p). Some camcorders can shoot at 60fps (60p) which will make the movie silky smooth and can be used for slow motion as well. New for 2015 is the Panasonic Panasonic HC-WX970 and the Panasonic HC-V770 models which can shoot at Full HD at 120fps for slow motion effects.
Infrared NightShot/Night Vision = Some Sony and Canon camcorders allow shooting at night. They shoot in infrared. Some have a built-in IR illuminator to light up the area with invisible to the eye infrared light. You see these type of cameras being used in reality shows, such as ghost hunters.
External Mic Jack = This means that this camcorder is equipped with an external microphone jack or terminal to input an external microphone. There are a wide range of external microphones to choose from including wireless, surround sound, and others. An external microphone will improve the sound recording of your video. It bypasses the built in microphones.
Wide Angle Lens = The wider the lens, the better. A wider angle lens will allow you to get more of the scene in your videos than one that is not wide angle. This is important for indoor shots, when you want to get a whole group in the shot, or outdoors to get a panorama view of the landscape. So, for example, a 30mm lens is much wider than a 40mm lens.
EVF Viewfinder = Most camcorders today do not have a viewfinder, but use their LCD screen to compose video. However, some high end camcorders do have an Electronic Viewfinder (EVF). The advantage of having an EVF is to use the viewfinder in bright sun, where the LCD may be hard to see. The Panasonic HC-WXF991K has an EVF.
3D Ready = This camcorder can record in 3D with an optional 3D converter lens.
Built-in WIFI = Almost all Panasonic Camcorders listed here have WiFi, The Panasonic camcorders have WiFi and NFC (near field communications) to control your camcorder remotely or share contents. You will have the ability to stream video from your camcorder to a smart device such as an smartphone, tablet, or laptop and to the internet. You also can control these camcorders directly from your tablet, smartphone, or laptop. The 2016 models had an improved WiFi app that has many features including a Pet or Baby monitor, Home Monitoring and more.
Related Article: Smart-Review | 2017-2018 Camcorder Buying Guide (HD & 4K)
Related Article: Sony 2017-2018 Camcorder Lineup and Comparison
Related Article: Canon 2017-2018 Camcorder Lineup and Comparison
Shop All Flash Memory Camcorders
(Clicking on shop buttons will open a new window)