Miele Dynamic U1 Auto Eco Upright Vacuum Cleaner | Review
The Miele Dynamic U1 Auto Eco is Miele's high end upright vacuum. Miele vacuums are well built german engineered vacuums, built to last. They are also quieter than other vacuums. The Miele U1 Series features a unique SwivelNeck Technology which allows you to steer your upright effortlessly with just a turn of your wrist. It also allows you to position the vacuum in a flat to the floor position, allowing you to get under low furniture.
Brushbar on/off controls are in the handle.
The 360-degree swivel front wheels allow for exceptional maneuverability.
Automatic Height Adjustment:
The Miele Auto Eco electrobrush will follow the contours of your floor, and automatically adjust for differing carpet depths and surface coverings, and provide even, consistent suction and gentle cleaning. Motor protection indicator. The Miele Dynamic U1 Auto Eco uses a two motor system. One for suction and one for the brush bar. The Miele Auto Eco has an
LED headlight system
to see dirt and obstacles under furniture, near walls, and other hard to see areas. The Auto Eco has a beautiful Obsidian Black finish, with +/- Controls. AutoEco feature automatically adjusts both the suction and height to match what you are vacuuming.
---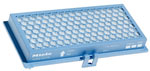 Miele's AirClean Sealed System: consists of an AirClean FilterBag and an Active HEPA Filter which captures and retains 99.9+% of dirt, dust and allergens. This keeps the air clean as you vacuum. The S7 Series Auto Eco includes a 39 foot power cord, and with its 12-foot integrated flexible hose has a total reach of 54 feet.
Accessories include: Dusting brush, telescopic aluminum wand, upholstery tool and extended crevice nozzle. The FilterBag change indicator will let you know when the bag is full. The Miele Auto Eco uses Self Sealing Dust Bags with a generous 5.45 quart capacity. The Miele Type U bags have a 9-stage filtration system and self-locking Auto-Seal collar. Miele vacuums use an AirClean Sealed System construction which prevents dust and dirt from escaping the vacuum. Suction control has 4 power settings, the lower setting is quieter and useful for drapes, small rugs, and delicate fabrics. Miele Vacuums are tested to last 20 years and include a 7 Year Motor and Casing Warranty.
---
Vacuum Cord Length: 39 feet.
Vacuum Warranty: 2-year limited warranty vacuum parts and labor. 7-year warranty on motor/casing.
Vacuum Weight: 22 lbs.
Model Number: SHJE031
---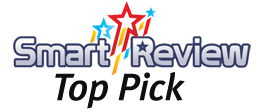 Smart-Review Commentary: The top of the line Miele Dynamic U1 Auto Eco is one of Miele's best upright vacuums. This model includes an Active Hepa Filter and LED headlight system. Unique to this vacuum versus the other models is the Auto Eco feature, which automatically adjusts suction and height to what you are vacuuming. This is also the only Miele upright model that has easy to use +/- suction controls. The Air Clean dust bags used on this vacuum have a 9 stage filter, ideal for those sensitive to dust. A new pre-motor filter and Super Air Clean Exhaust Filter are included in every box of Miele dust bags. The bags have a large 5.45 quart capacity, so you won't have to change them as frequently. The self sealing bags are designed so that you won't have to be exposed to the dirt, just throw the bag away in the trash. The Brushbar on/off controls are conveniently located on the handle.
The Miele Auto Eco has received the Good Housekeeping seal of approval. This German engineered vacuum is built to last, as Miele vacuums are tested to last 20 years. The 12 foot telescoping wand and hose give you a long reach to clean stairs, walls, drapes, and ceilings. Miele vacuums are known for keeping the air cleaner than other brands of vacuums with its sealed air system (Miele has gaskets on all openings). The Auto Eco also has a beautiful Obsidian Black finish. The Dynamic U1 Auto Eco has received extremely high marks from professional reviews as well as outstanding reviews by consumers. This model is a Smart-Review top pick and one of our best upright in the bagged vacuum category.
**This model has been discontinued… please see current models below**
---
Miele Dynamic U1 Auto Eco Upright
Miele Dynamic U1 Auto Eco Upright Vacuum
Miele Dynamic U1 Cat & Dog Upright Vacuum
Miele Dynamic U1 Jazz Upright Vacuum

Miele Auto Eco
Top 14 Features

Two Motor System
4 Power Settings
SwivelNeck Technology
Auto Eco Feature
+/- Suction Control
Active HEPA Filter
Self Sealing Bags
54 foot reach
360-degree wheels
39 foot cord
telescope reach wand
LED Headlight System
Motorized brush bar
7 year motor warranty

Is this the best price?
(Click for Reviews)

– – –
– – –
+ LED Headlights
Discontinued Model

Is this the best price?
(Click for Reviews)

+ Turbo Pet Tool
+ Pet Odor Control
+ LED Headlights
Current Model

Is this the best price?
(Click for Reviews)

– – –
– – –
– – –
Current Model
Related Article: Best Upright Vacuum Cleaner Comparison & Reviews
Related Article: Best Miele Vacuums Comparison & Reviews

Top 8 Upright Vacuums for 2022
---