Miele Classic C1 (Cat & Dog) Canister Pet Vacuum 2022 | Review
The Miele Classic C1 Cat & Dog is Miele's premium compact multi floor canister vacuum with 2 floor tools. Designed for Pets and Pet hair with included tools, including the Handheld Pet Turbobrush, great for pets, pet hair, dirt and dust. It is lightweight, the canister weighing only 9.5 lbs. Miele vacuums are extremely quiet compared to other canisters (they are sound insulated) and are German engineered to last.
The included Charcoal Activated AirClean Filter outputs air cleaner than the air it takes in, and neutralizes pet odors. This keeps the dust and dirt in the bag and out of the air you breathe. Great for allergy sufferers. A rotary dial adjusts the suction power to your needs, and even has a quiet setting. You can rewind the retractable cord automatically by stepping on a switch on the back of the canister.
---
The Miele C1 Cat & Dog has 6 Speed Settings to control suction for the area you are vacuuming. Crush proof hose adds durability. The telescoping wands are made of stainless steel, made for long-term usage.
Tools Include:
crevice nozzle, dusting brush and upholstery tool. Also included with the Miele C1 Cat & Dog is Miele's powerful
SEB228 Powered Floor Brush
which is an
electrically-driven motorized carpet tool
suitable for low to high pile carpeting,
soft plush carpets
, and smooth flooring (great for pet hair). Deluxe handle with electrobrush controls. The included floor tool
Parquet Twister
has soft, natural bristles to glide over smooth floor surfaces, especially delicate, polished
hardwood floors
, without damaging them. It can rotate 180-degrees to clean around obstacles like tables or chair legs.
---
Miele's Sealed 12-Stage Air Clean System
, is an
air-tight
sealed system that retains 99.99% of particles at 0.3 micron. It consists of an Air Clean FilterBag and an AirClean Filter with activated charcoal, perfect for those with pets or allergies. The activated charcoal removes pet odors. The C1 Cat & Dog Canister has a total reach of 29.5 feet so you can vacuum longer without switching outlets. The compact Miele Cat & Dog uses Self Sealing GN Dust Bags with a generous 4.5 liter capacity. The Miele Type GN bags have a self-locking Auto-Seal collar so dirt stays in the bag and does not leak out. The
Bag Full indicator
, lets you know when to change the dust bag. Miele Vacuums are
tested to last 20 years
and include a 7 Year Motor Warranty. The German Engineered Miele canister will outlast many cheaper models, even though the Miele is more expensive initially.
---
C1 Series Total Reach: 29.5 feet (w/21 foot retractable cord).
Vacuum Warranty: 7-year motor warranty. 1-year limited warranty vacuum parts and labor.
Canister Vacuum Weight: 9.5 lbs.
Model Number: 41BBN031USA
---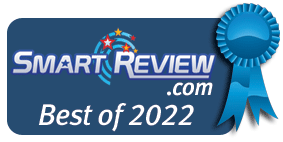 Smart-Review Commentary: The Miele Classic C1 Cat & Dog Canister Vacuum is one of Miele's top compact canister vacuums for pets, which comes with 2 floor tools for hard floors and carpets. This model is designed for pets and pet hair. One tool, the SEB228 14-inch Powered Floor Brush is electrically operated motorized tool for floors and carpets (low to high pile) as well as soft plush carpeting, and the other is a soft brush for hardwood floors/tile/hard floors. This tool is ideal for pet hair removal. Activated charcoal in the filter traps and neutralizes pet odors. The AirClean filter and Air Clean dust bags used on this vacuum are ideal for those sensitive to dust and dander or have asthma. A new pre-motor filter and Super Air Clean Exhaust Filter are included in every box of Miele dust bags. The bags have a 4.5 liter capacity. The self sealing bags are designed so that you won't have to be exposed to the dirt, just throw the bag away in the trash.
All of Miele vacuums are quieter than competitor canisters, and have 6 speed settings. An ON/OFF brushroll switch is conveniently located in the handle.
Rubber wheels won't mar or scratch
hardwood floors. Its telescoping wand is made of stainless steel (cheaper vacs are made of aluminum). The durability of this vacuum is excellent, as all
Miele vacuums are tested to last 20 years
. Its telescoping wand and hose gives you a long reach to clean stairs, walls, drapes, and ceilings. For pets, stairs, and upholstery, this model comes with the
Handheld Pet Turbobrush
. Miele vacuums are known for keeping the air cleaner than other brands of vacuums. The Cat & Dog Canister is also
recommended by carpet manufacturers for vacuuming soft carpets
such Mohawk's SmartStrand silk, Caress®, Karastan, and Soft Spring. This model has received extremely high marks from professional reviews as well as outstanding reviews by consumers. This model is a
Smart-Review top pick
for Canister vacuums ideal for those with Pets with both low/medium/high pile carpets, soft plush carpets, and hardwood floors. This model is also our
"Best of 2022"
award winner for compact bagged canister vacuums.
---
Related Article: Best Rated Miele Vacuums Comparison & Reviews
Related Article: Best Canister Vacuums Comparison & Reviews
Related Article: Top Rated Vacuums for Plush & Soft Carpeting – Comparison & Reviews
Related Article: Miele Canister Vacuum Buying Guide – Comparison
---
Miele Compact C1 Cat and Dog Canister Vacuum | Review Summary

Summarized Review:The Miele Compact C1 Cat & Dog bagged canister is a high quality compact canister designed for pets. Its Airclean filtering system keeps allergens and odors contained in the vacuum. Miele vacuums are designed and tested to last 20 years. A six speed power dial allows you to fine tune the suction to properly vacuum delicate areas. For hard floors, Miele includes its Parquet Twister Floor Tool, with soft natural bristles, that won't scratch floors. The C1 Cat & Dog has earned our BEST of 2022 Award for bagless canister vacuums.
Written By: Smart Review
Product Rating: 4.6 out of 5
---