Miele Blizzard CX1 (Homecare) Bagless Canister Vacuum | Review 2019
The new bagless Miele Blizzard CX1 Homecare is Miele's premium top-of-the-line canister vacuum. The multi floor canister vacuum comes with 2 floor tools. This full size canister has the longest warranty (10 years) of bagless line, and comes with the premium floor tool for carpeting. The electrically powered floor brush is great for carpet cleaning, even soft carpets, and has built-in LED lights.
The Miele Blizzard CX1 Series features a lifetime HEPA Filter, filtering up to 99.98% of dust and allergens. This keeps the dust and dirt in the bag and out of the air you breathe. The HEPA filter is also maintenance-free. Great for allergy sufferers.
Miele vacuums are extremely quiet compared to other canisters (they are sound insulated) and are German engineered to last. A rotary dial changes the 4 power settings on the Miele Homecare. You can dial down the suction to do delicate rugs and drapes, or full power for carpets.
---
You can
rewind the retractable cord
automatically by stepping on a switch on the back of the canister. The carrying handle makes it easy to carry the vacuum up and down the stairs. Crush proof hose adds durability. The telescoping wands are made of stainless steel, made for long-term usage.
Miele Blizzard Homecare Tools Include: Extended flexible crevice Tool (SFD 20), regular crevice tool, dusting brush, adjustable universal brush (SUB 20) and upholstery tool. Also included with the Miele CX1 Homecare is Miele's powerful SEB236 Powered Floor Brush which is an electrically-driven motorized carpet tool suitable for low to high pile carpeting, soft plush carpets, and smooth flooring (great for pet hair). This tool has built-in LED lights. Deluxe handle with electrobrush controls (turn brushroll on/off). The included floor tool Parquet Twister has soft, natural bristles to glide over smooth floor surfaces, especially delicate, polished hardwood floors, without damaging them. It can rotate 180-degrees to clean around obstacles like tables or chair legs.
---
Miele Homecare Features:
The Miele Homecare uses bagless cyclonic technology to separate dust, dirt, allergens, and pet hair. Miele Vacuums are
tested to last 20 years
and include a 7 Year Motor Warranty. The German Engineered Miele canister will outlast many cheaper models, even though the Miele is more expensive initially. The CX1 Homecare Bagless Canister has a total reach of 36 feet (cord and hose length) so you can vacuum longer without switching outlets. As a bagless vacuum, you no longer need to buy bags. Miele has designed the dust bin to empty with minimum mess, right into your trashcan.
---
CX1 Series Total Reach: 36 feet (w/23 foot retractable cord).
Dust Bin Size: 2.0 Liters
Vacuum Warranty: 5-year limited warranty vacuum parts and labor. 10-year motor & casing warranty.
Model Number: 41KCE041USA
---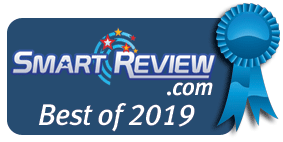 Smart-Review Commentary: The new Miele Blizzard CX1 Homecare Bagless Canister Vacuum is one of Miele's top bagless full size canister vacuums which comes with 2 floor tools and a sealed filter system. As a bagless vacuum, you have no bags to buy. One tool, the SEB236 Powered Floor Brush is an electrically operated motorized tool for floors and carpets (low to high pile) as well as soft plush carpeting, and the other is a soft brush for hardwood floors/tile/hard floors. This tool is ideal for pet hair removal, and has built-in LED lights to light the way. The Lifetime HEPA filter along with the Gore CleanStream Fine Dust Filter will filter up to 99.98% of dust, dirt, and allergens. Ideal with those sensitive to dust or dander or have asthma. The CX1 is bagless and has Hygienic Emptying of the dust bin, right into the trashcan. The Mono-Cyclone of the vacuum separates fine and coarse dust. The ComfortClean button lights up in red when the dust bin is full, Brushroll on/off switch for hardwood floors.
The CX1 Series is also a quieter vacuum than most canisters. You can dial up or down suction and noise (4 settings).
Rubber wheels won't mar or scratch
hardwood floors. Its telescoping wand is made of stainless steel (cheaper vacs are made of aluminum). The durability of this vacuum is excellent, as all Miele vacuums are tested to last 20 years. With this in mind, Miele provides an
extra long 10-year motor & casing warranty
. Its telescoping wand and hose gives you a long reach to clean stairs, walls, drapes, and ceilings. Miele vacuums are known for keeping the air cleaner than other brands of vacuums. This model has an electric hose, supplying power to the electrically driven motorized floor Tool. The Miele Blizzard CX1 Homecare is a
Smart-Review Top pick
for bagless canister vacuums. It is ideal for low/medium/high pile carpets, soft plush carpets, and hardwood floors. This is the top bagless canister vacuum sold by Miele.
---
Related Article: Best Rated Miele Vacuums Comparison & Reviews
Related Article: Best Canister Vacuums Comparison & Reviews
Related Article: Top Rated Vacuums for Plush & Soft Carpeting – Comparison & Reviews
---