Hoover Commercial C2401 Backpack Vacuum | Reviews | Shoulder Vac Pro
The Hoover Commercial C2401 BackPack Vacuum allows you to easily vacuum with the convenience of not having to lug around a vacuum. The chiropractor designed harness gives good back support, with lots of padding and shoulder straps. The Hoover Shoulder Vac Pro Backpack Vacuum is lightweight for less fatigue (only weighs 9.2 lbs). The top dome lid can be adjusted for right or left handed vacuuming. Features a reusable dust bag, and to keep you from breathing in the dust and dirt you are vacuuming, The Hoover Commercial C2401 has a Hypercone™ HEPA filter. The vacuum has an extremely long 48 foot power cord, allowing you to vacuum large areas.
Included are extension wands, and a set of accessories. The accessories allow you to vacuum carpets, bare floors, and a wide range of above floor cleaning, such as venetian blinds, walls, and ceilings. The exhaust air blows out from the back, away from the operator. The Hoover C2401 Backpack vacuum comes with a two year commercial warranty. The canister can hold 6.4 quarts of dust and debris.
---
Hoover Commercial Backpack Vacuum Cord Length: 48 feet.
Backpack Vacuum Commercial Warranty: 2 years.
Backpack Vacuum Total Weight: 9.2 lbs.
---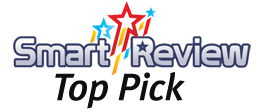 Smart-Review Commentary: The Hoover Commercial C2401 is an excellent backpack type vacuum. Weighing only 9.2 lbs., with a shoulder harness designed by a chiropractor, this vacuum is comfortable to wear with less fatigue. It come with a large capacity canister (6.4 quarts), a long power cord (48 feet), and can be adjusted to right or left handed persons. You can clean large areas with this vacuum. Designed to be quiet, it has a 66dBA sound output during operation. This model has received excellent reviews by consumers, and is a best seller for backpack vacuums. This model is a Smart-Review top pick in the backpack vacuum category.
---
Hoover Commercial C2401 Backpack Vacuum
Hoover Commercial C2401 Backpack Vacuum

Vacuum Features

Backpack Vacuum
Padded Shoulder Straps
Lightweight Vacuum
Chiropractor designed harness
Quiet Operation
HEPA Filtration
Commercial Quality
Right or Left Handed Operation
48 foot cord
Carpet and Bare Floors
2 year commercial warranty


Is this the best price?

(Click for Reviews)
Hoover Commercial C2401 Shoulder Vac Pro Backpack Vacuum | Key Features
---
Related Article: Dyson Vacuum Cleaner Comparison & Reviews
Related Article: Best Miele Vacuums Comparison & Reviews
Related Article: Upright Vacuum Cleaner Comparison & Reviews