Hoover CH50400 Hush Tone Lite Commercial Upright Vacuum | Review
The Hoover Hush Tone Commercial Lite CH50400 upright vacuum weighs only 11.5 pounds and is one of the lightest Hoover full-size bagged uprights available. This commercial unit is designed for heavy duty daily use and is simple in design. This vacuum is extremely quiet ("Hush Tone"), so as not to disturb others while vacuuming. It is rated at 69 decibels. HUSHTONE™ 2-speed motor. The Hoover CH50400 is primarily for carpets, and has no onboard accessories which provides for a lightweight vacuum. Manual 4 Position Height Adjustment for different floor surfaces. The Extreme Recline Handle allows the vacuum to lie flat to pass under low furniture.
For convenience, the power switch is located in the handle. Powerful two brush agitator combs through the carpet. The brush roll vibrates the carpet, allowing the vacuum's airflow to remove embedded grit. Non-Marking furniture guard protects walls and furniture. The CH50400 has a Triple filtration allergen system. Micro-Tex triple-layered outer bag material. Takes type "Q" Vacuum Bags. The Self Sealing HEPA bag will prevents dirt and dust from escaping back into room. The Hepa Bags will Trap 99.97-percent of dust and pollens down to .3 microns. The Hoover CH50400 Includes a long 35 foot power cord, and 1 year commercial warranty. Automatic brushroll shut off if something should get stuck in the brushroll (such as a sock). Wide 14-inch nozzle, bag full indicator. The ScatterGuard Wiper helps prevent dirt and debris from scattering on both carpets and hard floors. Excellent baseboard cleaning thanks to side brushes.
---
Hoover Upright Vacuum Cord Length: 35 feet.
Upright Vacuum Commercial Warranty: 2 years.
Upright Vacuum Weight: less than 11.6 lbs.
---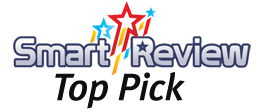 Smart-Review Commentary: The Hoover Hush Tone Commercial Lightweight CH50400 is one of Hoover's best rated commercial vacuums. A commercial vacuum is designed to withstand the rigors of daily use on large carpeted areas. They also do not have a lot of bells and whistles of other vacuums. This vacuum is designed primarily for carpets, as there is no brushroll shutoff. It does have manual height adjustments for different floor/carpet surfaces. No hoses or wands are onboard. Without a lot of extra attachments, this vacuum is much lighter than a fully loaded one, weighing only 11.6 lbs. A lighter vacuum is important if you are spending a long time vacuuming, and for carrying the vacuum up the stairs.
Other features include a two speed motor, HEPA self sealing bags, and WindTunnel Technology to lift dirt and debris. It is an inexpensive model as well. This vacuum can recline to the floor, so you can reach under furniture. No scuff bumbers protect your furniture. Reviewers have reported this vacuum to be powerful, and effective at removing pet hair. One of the main features of this "Hush Tone" model is its quiet operation at only 69 decibels. This model has received outstanding reviews by consumers. This model is a Smart-Review top pick and a great value for an upright vacuum.
---
Related Article: Upright Vacuum Cleaner Comparison & Reviews
Related Article: Hoover Vacuum Cleaner Comparison & Reviews
Related Article: Oreck Lightweight Vacuum Cleaner Comparison & Reviews

Top 8 Upright Vacuums for 2022
---