Hoover C1404 Elite Lightweight Commercial Upright Vacuum
The Hoover Elite Commercial C1404 weighs only 11.5 pounds and is one of the lightest Hoover full-size bagged uprights available. This commercial unit is designed for heavy duty daily use and is simple in design. The Hoover C1404 is primarily for carpets, and has no onboard accessories which provides for a lightweight vacuum. Manual 4 Position Height Adjustment for different floor surfaces. The 3-position handle goes flat to pass under low furniture. For convenience, the power switch is located in the handle. Powerful two brush agitator combs through the carpet. The brush roll vibrates the carpet, allowing the vacuum's airflow to remove embedded grit. Non-Marking furniture guard protects walls and furniture. The C1404 has a Triple filtration allergen system. Micro-Tex triple-layered outer bag material. Takes type "A" Vacuum Bags. Type A bags come in standard, allergen, and HEPA varieties. Includes a long 35 foot orange power cord, and 1 year commercial warranty.
Hoover Upright Vacuum Cord Length: 35 feet.
Upright Vacuum Commercial Warranty: 2 years.
Upright Vacuum Weight: less than 11.5 lbs.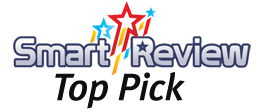 Smart-Review Commentary: The Hoover Elite Commercial Lightweight C1404 is Hoover's best rated commercial vacuum. A commercial vacuum is designed to withstand the rigors of daily use on large carpeted areas. They also do not have a lot of bells and whistles of other vacuums. This vacuum is designed primarily for carpets, as there is no brushroll shutoff. It does have 4 manual height adjustments for different floor surfaces. No hoses or wands are onboard. Without a lot of extra attachments, this vacuum is much lighter than a fully loaded one, weighing only 11.5 lbs. A lighter vacuum is important if you are spending a long time vacuuming, and for carrying the vacuum up the stairs. It is an inexpensive model as well. This vacuum can recline to the floor, so you can reach under furniture. No scuff bumbers protect your furniture. Reviewers have reported this vacuum to be powerful, and effective at removing pet hair. Because of its power, this model will be louder than non-commercial versions. This model has received outstanding reviews by consumers. This model is a Smart-Review top pick and a great value for an upright vacuum.
Hoover C1404 Elite Lightweight Commercial Upright
Hoover Bagless C1404 Elite Lightweight Commercial
Hoover Type A Allergen Bags

Vacuum Features

Commercial Vacuum
Bagged Vacuum
Lightweight Vacuum
Two Brush Agitator
Allergen filter
35 foot cord
No Scuff Bumpers
1 year warranty


Is this the best price?

Is this the best price?
Related Article: Upright Vacuum Cleaner Comparison & Reviews
Related Article: Hoover Vacuum Cleaner Comparison & Reviews
Shop All Vacuum Cleaners
(Clicking on shop buttons will open a new window)