Dyson DC39 Animal Bagless Canister Vacuum Cleaner | Review
Dyson's best canister vacuum. The Dyson DC39 Animal canister has updated its Radial Root Cyclone™ Technology to increase suction power. The DC39 features a Triggerhead™ Tool, with an air-driven rotating brush bar which can be turned on and off (for delicate rugs, and hard floors) from the handle, so no bending down is required. With its strong suction and tools, the DC39 Animal is ideal for removing pet hair.
Dyson's new lightweight canister ball vacuum is ideal for those who want a powerful vacuum that doesn't lose suction, but also don't want to have to work with a heavy floor-cleaning machine. Equipped with Dyson Ball technology, this canister vacuum cleaner sits on a ball for easy twisting and turning around furniture and obstacles. This version is Dyson's best canister vacuum for pet hair. The DC39 is Engineered for reduced noise levels by using sound insulating materials, and sound dampening mounts.
---
The DC39 Animal Canister version includes the new fantastic "Tangle Free" air-driven
Mini Turbine Tool
to clean upholstery, cars, and stairs of dust, dirt, and pet hair. The Dyson DC39 has an ergonomic handle for easy vacuuming, as well as a wand which allows you to reach for stairs, drapes, upholstery, and more. Total reach from the power outlet is 32.8 feet.
HEPA filtration
prevents dust and dirt from polluting the air while you are vacuuming. Easy
retractable cord rewind
. Hygienic and quick to empty: just press the button and avoid contact with the dirt. 21.3 foot power cord. Includes a 5 year warranty. Another appeal of this vacuum is the lifetime filters that don't clog. Easy bin dirt & dust disposal (empties from the bottom).
---
DC39 Vacuum Cord Length: 21.3 feet.
Vacuum Warranty: 5 years.
Vacuum Weight: 16.9 lbs.
---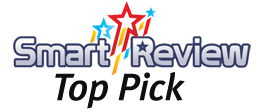 Smart-Review Commentary: The Dyson DC39 Animal is Dyson's best canister vacuum and best canister pet hair vacuum. Dyson cyclone technology with its HEPA Filter captures microscopic pollen, mold, and bacteria so that you don't breath in what was in your carpets. This vacuum is suitable for those with allergies to dust and mold. The Triggerhead™ brush bar helps remove deep down dirt and pet hair from carpets, while the ball technology allows you to effortlessly move the vacuum around furniture and other obstacles. You can use the "tangle-free" included Mini Turbine Tool (DC39 Animal Version only) to remove dirt and pet hair from smaller areas, such as stairs, inside your car, and furniture.
The wand and hose give you a long reach to clean stairs, walls, drapes, and ceilings. Dyson has made this model quieter, by using sound insulating materials. This model has received extremely high marks from professional reviews as well as outstanding reviews by consumers. This model is a Smart-Review top pick and our best canister in the bagless vacuum category.
---
Dyson DC39 Animal
Dyson DC39 Animal Canister
Dyson Multi-Floor Canister
Dyson Cinetic Animal Canister

Vacuum Features

Ball Technology
Radial Root Cyclone™
Pet hair vacuum
HEPA Filter
Bagless Canister
Mini Turbine Tool
.53 gallon capacity
21.3 foot cord
Triggerhead™ Tool
Sound Insulated
Retractable Cord Rewind
5 year warranty


Is this the best price?

(Click for Reviews)
+Mini Turbine Tool
– – –

Is this the best price? (Click for Reviews)
– – –
Latest Model

Is this the best price? (Click for Reviews)
+Mini Turbine Tool
Latest Model
Note: Articulating hard floor tool is optional and not included
Related Article: Best Dyson Vacuum Cleaners Comparison & Reviews
Related Article: Best Canister Vacuums Comparison & Reviews
---
Included "Tangle-Free" Mini Turbine Tool –
Most good pet vacuums include an air driven turbo or turbine tool to remove pet hair, dirt and dust from smaller areas inaccessible from the vacuum. This would include vacuuming upholstery, chairs, stairs, beds, car interiors, and other smaller areas.
Dyson
has designed what we consider a superior "tangle-free" turbine tool, that removes long and short pet hair, threads, ribbons, shoelaces, strings and other hazards without tangling, as it has no beater bar for hair to wrap around like traditional turbine tools (see video on left).
---
Shop All Vacuum Cleaners
(Clicking on shop buttons will open a new window)