Bissell Cleanview Upright Swivel Pet Vacuum 2252 | Review
The Bissell Cleanview 2252 Swivel Pet Vacuum is one of Bissell's lowest priced upright pet vacuums. The Triple Action™ Brush Roll + scatter-free technology provides powerful pet hair pickup on carpets or hard floors. It has a lightweight design to make it easier to push and to carry and swivel steering for easier manuevering around furniture. 13.5 inch cleaning width with Edge-to-Edge cleaning for edges and corners.
The Bissell 2252 Upright uses a Multi-level filtration system that traps fine dust and debris, using a multi-level filtration system, and the filter is also washable. Using a Multi-Cyclonic suction system that the Bissell 2252 has, can prevent dirt and dust particles from seeping back into the air, and will extend the life of your filter and vacuum. This bagless vacuum features a 1 liter clear bin, which is easy to empty. 5 surface height settings are available. Hose and wand for above floor cleaning.
---
Pet TurboEraser® Tool:
The included Pet TurboEraser® Tool features an air driven rotating brush to lift dirt out.
This tool can clean smaller and hard to get areas, such as upholstery, stairs, pet beds, and under furniture. The Turbo brush can pick up dirt, dust, and pet hair. You can even use this tool for car seats and mats, when cleaning our your car.
---
Bissell 2252 Vacuum Tools: Pet TurboEraser® Tool, Brush/Upholstery Tool, Dusting Brush, Crevice Tool, and Extension Wand.
---
Vacuum Cord Length: 27 feet.
Upright Vacuum Warranty: 3 years.
Upright Vacuum Weight: 14.5 lbs.
---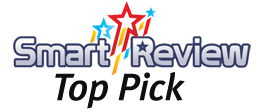 Smart-Review Commentary: The Bissell Cleanview 2252 is a low cost bagless pet vacuum from Bissell, yet it has all the basic features you would expect from an upright for pets. This model features the upgraded bissell Triple Action™ Brush Roll to clean carpets + hard floors, and the scatter-free technology helps when vacuuming hard floors. By using cyclonic action, dirt and dust go into the 1 liter dust bin instead of the filter or back into the air. The multi level filtration will prevent dust and dirt from getting back into the air as you vacuum. The vacuum includes extra tools, including a mini TurboEraser® Tool for cleaning pet hair, dust, and dirt from stairs, and upholstery. This Bissell model has received excellent reviews by consumers and is a Smart-Review top pick and a great value for an upright vacuum under $150.
Bissell 2252 Bagless Upright
Bissell 2252 Cleanview Swivel Pet Upright
Bissell 2254 Cleanview Swivel Pet Rewind Upright
Bissell 1831 Bagless Upright Vacuum

Vacuum Features

Bagless
Upright Vacuum
Triple Action™ Brush Roll + scatter-free technology
1 Liter Dust Bin
Cyclonic Techology
Multi-Cyclonic
Allergen Filtration
27 foot cord
6 foot hose + wand
TurboEraser® Tool
Crevice Tool
Extension Tool
Dusting Brush
Edge to Edge Cleaning
3 year warranty

Is this the best price?

(Click for Reviews)
Triple Action Brushroll
Swivel Steering
– – –
Pet Tools
Is this the best price?

(Click for Reviews)
Triple Action Brushroll
Swivel Steering
Auto Cord Rewind
Pet Tools
Is this the best price?

(Click for Reviews)
One Pass Brushroll
– – –
– – –
– – –
---
Related Article: Top Rated Shark Vacuum Cleaners – Comparison & Reviews
Related Article: Upright Vacuum Cleaner Comparison & Reviews
Related Article: Hoover Vacuum Cleaner Comparison & Reviews
Related Article: Top Dyson Vacuum Cleaners – Comparison & Reviews
---

Top 8 Upright Vacuums for 2022
---