Samsung UN50HU8550 50-Inch 4K Ultra HD 3D Smart LED TV
**New for 2014. Samsung's 50-inch top of the line Flat Screen, second generation of 4K Ultra HD TVs from Samsung. A 4K Ultra HD TV provides 3840 x 2160 resolution, which is four times the resolution of Full HD. This allows you to sit closer to a larger TV and get the immersive movie theater experience. Most movie theaters now use a 4K projector, so in effect you will have movie theater resolution in the home.
Advanced 4K Picture Quality:
The Samsung UN50HU8550 4K 65-inch LED backlit TV is also
3D ready
and
comes with 4 pairs of Active 3D glasses (SSG-5150GB).
It includes Samsung's best
Precision Black Local Dimming
with the
UHD Micro Dimming Ultimate
LED edge backlight technology. It uses special edge mounted LEDs to enable the controlled lighting of variable size areas. This provides for better picture,
deeper blacks, and contrast
whether watching 2D or 3D. With this HDTV you can use the included 3D glasses with 3D Blu-ray players, and watch 3D specific programming as they come available on cable and satellite. The
Ultra Clear Panel
eliminates reflections, and boosts the contrast ratio. Included on the UN50HU8550 4K is Samsung's best
1200 CMR (clear motion rate)
anti-blur technology along with
120Hz
to provide blur free, clear motion. This 4K Ultra HD TV has several new ways to interface with the TV, including
Gesture control
(using your hands), and voice control. Its built in camera has face recognition to bring up your profile, or use Skype.
DLNA CERTIFIED®
connectivity lets you remotely access music, video, and photos. The 4K display has over
eight million pixels
of resolution (regular 1080p HD has only 2 million pixels).
2014 Smart TV:
The Samsung HU8550 4K LED Series has an upgraded
Quad Core Processor
to speed up Smart TV functionality. The TV is internet ready with Samsung Apps (hundreds available) and a Full Web Browser (broadband service required) which will give you access to
Netflix
(with subscription), Amazon, Youtube, Facebook, Blockbuster, Hulu Plus, Twitter, Sports and more.
Netflix, Xfinity (Comcast), DirecTV, and Youtube will have native 4K content in 2014
. Just plug in an ethernet cable, or use the included
Built-in wireless WiFi
. To assist the Smart TV functions, the remote control has a touchpad, and a microphone (for voice commands).
Smart View 2.0
allows you to share TV content with your smartphone or tablet.
The UN50HU8550's Samsung UHD Upscaling Technology can Upconvert regular HD to 4K for better image quality. Ultra Slim Design, only 1.4″ inch thick (without stand) and an ultraslim bezel. Energy Star compliant. ATSC with QAM digital TV tuners built in. 1 Component video input, and 4 HDMI 2.0 inputs for full 4K and 2D/3D connectivity for DVD players, Blu-ray, PS3, PS4, Camcorders, PCs and a range of other digital devices. Also features two 10 watt stereo speakers and two 10 watt woofers with DTS Premium 5.1 Dound. HDCP 2.2, MHL 3.0, and 3 USB 2.0 ports for digital photo/video/MP3 playback, Ethernet port.
Dimensions: 43.9″ x 27″ x 10.6″ with stand (39.7 lbs.)
Dimensions: 43.9″ x 25.4″ x 1.4″ without stand (32.4 lbs.)
Available Sizes: 75-inch, 65-inch, 55-inch, 50-inch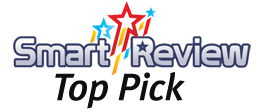 Smart-Review Commentary: For 2014, The 50-inch UN50HU8550 4K is Samsung's second generation LED 4K TV and comes fully loaded. 4K Ultra HD resolution will give you 8 megapixels of screen, versus only 2 megapixels in regular HD. This is the future of TVs and in the next couple of years, 4K will be the new standard, just as 1080p TVs are now. 4K Ultra HD is the same resolution as the movie theater, and will give you a more immersive experience, as the pixels are 4 times smaller, and you can sit much closer to the TV. Native 4K content is just emerging. Sony sells a 4K player which can download movies, Youtube already has 4K content. Netflix has announced 4K content in 2014, and we expect others to follow. In the future, you can upgrade to a One Connect Box which will allow you to upgrade this TV to future standards when they emerge. This TV comes with the latest current 4K standards Built-in: HDMI 2.0 , and a HEVC (h.265) decoder. These will allow high speed 4K (60fps) and 4K Streaming. We previewed this TV at CES 2014, and it had a fantastic picture (see video below).
Some other notable features are the upgraded
Quad Core Processor
, which will greatly speed up the Smart TV features, allow multitasking, and allow new features. Includes 4 pairs of 3D glasses. The UHD Micro Dimming Ultimate adds special algorithms and scanning technology to give you a better more uniform picture with higher contrast, and can make letterbox bars inky black.
Precision Black Local Dimming
dims LEDs behind the darkest area of the picture for greater contrast and darker blacks. This is the same technology that made the 2013 F8000 Series our best LED TVs. Samsung has added many new ways to communicate with your TV. Voice control (you control your TV by speaking commands), Gesture Control (move your hands to change things on the screen), and a touchpad on the remote which allows you to change channels, change apps, voice control, or use the web browser.
SmartView 2.0
allows you to view TV content on your Smartphone or tablet.
The HU8550 4K comes with two remotes
, a traditional universal and a
Smart Touch Remote
. This is an
Evolutionary TV
, which means that it can be upgraded in the future to new 4K standards as they emerge (future proof). The UN50HU8550 4K has received outstanding reviews. We believe the Samsung UN50HU8550 4K to be one of the top 4K Ultra HD LED TVs for 2014 and is a
SmartReview Top Pick for 2014
.
Related Article: Samsung's Latest and Newest 4K Ultra HD TVs – Comparison & Reviews
Related Article: 50-inch HDTVs Roundup and Comparison
Related Article: Best 55-inch HDTVs Roundup and Comparison
Related Article: Best Rated 4K Ultra HD TV Reviews and Comparison
Samsung 2015 4K LED 3D TV Upgrade Option:
Samsung UN48JS8500 SUHD 4K TV Series Upgrade: If you upgrade to theJS8500 4K Series, you will get the following upgrades. Samsung has added Nano Crystals (Samsung's version of Quantum Dots) to the LEDs, which can give you a broader color pallete, deeper blacks, and brighter picture. The WiFi has been upgraded to Dual Band (2.4GHz/5GHz) a/b/g/n/ac, the latest standard, for fastest streaming 4K content from providers such as Netflix and Amazon Prime. The Smart TV operating system has been upgrade to Tizen, for more choices and faster response.
Samsung's HU8550 Series Flat Screen 4K Ultra HD TV – CES 2014