Best Rated 32-inch LED TVs (2018-2019) * Comparison & Reviews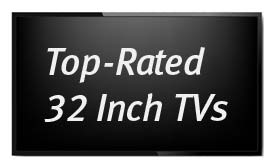 Best Rated 32-inch TVs (2018-2019) – This page contains a roundup the best top-rated 32-inch LCD and LED HDTVs, presented here for side by side comparison of price, features, and reviews. This size is good for small bedrooms or small dens. You can check what size you need by consulting our HDTV Sizing Guide. The 32-inch HDTV is the smallest sized TV where 1080p or 120Hz are available. Click on the reviews link underneath each TV to see owner reviews and ratings.

Best Rated 32-inch LED TVs – Comparison & Reviews

Related Article: Best 40, 42, and 43-inch HDTVs Comparison & Reviews
Related Article: Best 50-inch HDTVs Comparison & Reviews
Related Article: Best 55-inch TVs Reviews and Comparison
Glossary of Terms
Dual Core Processor = Some recent HDTVs now have a dual core processor, which greatly speeds up internet and Smart TV functionality.
LCD = Liquid Crystal Display, the current most popular screen type (plasma being second most popular).
LED HDTV = Instead of a conventional fluorescent backlight, these HDTVs use LED lights for backlighting. This dramatically improves picture contrast, colors, and overall picture. LED TVs also use about 40% less electricity. These TVs in the 32in size will be thinner and lighter than regular LCD TVs.
720p = (1366×768) with 1 million pixels resolution (Standard broadcast HD)
1080p = (1920×1080) with 2 million pixels resolution (Maximum Blu-ray quality)
Contrast = refers to dynamic contrast. Higher is better. More contrast allows more shadow details in the picture.
120Hz = 120 hertz anti blur technology. Eliminates blur on LCD TVs during high action sports and movies.
60Hz = Normal TV without anti blur technology.
HDMI = HDMI inputs allow you to connect devices to your HDTV such as DVD and Blu-ray players and game consoles.
Internet Ready = This means that this TV can give you content from the internet. Content varies with the manufacturer. This TV will provide an ethernet port to connect an ethernet cable. Or you can buy an optional Wifi USB plugin device to send the internet wirelessly to your TV. Some provide Netflix and youtube content.
Netflix Ready TV = This means that the television is not only internet ready, but can access Netflix streaming content. (Netflix subscription required).
3D Ready = A 3D ready TV is capable of showing 3D movies and 3D TV content in 3D with 3D glasses. The TV transmits a signal to the glasses to keep it in synch with the picture to produce the 3D effect.
Shop All 4K Ultra HD TVs
(Clicking on shop buttons will open a new window)