Best Rated 60-inch to 65-inch HDTVs & 4K TVs (2022-2023) Comparison and Reviews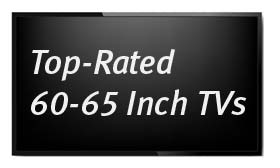 Top Rated 60-inch to 65-inch HDTVs & 4K TVs (2022-2023) – This page contains a roundup of the best rated large 60-inch to 65-inch LED and OLED 4K TVs, presented here for a comparison of price, features, and reviews. This size is good for large sized living rooms. You can check what size you need by consulting our HDTV Sizing Guide. At CES all of the TVs were 4K Ultra HD, as the industry is transitioning to 4K. Most 60-inch and larger LED TVs today are Smart TVs. As prices come down, we are seeing large HDTVs become more common. Click on the reviews link underneath each TV to see owner reviews and ratings for each model for easy comparison. All large screen TVs are now 4K Ultra HD TVs, which have 4 times the resolution of full HD TVs. A Glossary of Terms is located at the bottom of the page.
*** 2023 TV Models will arrive in March/April 2023 ***
---
Best Rated 60 to 65-inch 4K Ultra HD TVs Comparison

---
Best Rated 65-inch 4K Ultra HD TVs Comparison

Related Article: Best Rated 70-inch to 80-inch TVs Reviews and Comparison
Related Article: Best Rated 80-inch, 82-inch, 85-inch and Larger 4K TVs | Comparison
Related Article: 4K Ultra HD TV Buying Guide
Related Article: Best Rated 4K Ultra HD TVs Reviews and Comparison
HDTV Glossary of Terms
4K HDR = This is the latest feature that actually does greatly improve picture quality. It allows for a wider range between bright and dark scenes, and makes colors look more natural. A true breakthrough in screen technology. Blu-ray discs and future content will be tailored to take advantage of this technology built into future TVs. We saw this technology in action, at a CES demonstration by Dolby Vision.
Dual Core/Quad Core/Octa Core/Processor = TVs with a Dual Core Processor will speed up Smart TV functionality and allow new features that slower processors cannot support. Quad Core processor are even faster than Dual Core and will enhance the speed of your TV even more.
LED HDTV = Instead of a conventional fluorescent backlight, these HDTVs use LED lights for backlighting. This dramatically improves picture contrast, colors, and overall picture. LED TVs also use about 40% less electricity.
Smart TV = A Smart TV is one that can access the internet, most have an internet browser, and will give you access to programming such as Youtube, Netflix, Amazon Instant Video, Hulu Plus, and more. Most Smart TVs have apps that can be installed on your TV.
4K Ultra HD (UHD) = 4K is the new standard in TVs. It has 8 megapixels of resolution, which is 4x the Full HD 1080p TVs currently on the market. Movie theaters now use 4K Projectors, which is about the same resolution as these new 4K TVs, so you get movie theater resolution at home. This allows you to sit closer to the TVs as the pixels are smaller, and will give you a more immersive movie theater type of experience.
SUHD/Quantum Dots = In 2015 Samsung introduced its first of the SUHD line of TVs with Quantum Dots (also known as nanocrystals). This technology gives the 4K TV enhanced color range and brightness. This is only in Samsung's Top end QLED TVs, LG's Super TVs, and Sony's TRILUMINOS™ Tvs. We previewed this technology at the Consumer Electronics Show, and it was the best picture we had ever seen on LED TVs.
4K X-Reality PRO = This is Sony's best image processor that is in its new 4K TVs. Sony has ten years experience in image processing for movie theaters. Sony's 4K Projectors are now installed in movie theaters worldwide. This technology will allow you to enhance even lower resolutions of sports, movies, and blu-ray to 4K. Sony is the leader in image processing. The top-rated 4K TVs have the best image processors.
HEVC (H.265) codec = HEVC (H.265) is a new compression codec that is used to compress video. This new codec compresses twice as much data as previous codecs, so that 4K Ultra HD video can be sent over cable and the internet. HEVC (H.265) will allow 4K/60p playback for viewing 4K sports in the future. 4K/60p will also be available on future 4K camcorders. Almost all 2018 4K TVs will have HEVC installed. Netflix is using this technology to show 4K content such as "House of Cards".
720p = (1366×768) with 1 million pixels resolution (Standard broadcast HD)
1080p = (1920×1080) with 2 million pixels resolution (Maximum Blu-ray quality)
Contrast = refers to dynamic contrast. Higher is better. More contrast allows more shadow details in the picture.
THX 3D Certified = THX certification means that this TV will let you experience a motion picture with the same colors, black levels and other factors that were created for the theater. This is for 2D and 3D viewing.
Edge/Local Dimming = Some advanced LED TVs have an LED backlight that can dim in certain areas of the screen. This can reduce backlight bleeding, halos, as well as increasing contrast, and improving the picture. With this technology you get blacker blacks and whiter whites.
240Hz = 240 hertz anti blur technology. Eliminates blur on LCD TVs during high action sports and movies.
120Hz = 120 hertz anti blur technology. Eliminates blur on LCD TVs during high action sports and movies.
60Hz = 60 hertz normal TV without anti blur technology
Internet Ready = This means that this TV can give you content from the internet. Content varies with the manufacturer. This TV will provide an ethernet port to connect an ethernet cable. Or you can buy an optional Wifi USB plugin device to send the internet wirelessly to your Television. Some manufacturers provide built-in Wifi. Some provide Netflix and youtube content.
DLNA = DLNA lets you remotely access your PC's personal media so that you can download music, video, and photos and enjoy them anywhere in the home your TV is. DLNA stands for Digital Living Network Alliance and is a collaboration of the leading consumer electronics, PC and mobile companies that has created design guidelines for a new generation of products that can work together – no matter what the brand.
HDMI = HDMI inputs allow you to connect devices to your HDTV such as DVD and Blu-ray players and game consoles. HDMI 2.0 is a new standard for 4K TVs to allow faster framerates that will be coming for sports, and 4K camcorders.
Shop All 4K Ultra HD TVs
(Clicking on shop buttons will open a new window)