Best Rated 40-inch, 42-inch, and 43-inch HDTVs (2017-2018) * Comparison & Reviews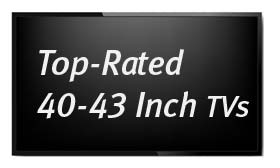 Best Rated 40, 42 and 43-inch TVs Comparison (2017-2018) – This page contains a roundup of the best top-rated 40-43 inch LCD and LED HDTVs, presented here for a comparison of price, features, and reviews. This size is good for small to medium living rooms. You can check what size you need by consulting our HDTV Sizing Guide. For 2017-2018, we are seeing more 4K Ultra HD TVs in this size, which can also be used as a computer monitor. Click on the reviews link underneath each TV to see owner reviews and ratings for each model for easy comparison. New for 2017-2018 is more 4K Ultra HD TVs (4x the resolution of HD), Smart TVs, Built-in WiFi, and Quad Core Processors. Below you can compare all of the best-rated 40-inch, 42-inch and 43-inch TVs by price, and features.
Best Rated 40-inch, 42-inch, and 43-inch HDTVs & 4K TVs
(Comparison & Reviews 2017)


Best Rated 40-inch, 42-inch, and 43-inch HDTVs & 4K TVs
(Comparison & Reviews 2017)



Related Article: Best 50-inch HDTVs Comparison & Reviews
Related Article: Best 55-inch TVs Reviews and Comparison
Glossary of Terms
LED HDTV = Instead of a conventional fluorescent backlight, these HDTVs use LED lights for backlighting. This dramatically improves picture contrast, colors, and overall picture. LED TVs also use about 40% less electricity. They are thinner and lighter than traditional 40in LCD TVs.
Dual/Quad Core Processor = Just as a Dual Core Processor will speed up Tablets and Laptops, many 40-inch TVs not only have a Dual Core Processor, but even a Quad core processor. This will greatly speed up TV operations, Smart TV functions, and add new functionality not possible with a single core processor. Some newer TVs even have quad core processors which are even faster.
4K HDR = Many of the newest 2016-2017 TVs have a new feature called HDR (High Dynamic Range), which can greatly improve the picture by displaying more natural looking highlights, darker blacks, and more realistic colors.
Micro/UHD Dimming LED = Samsung has a local dimming technology they call "Micro Dimming". It is an Edge Lit LED local dimming technology which will provide blacker blacks, better contrast and colors.
Frame Dimming LED = Sony has what is called Frame Dimming in some of its 2014 line. Frame dimming means the entire picture changes brightness on a frame by frame basis. Local dimming means different portions of the screen can change brightness.
4K Ultra HD = The next evolution in TVs has 8 million pixels of resolution.
1080p = (1920×1080) with 2 million pixels resolution (Maximum Blu-ray quality)
720p = (1366×768) with 1 million pixels resolution (Standard broadcast HD)
Contrast = refers to dynamic contrast. Higher is better. More contrast allows more shadow details in the picture.
240Hz = 240 hertz anti blur technology. Eliminates blur on LCD TVs during high action sports and movies. The latest technology.
120Hz = 120 hertz anti blur technology. Eliminates blur on LCD TVs during high action sports and movies.
60Hz = 60 hertz normal TV without anti blur technology
HDMI = HDMI inputs allow you to connect devices to your HDTV such as DVD and Blu-ray players and game consoles. Version 1.4 supports 3D.
Smart TV = This means that this TV can give you content from the internet. Content varies with the manufacturer. This TV will provide an ethernet port to connect an ethernet cable, or use the built-in WiFi Adapter with your home wireless network. Content can include Netflix, Amazon, Youtube, a Web Browser, and much more.
DLNA = DLNA lets you remotely access your PC's personal media so that you can download music, video, and photos and enjoy them anywhere in the home your TV is. DLNA stands for Digital Living Network Alliance and is a collaboration of the leading consumer electronics, PC and mobile companies that has created design guidelines for a new generation of products that can work together – no matter what the brand.
3D Ready = This means that this TV is capable of displaying 3D content from broadcast and 3D capable Blu-ray players. This TV has a built in emitter which can communicate with 3D glasses to synchronize with the picture displayed on the TV.