Samsung QN65Q9F 65-Inch (Full-Array) 4K QLED Smart LED Ultra HD TV | Review (2018 Model)
**New for 2018. The QN65Q9F QLED TV is Samsung's Best (top of the line) 65-inch TV. The Q9 series has Full-Array local dimming technology with HDR. As a QLED TV, this TV is equipped with Quantum Dots Technology. The full array LED backlights provide better and more uniform picture, brightness, and HDR. The Quantum Dot (QLED) technology produces a brighter picture (enhancing HDR), and Q Color™ produces more natural vivid colors (billions of shades of color). QLED also minimizes color washout when viewing from the side, for great colors that pop wherever you sit. High dynamic range (Q HDR Elite Max) gives you more shadow detail, brighter whites, and more natural and realistic colors. A 4K Ultra HD TV provides 3840 x 2160 resolution, which is four times the resolution of Full HD. This allows you to sit closer to a larger TV and get the immersive movie theater experience. Most movie theaters now use a 4K projector, so in effect you will have movie theater resolution in the home.
---
Advanced 4K Picture Quality: The Samsung QN65Q9F 4K 65-inch LED TV with Full-Array Backlight includes Samsung's advanced Q Contrast Plus™ with Ultra Black Elite™ will give you deeper blacks and colors. The Q9FN Series has the upgraded Ultra Clear Pro Panel which eliminates reflections, and boosts the contrast ratio. The 240 Motion Rate anti-blur technology combines a native 120Hz Panel along with backlight control to provide blur free, clear motion, great for sports and fast moving action. This model is HDR-capable with QLED quantum dots, Full-array backlight, and Supreme UHD Dimming. The Q HDR Elite Max; technology is HDR10, HDR10+, and HLG compatible. The 1500 nits peak brightness will enhance the HDR picture.
---
2018 Smart TV:
The Samsung Q9F 4K LED QLED Series has an upgraded
Quad Core processor
to speed up Smart TV functionality, and a new Smart TV operating system. The TV is internet ready with Samsung Apps (hundreds available) and a Full Web Browser.
Netflix, Amazon Prime, Xfinity, DirecTV, Youtube, and 4K Blu-ray players with native 4K content are all available in 2018
. Just plug in an ethernet cable, or use the included
wireless 802.11ac WiFi
to use your Smart TV functions. The Smart Remote has Bixby (voice assistant) and a microphone (for voice commands). Screen mirroring allows you to share TV content with/from your smartphone or tablet.
ATSC Digital Tuner
with QAM for over the air TV. 3 USB 2.0 ports for digital photo/video/MP3 playback, Ethernet port, optical audio port. Other inputs include 4
HDMI 2.0
inputs for full 4K and HD connectivity for DVD players, Blu-ray, PS3, PS4, Camcorders, PCs and a range of other digital devices. Also features a multi-speaker
40 watt sound system
with subwoofers (DTS Premium Sound 5.1). Wifi direct.
---
Dimensions: 57.1″ x 34.1″ x 14.4″ (62.8 lbs.) with stand
Dimensions: 57.1″ x 32.7″ x 1.5″ (58.9 lbs.) without stand
Full Model#: QN65Q9FNAFXZA
Available Sizes: 75-inch, 65-inch
---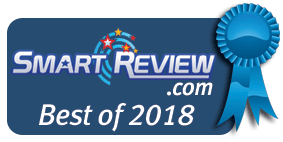 Smart-Review Commentary: For 2018, The 65-inch QN65Q9F 4K TV is Samsung's best (top of the line) Flat LED 4K TV and comes fully loaded. This is one of only a handful of TVs with Full-Array Backlighting. This improves uniformity of brightness and enhances the HDR effect. These are the fifth generation of 4K TVs from Samsung with Quantum Dots. Quantum Dots will increase brightness and give much richer colors than normal TVs, as well as deeper blacks. The new QLED technology will help prevent color washout you see in many TVs when viewing from an angle. In addition, this TV is equipped with Q HDR Elite Max to give you high dynamic range for more natural colors, brighter whites, deeper blacks. This TV supports the latest HDR10, HDR10+, and HLG HDR standards. 4K Ultra HD resolution will give you 8 megapixels of screen, versus only 2 megapixels in regular HD. This is the future of TVs as 4K is the new standard.
4K Ultra HD is the same resolution as the movie theater, and will give you a more immersive experience, as the pixels are 4 times smaller, and you can sit much closer to the TV. Netflix, Amazon, and Xfinity already have 4K content and more is on the way. This TV comes with the latest 4K standards: including HDMI 2.0 , and HEVC (h.265) decoder built-in. These will allow high speed 4K (60fps) and 4K Streaming. The 2018 4K TVs have been upgraded to 802.11ac WiFi, the latest wireless standards to support streaming 4K video. Other notable features are a Quad Core Processor and Ultra Black Elite™ Anti-reflective screen. Bluetooth® wireless audio streaming to speakers or headphones. Screen mirroring allows you to view content to and from your TV to your Smartphone or Tablet. Bluetooth® wireless audio streaming to speakers or headphones. The Q9F 4K Series comes with a Smart Remote Control with voice control and a voice assistant. We previewed the QLED Quantum Dot TVs with HDR at CES 2018, and they have the best picture on an LED TV we have seen from Samsung. The QN65Q9F 4K TV has received excellent reviews and is a not only a SmartReview Top Pick, but has won our BEST of 2018 Award.
---
Samsung Q9FN 4K Ultra HD Series TV
65-inch Q9F
(Flat Screen)
75-inch Q9F
(Flat Screen)

HDTV Features

*New 2018 Model
4K 2160p (3840×2160)
Full Array Backlight
1500 nits peak brightness
Anti-Glare Screen
Wide Angle Viewing
QLED Quantum Dots
4K Q HDR Elite Max
4K Color Drive Elite
Supreme UHD Dimming
HDMI 2.0 and HEVC (h.265)
Ultra Black Elite™
40 Watt Sound System
Built-in Wifi (802.11ac)
Internet Ready
Four HDMI 2.0 Connections
Wireless Bluetooth
UHD Upscaling
Q Engine™ Processor


Is this the best price?

(Click for Reviews)
65-inch TV
Flat Screen
Quantum Dot
Full Array Backlight

Is this the best price?

(Click for Reviews)
65-inch TV
Flat Screen
Quantum Dot
Full Array Backlight
Related Article: Samsung Q6, Q7, Q8, Q9 QLED Quantum Dot TVs | Comparison
Related Article: Samsung 4K Ultra HD TV Comparison & Reviews
Related Article: 60-inch and Larger HDTVs Roundup and Comparison
Related Article: 70-inch and Larger HDTVs Roundup and Comparison
Related 4K TV: Sony XBR-65X900F 65-inch 4K HDR Smart TV (2018 Model)