Nautilus U616 Upright Exercise Bike | Reviews 2023
The Nautilus U616 Upright Exercise Bike is a low priced home bike with many features and solid quality. Upright bikes have the same riding position as outdoor bikes. The Nautilus U616 will provide a low impact cardiovascular workout with low impact on your joints. The Nautilus brand of bikes is a well known quality brand.
The new Nautilus U616 features a balanced flywheel, which creates a secure, quiet, vibration-free workout, as well as 25 levels ECB magnetic resistance. ECB is the best type and quiet form of magnetic resistance. There are 10 resistance quick keys to go from easy to hard. Nautilus provides 29 programs (12 profile; 9 are heart rate control; 2 are custom user defined; 2 are fitness tests (1 Beginner; 1 Advanced); 1 quick start), and additional features. The two integrated levelers & the large mid-frame support give you a solid and stable bike platform. The Angle adjustable handlebars provide comfortable riding positions. Upgraded oversized seat on the U616 for comfort can adjust horizontally as well as vertically for the perfect fit.
---
Nautilus U616 Upright Bike Features:
Nautilus DualTrack™ two LCD window system allows you to watch up to 13 different display feedbacks. Keep track of your progress and download the data to a USB drive with the Nautilus Connect portal and MyFitnessPal for goal tracking.
Integrated Speakers sound system for listening to your iPod or MP3 player while you exercise. Pulse grip heart rate monitoring and telemetry enabled (compatible with polar straps). 3 Speed Workout Fan (keeps you cool during your workout). Transport wheels to move the bike. Bluetooth® connectivity, syncs with Nautilus Trainer™ 2 App and other apps for fitness tracking.
---
*Access the Explore the World APP:
and immerse yourself in a world of virtual courses, exotic locales, and stunning trails from around the globe, 3 free courses available; Unlock more with Explore the World app subscription.
The APP will stream to your iPad or other tablet computer.
---
Maximum User Weight Capacity: Up to 300 pounds.
Bike Warranty: 10 year warranty on the Frame; 2 year mechanical; 1 year electrical; 90 days labor
Bike Dimensions: 41″ Long x 22″ wide x 58″ tall
---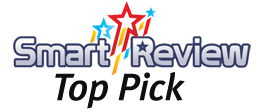 Smart-Review Commentary: The Nautilus U616 bike is an excellent low priced recumbent bike for home residential use. This model should fit most needs as its maximum user weight is 300 lbs. It is loaded with convenience features, and comfort features (cooling fans, stereo speakers, side water bottle holder). It also has a media holder for magazines, or tablet computers. The frame is built for added stability, the pedals include toe straps. The Grip heart sensors will monitor your heart rate, and allow you to run heart rate programs. This model is also wireless telemetry enabled.
The U616 has excellent ratings and reviews and also has a very good warranty as well. This upgraded model has a backlit screen, more resistance levels, more programs, added Bluetooth®, Heart telemetry, and better seat than the U614 model. One premium feature not found on cheaper bikes is the ability to adjust the bike front to back horizontally for best fit. The adjustable handlebars, and contoured seat, allow for comfortable riding. Consumer reviews for this model have been excellent. The Nautilus U616 is a Smart-Review Top Pick for upright exercise bikes.
---
Nautilus U616
Nautilus U616
Upright Bike
Nautilus U618
Upright Bike
Nautilus R616
Recumbent Bike

Bike Features

Backlit LCD Display
29 Workout Programs
25 Levels of Resistance
ECB Magnetic Resistance
Pedals with Toe Straps
Heart monitor w/telemetry
Flywheel
Maximum user weight limit: 300 lbs.
Cup Holder
Nautilus Connect™
Bluetooth® connectivity
Built-in Speakers
Built-in Fan


Is this the best price?

(Click for Reviews)
Backlit LCD Screen
25 Resistance Levels
29 Workout Programs
Heart Telemetry
Bluetooth® connectivity
– – –
– – –

Is this the best price?

(Click for Reviews)
Backlit LCD Screen
25 Resistance Levels
29 Workout Programs
Heart Telemetry
Bluetooth® connectivity
Oversized Gel Seat
Handlebar Controls

Is this the best price?

(Click for Reviews)
Backlit LCD Screen
25 Resistance Levels
29 Workout Programs
Heart Telemetry
Bluetooth® connectivity
– – –
– – –
Related Article: Upright Exercise Bikes – Comparison and Reviews
Related Article: Nautilus (R616 Vs. R618) Recumbent Exercise Bikes | Differences
Related Article: Nautilus (U616 Vs. U618) Recumbent Bikes – Differences
Related Article: Nautilus U614 Vs. U616 Upright Exercise Bikes
Related Article: Recumbent Exercise Bikes – Comparison and Reviews
Related Article: Smart-Review | Exercise Bike Buying Guide
---
Nautilus U616 Upright Exercise Bike | Review Summary

Summarized Review: The Nautilus U616 upright exercise bike is highly rated, with many high end features. The U616 bike uses 25 levels of ECB magnetic resistance for smooth, quiet, and maintenance free resistance. Premium features include 29 workout programs, backlit dual LCD screen, heart telemetry, built in Bluetooth®, and a 3-speed fan. User weight up to 300 pounds. This model is a SmartReview Top Pick.
Written By: Smart Review
Product Rating: 4.5 out of 5
---