Keiser M3i Indoor Magnetic Cycle Bike | Reviews 2023
*Latest Model* The Keiser M3i Indoor Cycling Bike is the newest and one of the most popular commercial cycling bikes for commercial or home use and is top-rated. Keiser bikes are known for their high quality and durability, and are used at many gyms for Cycling Classes.
The high quality Keiser M3i has a heavy rear mounted flywheel which gives the experience of riding a real bike. Being rear mounted, protects the flywheel from sweat that could corrode metal parts. This indoor cycle will provide an excellent cardiovascular workout with low impact on your joints.
---
The Keiser M3i features a heavy chrome plated flywheel, which creates a secure, quiet, vibration-free workout, and features adjustable magnetic resistance that simulates actual riding. This model is equipped with a belt drive system for a quiet ride with minimal maintenance. Unlike most cycling bikes, the Keiser M3i has an electronically controlled magnetic resistance system (24 levels of resistance). The 24 gear Magnetic Eddy Current Brake resistance is the best type, with nothing to replace or wear out.
---
Keiser provides
Wireless Telemetry
to Polar Heart straps to monitor heart rate on the console. You can also connect to Keiser's M-Series APP. An optional M-Series converter allows you to connect to more APPs including the
Pelaton APP
, Zwift, Kinomap, TrainerRoad, Rouvy, and more. The padded seat is fully adjustable, as are the multi-position handlebars. The M3i is constructed with a very solid frame (heavier bikes give a more stable ride). New features include
Bluetooth connectivity
, 4 way seat adjustments with finer adjustments, and improved handlebars.
---
Keiser M3i Bike Features: The LCD console (backlit) displays speed, distance, RPM (cadence), Watts, calories burned, time, heart rate (polar compatible), and resistance level. The Precision resistance brake lever allows for easy adjustments of resistance as you ride. Adjustable Shimano™ Combo Pedals. Four-Way Adjustable Seat Position. Water bottle holder. Fore and Aft Adjustable Handlebars. Transport wheels to move your bike.
---
Maximum User Weight Capacity: Up to 300 pounds.
Bike Warranty: Frame (10 years); Electronic & Mechanical Components (3 years).
Bike Dimensions: 49″ Long x 26″ wide x 45″ tall (91 lbs.)
---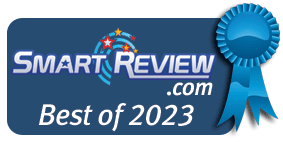 Smart-Review Commentary: The Keiser M3i indoor cycling bike is an excellent indoor cycling bike for home or commercial use. It is the highest quality bike we have ever reviewed. This is one of the few cycling bikes we cover that has magnetic resistance. Most cycling bikes use friction resistance, and it must be manually applied. Magnetic resistance is silent, and requires no maintenance. Keiser indoor cycles are used in commercial settings for cycling classes, because of their high build quality and durability. The heavier weight of the Keiser M3i makes it more stable than cheaper indoor cycles. It is one of our only cycling bikes that have a 45 pound, rear mounted flywheel which makes the ride very smooth, and protects it from sweat. New for this year is Bluetooth® connectivity to connect your bike to your phone/tablet and apps. This model should fit most needs as its maximum user weight is 300 lbs. The heavy frame is built for added stability. Toe straps are included.
The Keiser M3i as a commercial grade bike is exactly like the Bikes you would see at a commercial gym. Most cycling bikes do not have magnetic resistance, The Keiser M3i has 24 levels of magnetic resistance. The easy to use lever changes resistance, and the level shows up on the LCD console. The M3i bike has an excellent warranty for an indoor bike commercial grade bike. This type of bike is also ideal for outdoor cyclists to train indoors. Keiser provides a padded seat that is adjustable for added comfort. Reviewers report this bike runs quiet and smooth. This Bike has received extremely high professional and consumer reviews and is at the very top in quality for indoor Cycling Bikes. The Keiser M3i is not only a Smart-Review Top Pick for exercise bikes, but won our BEST of 2023 Award for the best quality indoor cycling bike.
---
Keiser M3i
Keiser M3i
Indoor Cycle
Keiser M3i
Bundle Deal
Indoor Cycle
Keiser M3
Indoor Cycle

Bike Features

Indoor Cycling Bike
*Made in the USA*
Commercial Gym Quality
24 Resistance Levels
Magnetic Brake System
Rear Mounted Flywheel
Backlit LCD Console
Heart Telemetry Enabled
Adjustable Shimano™ Pedals
Maximum user weight limit: 300 lbs.
Solid Steel Construction
Bluetooth Enabled


Is this the best price?

(Click for Reviews)
Polar Strap + Mat
+ Media Tray

Is this the best price?

(Click for Reviews)
---
Keiser M3i Indoor Cycling Bike – Demo at the Athletic Expo
---
Related Article: NordicTrack (S15i Vs. S22i) Studio Cycling Bikes – Comparison and Differences
Related Article: SOLE (B94 Vs. LCB) Upright Bike | Differences
Related Article: Upright Exercise Bikes – Comparison and Reviews
Related Article: Indoor Cycling Exercise Bikes – Comparison and Reviews
Related Article: Smart-Review | Home Exercise Bike Buying Guide
---