Sunny Health & Fitness Pro SF-B901 Indoor Cycling Bike | Review
The Sunny Health & Fitness SF-B901 Pro Indoor Cycling Bike is Sunny Health's highly rated upright exercise bike for home use. A low priced home bike with many features and solid quality. Upright cycles have a heavy front flywheel, which gives the experience of riding a real bike. This is the same type of bike used in Cycling Classes at the gym. an indoor cycle gives you the same feel as cycling on the road with a bicycle. The Sunny Health SF-B901 will provide an excellent cardiovascular workout with low impact on your joints. The Sunny Health SF-B901 features a 40 lb. flywheel, which creates a secure, quiet, vibration-free workout, and features adjustable resistance that simulates actual riding. Variable resistance thru a tension knob. The padded seat and handle bars are fully adjustable for the perfect fit. The bike has a heavy duty steel frame. Transportation wheels are provided for portability. Chain Drive for smooth workouts.
---
Maximum User Weight Capacity: Up to 275 pounds.
Bike Warranty: 1 year Frame Warranty; 90 day mechanical parts.
Bike Dimensions: 48.5″ Long x 20″ wide x 46.5″ tall (108 lbs.)
---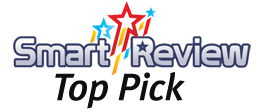 Smart-Review Commentary: The Sunny Health SF-B901 Pro indoor cycling bike is an excellent upright cycle for home use. This indoor cycle is simple with no electronics, with manual resistance, with riding similar to a real bicycle on the road. The heavier weight of the Sunny Health SF-B901 makes it more stable than cheaper exercise bikes. It has a heavy 40 lb. flywheel along with a chain drive which creates a smooth ride. This model should fit the needs of most people, as its maximum user weight is 275 lbs. The steel frame is built for added stability. Toe straps are included. The Sunny Health SF-B901 has the same look and feel as the Cycling Bikes you would see at a commercial gym. This type of bike is also ideal for outdoor cyclists to train indoors. Sunny Health & Fitness provides a padded seat that is adjustable for added comfort. This model has received excellent consumer reviews. The Sunny Health SF-B901 is a Smart-Review Top Pick for exercise and indoor cycle type bikes.
---
---
---
Upgrade to the Schwinn IC4 Cycling Bike:
The Schwinn IC4 Cycling bike upgrades with maintenance free,
silent magnetic resistance
. No pads to replace.
You also get a deluxe LCD display with color readouts and Bluetooth® connectivity to your smartphone or tablet, and a heart rate armband included. A USB charging port is also onboard.
You can run the Pelaton APP for online classes, Zwift APP, Explore the World™, and many others, just like the more expensive bikes can. All of this, and the Schwinn IC4 also has a much longer warranty.
---
---
Related Article: Upright Indoor Cycles – Comparison and Reviews
Related Article: Upright Exercise Bikes – Comparison and Reviews
Related Article: Recumbent Exercise Bikes – Comparison and Reviews
Related Article: Smart-Review | Exercise Bike Buying Guide (2020)
---
---