Schwinn 170 Upright Exercise Bike | Reviews 2022-2023
Schwinn's 170 Upright Home Exercise Bike is a mid priced bike with many features and solid quality. Upright exercise bikes ride the same way as a bicycle. The Schwinn 170 will provide a low impact cardiovascular workout with low impact on your joints. The Schwinn brand of bikes is a well known brand going back to 1895.
The Schwinn 170 features a balanced flywheel, which creates a secure, quiet, vibration-free workout, as well as 25 levels of ECB magnetic resistance. ECB is the best type and quiet form of magnetic resistance. There are 10 resistance quick keys to go from easy to hard. Schwinn provides 29 programs (12 Profile; 9 are Heart rate control; 4 are Custom user defined; 2 are Fitness tests; 1 Recovery; and 1 Quick start) and additional features. The walk-through frame gives you easy access to mount and dismount. Padded and contoured seat for a comfortable ride. Additional forearm pads are mounted on the handlebars.
---
Schwinn 170 Upright Bike Features:
Schwinn DualTrack™ two LCD window system allows you to watch up to 13 different display feedbacks. This new model has a backlit screen. Keep track of your progress and download the data to a USB drive with the Schwinn Connect™ website.
Integrated Speakers & sound system for listening to your iPod, Smartphone, or MP3 player while you exercise. Pulse grip heart rate and telemetry monitoring. 3 Speed Workout Fan (keeps you cool during your workout). Features Built-in Bluetooth® to link up with Schwinn Apps, and other Fitness Apps with your smartphone or tablet.
---
Maximum User Weight Capacity: Up to 300 pounds.
Bike Warranty: 10 year warranty on the Frame; 2 year mechanical; 1 year electrical; 90 days labor
Bike Dimensions: 41″ Long x 22″ wide x 56″ tall (62.8 lbs.)
---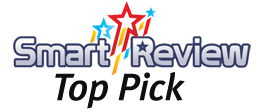 Smart-Review Commentary: The newest Schwinn 170 home exercise bike is an excellent low priced upright bike for home use. This model should fit most needs as its maximum user weight is 300 lbs. It is loaded with convenience features, and comfort features (cooling fans, stereo speakers, side water bottle holder). The new backlit Dual LCD screen allows you see one of the screens even if you use the tablet/magazine rack. The frame is built for added stability with two integrated levelers and oversized crossbar tubing. Toe straps are included.
The 170 model upgrades include More Workout Programs, More Resistance Levels, A backlit screen, Heart Telemetry, and Built-in Bluetooth® to link to APPs on your smartphone or tablet. The padded seat has both horizontal and vertical adjustment options for best fit. This model has a very good warranty as well. This upright bike has received very good consumer reviews. The Schwinn 170 is a Smart-Review Top Pick and a very good value for upright exercise bikes.
---
Schwinn 170
Schwinn 170
Upright Bike
Schwinn 130
Upright Bike
Schwinn 270
Recumbent Bike

Bike Features

Backlit LCD Display
29 Workout Programs
25 Levels of Resistance
ECB Magnetic Resistance
Pedals with Toe Straps
Grip and Telemetry Heart monitors
Flywheel
Maximum user weight limit: 300 lbs.
Cup Holder
Schwinn Connect™
Built-in Speakers
Built-in Fan
Padded Seat
Built-in Bluetooth®
10 year frame warranty


Is this the best price?

(Click for Reviews)
Backlit LCD Screen
25 Resistance Levels
29 Workout Programs
Heart Telemetry
Bluetooth® connectivity

Is this the best price?

(Click for Reviews)
LCD Screen
20 Resistance Levels
22 Workout Programs
– – –
– – –

Is this the best price?

(Click for Reviews)
Backlit LCD Screen
25 Resistance Levels
29 Workout Programs
Heart Telemetry
Bluetooth® connectivity
---
Related Article: Schwinn 170 Vs. Nautilus U618 Upright Exercise Bikes – Comparison
Related Article: Schwinn 170 Vs. SOLE B94 Upright Exercise Bikes – Comparison
Related Article: Upright Exercise Bikes – Comparison and Reviews
Related Article: Recumbent Exercise Bikes – Comparison and Reviews
Related Article: Smart-Review | Exercise Bike Buying Guide

---
The Schwinn 170 Upright Bike (Video)
---